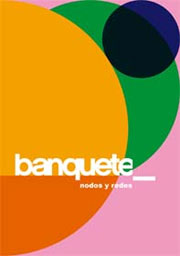 Back in June, LABoral Art and Industrial Creation Centre in Gijón was opening Banquete_nodos y redes, Interactions Between Art, Science, Technology and Society in Spain's Digital Culture. The exhibition presents more than 30 digital and interactive works that critically and creatively explore the notion of Network as a shared matrix, not just from a technological perspective but also from a socio-cultural perspective.
I wrote a few stories about the show at the time (Sightseeing telescope reveals open wifi networks in urban space, The Bank of Common Knowledge and Vacuum Virtual Machine) but as Banquete runs until November, 03, i thought it would leave me plenty of space to come back with more details on the exhibition.
This exhibition is almost god-sent for me. I don't know why but in the course of my work i'm asked again and again the same question: 'which country is the most dynamic in terms of new media art?' Spain always comes on the top of my list, but while i have no difficulties in naming some particularly active organizations, events, competitions and institutions which support media art, i struggle to enumerate Spanish media artists, i only seem to come up with those active in the field of activism. The works exhibited at banquete have all been developed in Spain and they are demonstrating how much broader and energetic the media art scene is in the country.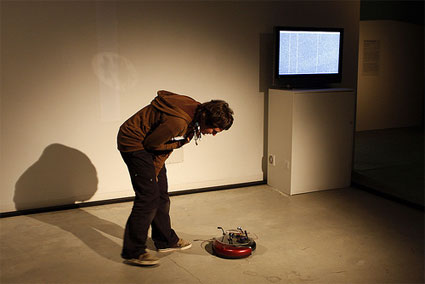 Ricardo Iglesias, José, un robot autista (José, an autistic robot), photo: © LABoral – Author Marcos Morilla
Karin Ohlenschläger, who curated the show and has worked for many years in Spain, knows it better than anyone. She is a critic and exhibit curator specializing in contemporary art and new technologies. She is a founding member of the Fundación Banquete and has curated numerous art exhibits related to new media. From 2002 to 2006, she was the co-director of the MediaLabMadrid programme.
I asked her to tell us more about her experiences with banquete, the exhibition in Gijon and the media art community in Spain: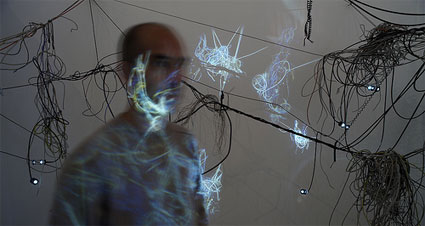 Daniel Canogar, Tangle, photo: © LABoral – Author Marcos Morilla
Banquete is an international network of conversations and actions among artists, scientists, technologists, and other producers of knowledge. Would you mind telling us briefly how the project started (15 years ago already?) and how it came to take the form of an exhibition?
Banquete started 15 years ago on a Mediterranean island, in a kitchen, around a table, and during a intense conversation about art and life. Since then, the idea evolved steadily from kitchen to kitchen and from table to table. More and more people became involved until, in 2003, the project materialized in Barcelona (Palau de la Virreina), Karlsruhe (ZKM) and Madrid (MediaLabMadrid/Centro Cultural Conde Duque). Since then, banquete has brought together scientists, artists, activists and others from all over, to expose and explore the complex relationships between biological, social, technological and cultural systems. The theoretical contributions and participation of Roger Bartra, Lynn Margulis, Dorion Sagan, Aminata Traoré, Vandana Shiva and many others have been as important as some of the historical projects by Joseph Beuys, Gordon Matta-Clark and Lygia Clark from the 70's, or the current proposals from Antoni Abad, Eduardo Kac or Technologies To The People. You can find the contents of the banquet_editions of 2003 and 2005 in www.banquete.org, as well as 2008.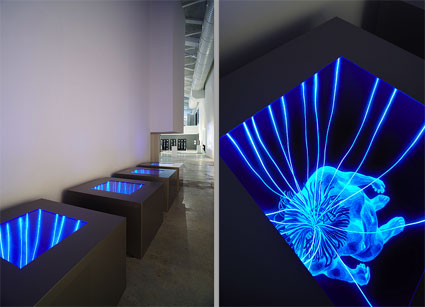 Marina Núñez , Sin Título (ciencia ficción), photo: © LABoral – Author Marcos Morilla
You have been working with and observing closely the Spanish new media art community for a while. Since the late '80s if i'm not wrong. I've been following them for only a few years (and certainly not as closely as you did) and i found, for example, that there is a lot of maturity and intelligence in their activism discourse. I also noted their keen interest for free software and free culture. Would you agree with me? And more generally, do you think that Spanish new media artists have something that makes them stand out from new media art communities of other countries? Is there any characteristic which could be regarded as peculiar of their approach to the intersection between art and technology? And more particularly their approach of the concept of network?
Karin: I came to Spain in 1985, founding the video art department at the Museo Español de Arte Contemporáneo (MEAC) in 1986 and collaborating at the same time with one of the very few independent artist spaces in Madrid in the 80´s, called Espacio 'P'. So I have participated and observed Spanish media art closely for more than 20 years.
You are absolutely right in pointing out the maturity of Spanish activism discourses. On one hand, it has its roots in the anti-francoist movement and the art practices of the 70's in Catalonia. One of the pioneers of Spanish media art, Antoni Muntadas, for example, collaborated with one of these groups called Grupo de Treball (1973-75), who are still held in high regard for their radical political activism and also for their statements against the commercialisation and institutionalisation of art. In 1974, Muntadas organized the first local televisión project in Cadaqués and collaborated a couple of years later with the independent video activists, called Video Nou/ Servei de Video Comunitari (1977-1983), in Catalonia. Actually, groups like Platoniq, Neokinok TV, Escoitar in Galicia or Hackitectura in Andalusia are continuing a remarkable tradition based on these political, social and cultural movements of thirty years ago. But nowadays their projects are simultaneously connecting local structures and processes with global dynamics and networks. The free software culture in Spain must also be considered within this social, political and cultural context.
On the other hand, artists like Marcel.li Antúnez>, Alvaro Castro or Águeda Simó and groups such as Kònic Thtr or Laboratorio de Luz have conceived and developed their projects through close dialogues and collaborations with scientists and research centres . But it is difficult to point out something specific related to the Spanish. Some of the pioneer media artists like Muntadas or Francesc Torres developed an important part of their projects in the United States, and other outstanding artists of the younger generation here in Spain are originally from Colombia, Brasil, Austria or Germany.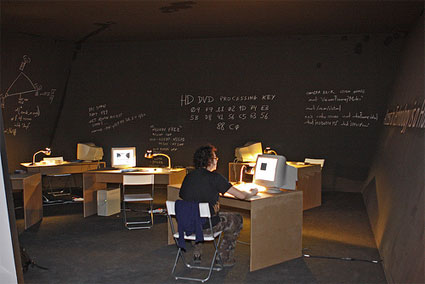 Daniel G.Andujar X-devian The New Technologies to the People System, photo: © LABoral – Author Marcos Morilla
In 2009, the show Banquete_nodos y redes will move to ZKM. Did this trip outside of the country influence your curatorial choices in any way? Do you expect the German audience to engage with the work in a different way as in Gijon? Or do you feel that, as the works on show reflect the networked society we live in, they will transcend cultures?
My curatorial choices don´t depend on the venue, but on the ideas and concepts behind an exhibition project. Concerning the audience in Gijon, people of all ages are enjoying and participating in the different proposals. For example, the open, collective production workshop by Escoitar was such a success, that people asked LABoral to continue creating the soundmap of the city. Other local groups, such as disabled associations will be actively involved in the workshop sessions with Evru in October. Whether or not nodes and networks can be generated through the exhibition project will depend on each venue and on the on-line and off-line visitors and participants.
As regards the German audience, I suppose that it is as diverse as the Spanish audience and hopefully, visitors will embrace the works in different ways. On the website of Platoniq's The bank of common knowledge, for example, you can see how different or similar people interact and participate with the same project held in Barcelona, Lisbon or Casablanca.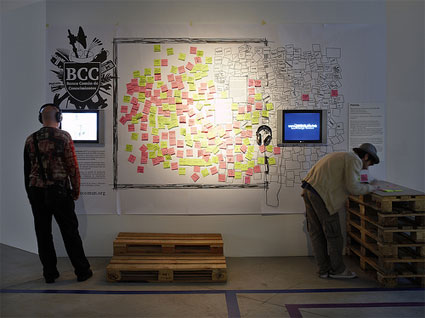 Platoniq, BCC. Photo: © LABoral – Author Marcos Morilla
Generally, the works in the exhibition are addressing an idea of network society characterized by diversity and plurality and the challenge is not how to transcend cultures, but how to connect, communicate and evolve under this bright umbrella of a diversity of cultures.
The exposure of Spanish new media art in the country is having a rather enthusiastic moment. There is the Reina Sofia show, Maquinas y Almas, and also The Discreet Charm of Technology Arts at the MEIAC.
How do you position Banquete_nodos y redes in this panorama?
The coincidence of the three exhibitions you mention, is first of all a sign of normalisation and acceptance of 'new' formats and practices in contemporary art institutions. If you want to talk about 'enthusiastic moments', you should also take into account the increasing number of photo festivals and exhibitions, or the increasing interest on performance events in Spain. I would say that we are sharing a moment of maturity and diversity of concepts and practices related to current art and new media. Proof of this are the exhibitions at LABoral, MEIAC and MNCARS, which are, at the same time, quite different in nature. Maquinas y Almas (Machines and Souls) is an international project about the aesthetics and the techniques of current media art. The Discreet Charm of Technology is an anthology, with special emphasis on video art and installations.
Meanwhile banquete_nodos y redes is a work in progress, part of a trilogy and yet an ongoing project, based on the dialogue between art, science, technology and society. The first edition metabolism and communication dealt with the transformation of matter, energy and information. The second edition dealt with biological, technological, social and cultural communication systems and processes; and the present edition analyzes structures, from neural patterns to network society. None of these three banquet?s deal with new media art in itself, but rather with the use of technology in the construction and perception of reality, identity and relationships.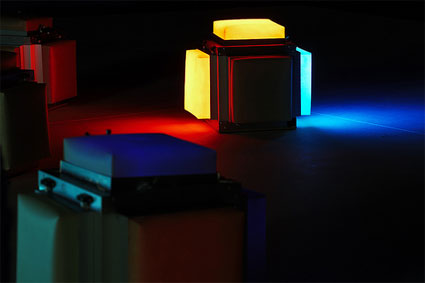 Raquel Paricio and J. Manuel Moreno Aróstegui, POEtic-Cubes, photo: © LABoral – Author Marcos Morilla
Some of the pieces exhibited result from the collaboration between artists and scientific research centers. How widespread is this idea of having art meet science in the country? Are there organizations and programmes which foster such collaborations?
When we founded MediaLabMadrid in 2002, we generated one of the first permanent platforms for an open dialogue between art, science, technology and social dynamics in Spain. MediaLabMadrid connected research, training, production and exhibition in such an open and dynamic setting that from that moment on, the link between art, science and society became more than just an idea of having art meet science. It became reality through a widespread programme of activities and productions which inspired similar iniciatives and programmes all over the country. So, six years later we can observe a growth in art and science projects, discussions and platforms here in Spain. Some of these initiatives are on the banquet website and one of the founding member of the historical art, science and technology programme at the Centro de Cálculo de la Universidad de Madrid (1968-1972), Ernesto García Camarero, is also a member and adviser of the current banquete project.
Thanks Karin!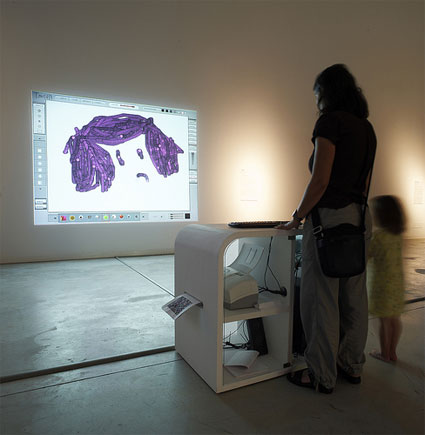 Evru, TECURA 4.0, photo: © LABoral – Author Marcos Morilla
Virtual tour of the exhibition.Two flickr sets: mine and one made by a real pro.
Banquete_nodos y redes runs at LAboral Art and Industrial Creation Centre in Gijón, Spain, until November, 03, 2008. The exhibition will then travel to the ZKM | Center for Art and Media in Karlsruhe, March-July 2009.