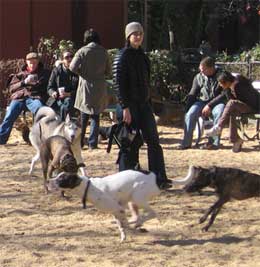 Canine Cacophony is a proposal for a site-specific and sound installation for the Washington Square Park Dog Run in Manhattan. The movements of dogs in the dog run will be translated into music and carried throughout the park.
3 types of "packs" would be available for owners to put on their pets: for small, medium, and large dogs. Each will be equipped with a Ubisense location aware sensor, a battery pack, (and awireless microphone?).
The sounds will relate to 4 factors: the size of the dog, their speed, dogs spatial relationship to one another and their location within space along x and y coordinates. The initial element defining the dog park in Canine Cacophony would obviously be the sound, but what will ultimately connect the sounds to the dogs is the activity in the run. Movement is the sole determinant in translating and producing aural information.
For example, orchestration might include:
* Medium collar #3: Low bongo increasing in speed with dog speed
* Small collar #2: Tambourine increasing in volume with dog speed
* 3 small dogs in close proximity: high xylophone chords
* Large dog and small dog in close proximity: gong
* 2 large dogs near gate: triangle
For phase one of the project, the sound will be output through speakers situated along the edges of the dog run fence, facing outward. For phase 2, acoustic sound sculptures will be placed throughout the park.
By Alice Tang, Tikva Morowati and Rebecca Bray.
Another project to discover at the upcoming ITP Winter show, on December 17 and 18, 721 Broadway at Waverly Place 4th Floor South Elevators, New York.
More canine fun: Robot dog fashion; anti_dog fashion; Postapocalyptic survival gear for dogs; SNIF: Social Networking In Fur; Float-A-Pet, an illuminated inflatable pet collar with smart sensor and locative technology; the Poochmobile and a pet seatbelt.