While i ponder on my inability to be the queen of sexy titles, i'm going to give you a last breath of Artissima: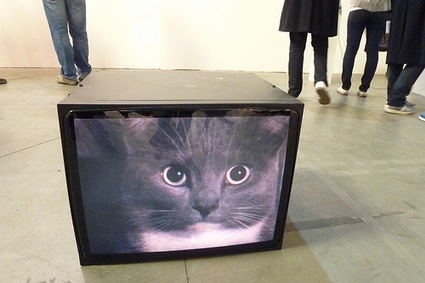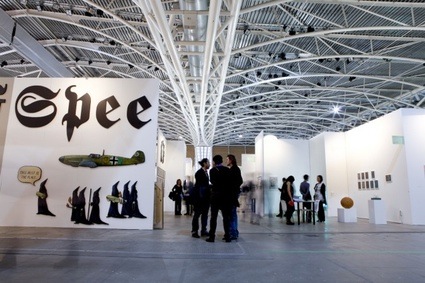 Photo: Max Tomasinelli
The first time i saw Jan Håfström's work was at the Venice Biennial. I remembered thinking that i wouldn't mind seeing it over and over again. The Brändström gallery in Stockholm has no idea how happy when they decided to fill their booth with Paradise Lost, Walker, Incidents of Grandma's Travel and The Eternal Return to Artissima. The cut-out wood panels create an instant dark cult atmosphere evoking Gustave Moreau, Edgar Allan Poe, secret burial ceremonies and Boris Karloff's hypnotic eyes in The Mummy.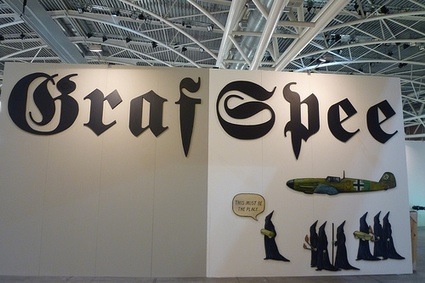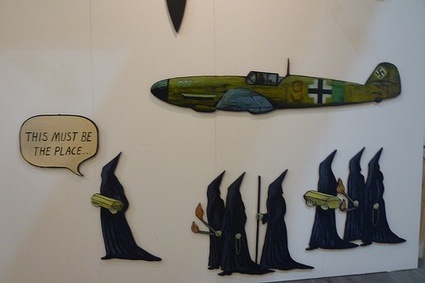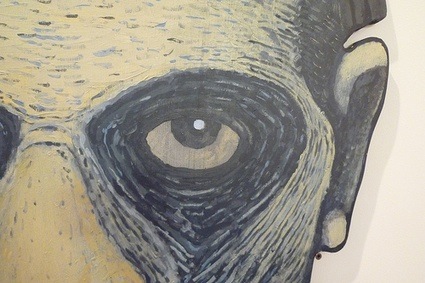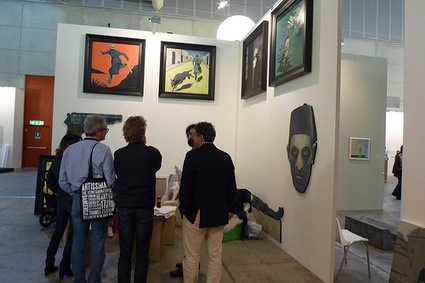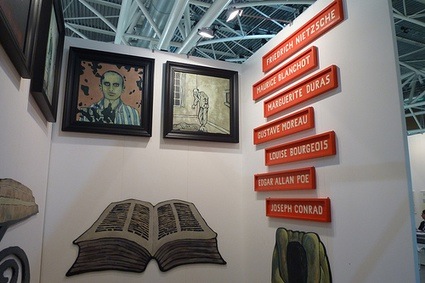 What happened? Why did i miss Francis Upritchard at the last edition of the Venice Biennial?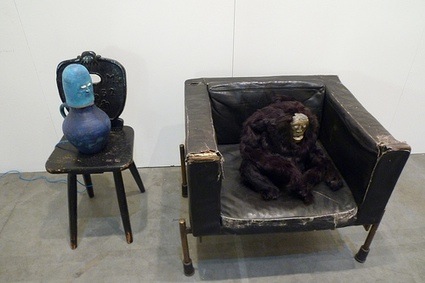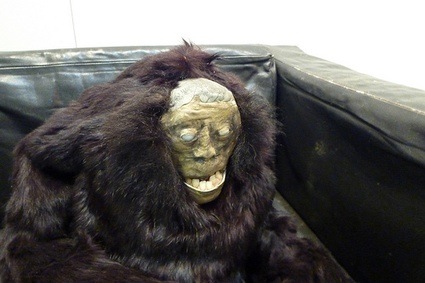 Now the question i like to ask myself when i'm in an artfair is "if money was no object which work would i want to bag for my penthouse?" At Artissima, i'd have bought a Damien Deroubaix.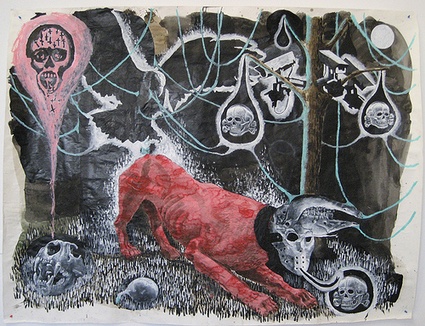 Damien Deroubaix, Sans titre (Lion rouge), 2008. Courtesy In Situ / Fabienne LeclercCrédit photo: Rebecca Fanuele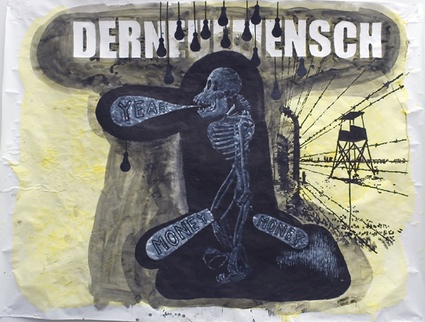 Damien Deroubaix, Der Neue Mensch 2, 2007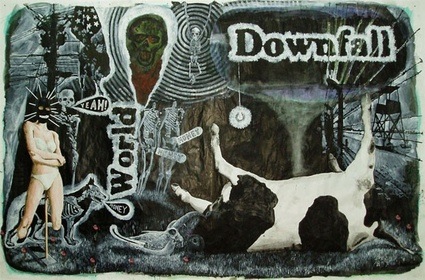 Damien Deroubaix, World Downfall, 2007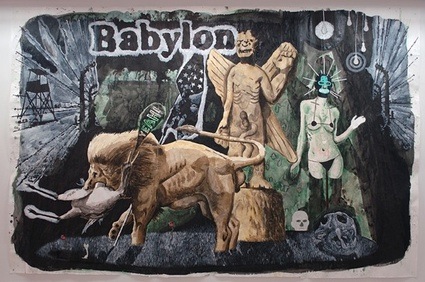 Damien Deroubaix, Babylon, 2007
I came across the work of David Shrigley at Galleri Nicolai Wallner's booth. I'm now very fond of his Modern Thought animations.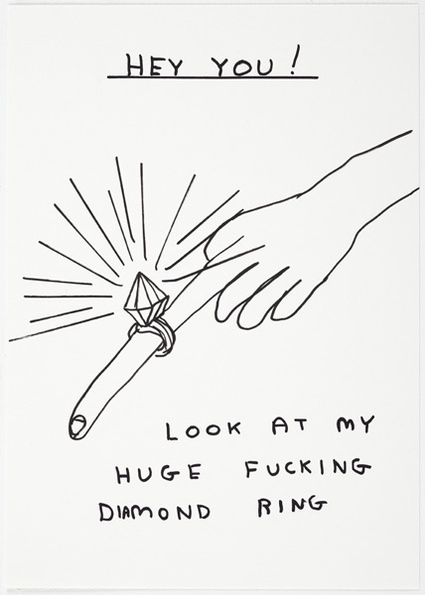 David Shrigley, Untitled (Hey you!), 2009. Image Galleri Nicolai Wallner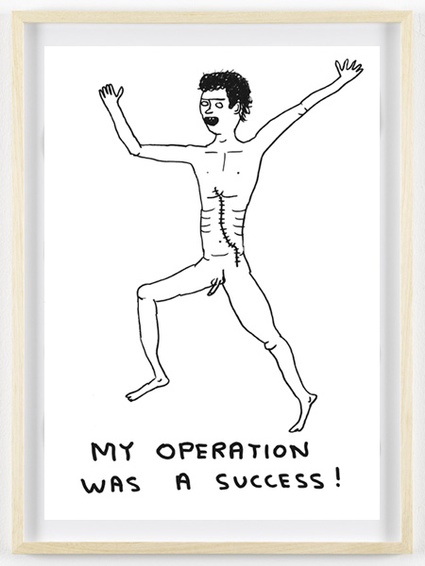 David Shrigley, Untitled (My operation was a success), 2010. Image Galleri Nicolai Wallner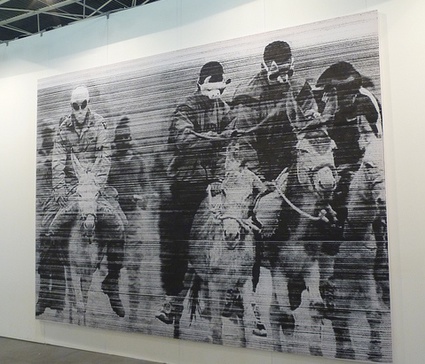 Jennifer Allora & Guillermo Calzadilla, Intermission (Halloween Iraq 2), 2008. Lisson Gallery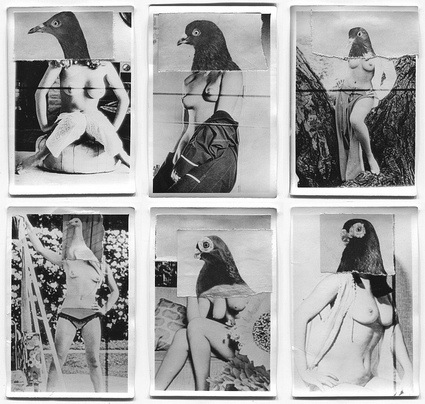 Honza Zamojski, Untitled (Pigeons), 2010
In 2007, Daniel Knorr decorated four trams in Bucharest with the symbols of key institutions: The Army, The Orthodox Church, The Red Cross and the Police. This intervention materializes the Kafkian relationship between institutions and citizens who live physically such relationship in regard to the tram (either if they are inside or outside it, either if it is empty or crowded), always repeating the same run (via.)

Daniel Knorr, Trams and Institutions, Bucharest, 2007
Gianni Pettena was one of the leading figures of "radical architecture" in Italy. The little i've seen of his work makes me think that he was a brilliant man, to say the least. Carabinieri were giant word-objects built out of corrugated cardboard erected in a courtyard and abandoned to the wear and tear of time and weather. 'Carabinieri' (the national gendarmerie of Italy) is an old word and it evokes authority. Rain and humidity have quickly and quietly reduced it to pieces.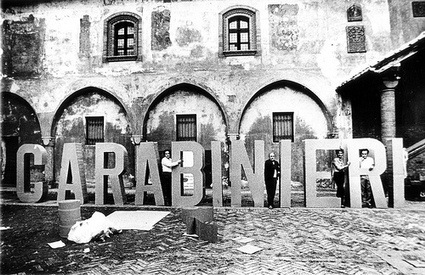 Gianni Pettena, Carabinieri, Novara, Palazzo Comunale, 1968. Courtesy Enrico Fornello, Milano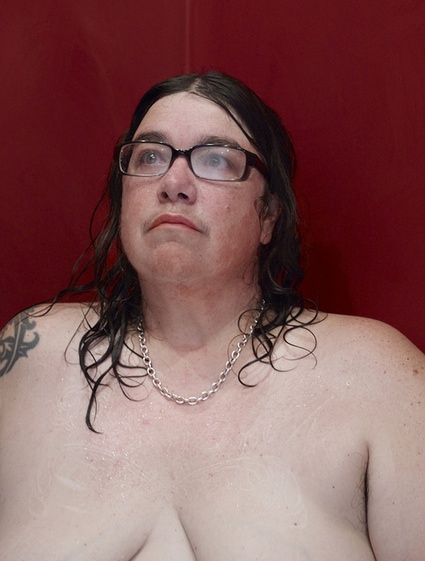 Catherine Opie, Self portrait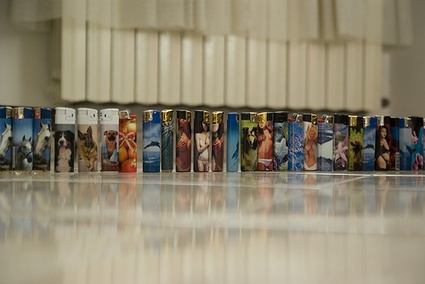 Marcello Maloberti, Raptus
Zebiba, by Hrair Sarkissian, is a series of portraits of pious men in Egypt who all have the 'Zebiba' or prayer scar on their foreheads, caused by kneeling on a prayer rug or a Mussallah (Stone of God) and touching the ground with one's forehead. On one level, the worshipper aspires to disinvest himself from earthly culture. Paradoxically, the desire to become invisible when facing God, renders him more visible within his social environment.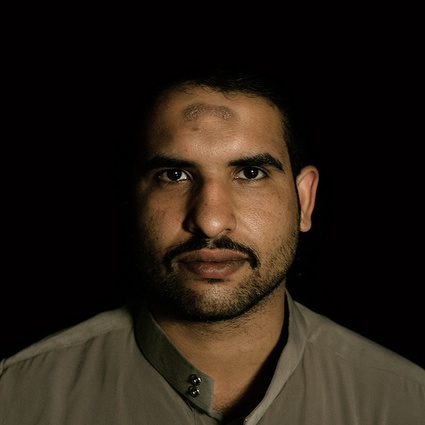 Hrair Sarkissian, Zebiba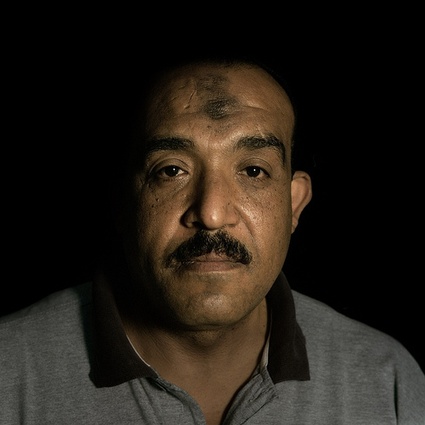 Hrair Sarkissian, Zebiba
Best discovery for me was the work of Andrea Salvino at the booth of Antonio Colombo Arte Contemporanea.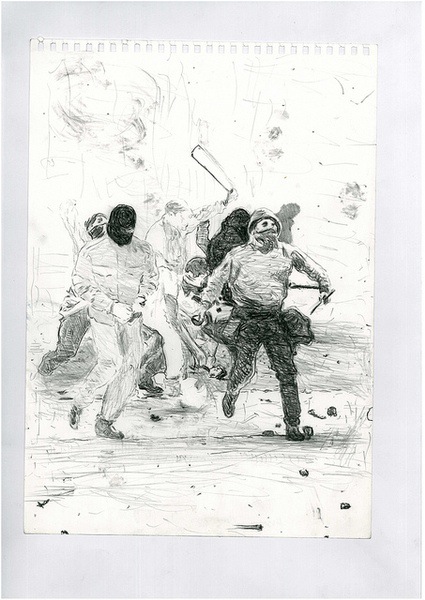 Andrea Salvino, 
Histoire(s) du cinéma, 
2009
. Courtesy Antonio Colombo, Milano
I had always associated Romanian artist Dan Perjovschi with sarcastic political drawings so i was surprised to see documentation of his tattoo "anti-performance."
In 1993, while his country was facing a national identity debate, and a negative image abroad, Perjovschi participated to a Performance Festival in Timişoara with an "anti-performance" for which he had the name of his country tattooed on his shoulder.
The unspectacular branding procedure reminding one of concentration camps and the confrontation with the loss of one's own identity by the brutal regimentation under the name of a country, was one of the most sincerely desperate forms of manifesting a post-December trauma, a form of protest against a "collective amnesia" manifested by the general indifference for the great problems which remained unsolved during the transition from communism to another stage (via.)
Ten years later, he removed the tattoo in a surgical procedure that involved a laser bombardment of the tattoo, each black dot splitting into millions of pieces and each of the pieces carried away through his skin by molecules. The tattoo was not erased but instead spread throughout the whole body of the artist.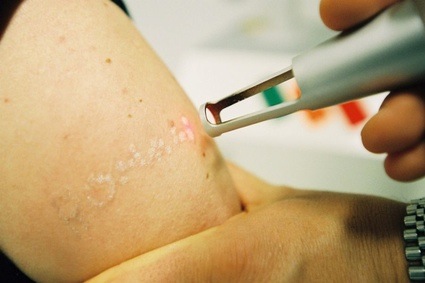 Dan Perjovschi, Removing Romania, 1993' 2003-2006 (detail). Photo: Nils Klinger. Galerija Gregor Podnar
And that's it for the 17th edition of Artissima!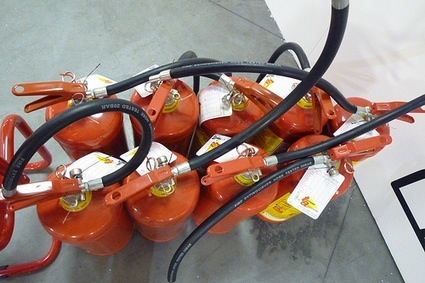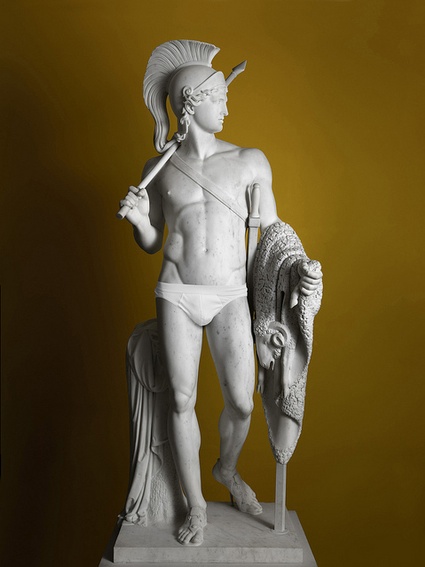 Elmgreen & Dragset, Jason, 2009. Courtesy Nicolai Wallner, Copenhagen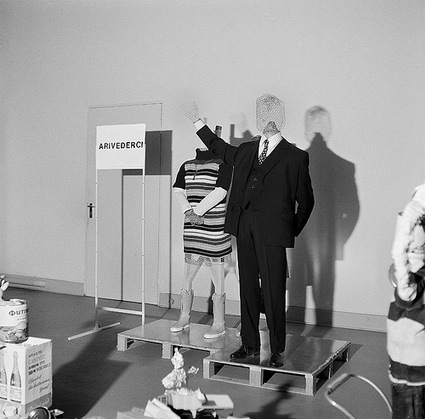 Vlassis Caniaris, Arrivederci – Willkommen, 1976. Courtesy Kalfayan Galleries
Previously: Artissima – the installations, Artissima: Architecture, photo, decay, Artissima – the House of Contamination and Artissima, first images.