My sincere apologies for this belated (but enthusiastic) report from the AND Festival, a festival of new cinema, digital culture and art that takes place annually in Liverpool or Manchester with an extended regional programme.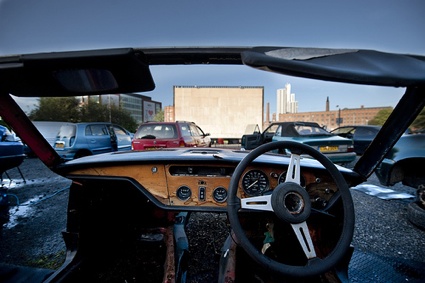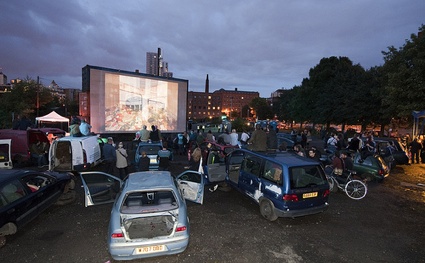 Todd Chandler & Jeff Stark, Empire Drive-In, 2012 at AND Festival 2012. Photo credit Paul Greenwood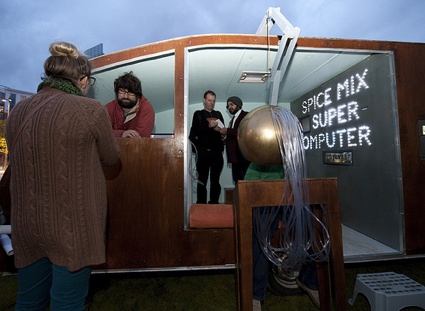 The Centre for Genomic Gastronomy, Spice Mix Super Computer, 2012. Photo credit: Paul Greenwood
Finally! An art & tech festival that makes sense. A festival that resonates with the media art expert and the casual passerby alike. An event that values art above in-your-face tech prowess. It was my first visit to an AND festival. I found it witty, surprising, often thought-provoking and enlightening.
Exhibitions, performances, open air cinema and workshops were free and distributed all over the city. My first stop was for the CUBE which was showing two works dealing with biotechnology. Pigs Bladder Football by John O'Shea and Reproductive Futures by Zoe Papadopoulou.
Pigs Bladder Football looks back at the time when football balls were made from pig bladders but instead of using an existing organ, the project tissue engineered small balls from animal cells harvested from abattoir waste. The artist was showing a video, a DIY incubator case as well as prototype of bladder muscle cell growing on 3D-printed polymer scaffold.
Zoe's exhibition was charting the history of assisted reproductive technology, putting the spotlight on landmarks such as the first premature baby wards in the US which used to be part of freak shows, the first test-tube baby, the first orphan who had more than 2 genetic parents, artificial wombs and the possibility to be the 'ultimate solo parent' one day. Reproductive Futures particularly explores one of the many cultural implications of these breakthrough: how are we going to explain children how babies are made? And will the techniques themselves have the potential to fundamentally change the way we perceive parenthood and reproduction?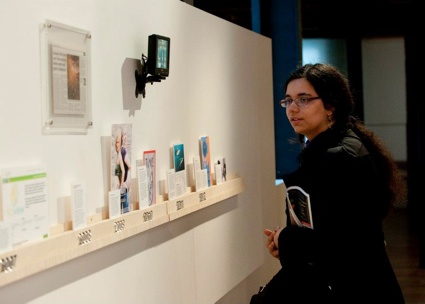 Zoe Papadopoulou, Reproductive Futures. Photo credit: Paul Greenwood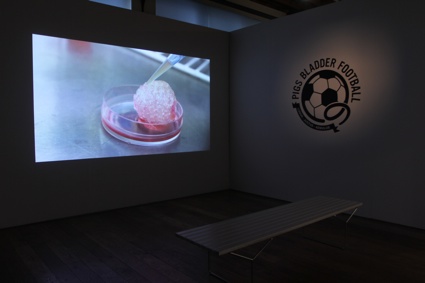 John O'Shea, Pig Bladder Football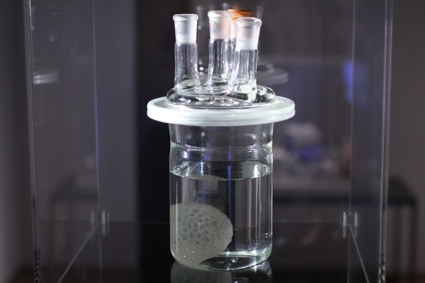 John O'Shea, Pig Bladder Football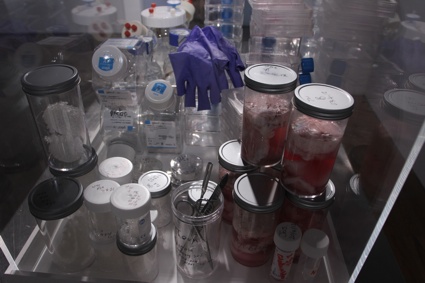 John O'Shea, Pig Bladder Football
I'll talk about these two works in more details in the future. Zoe is going to have a show of the final project this Fall in London and an interview with John O'Shea and Professor John Hunt is coming up next month on my art&science radio series for Resonance FM.
The AND festival had also given caravans to artists (London Fieldworks, Hellicar & Lewis, The Center for Genomic Gastronomy, Bureau A, Julian Oliver and Designers Republic) for them to customize, turn into micro art spaces and form a Mobile Republic.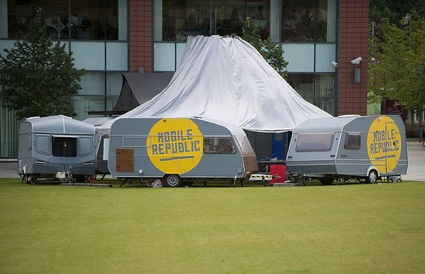 The Mobile Republic. Photo credit: Paul Greenwood
Julian Oliver is perhaps the artist that made the most congruous use of the caravan with a work of "dislocative media." Boarder Bumping highlights the fact that as we traverse borders our cellular devices hop from network to network across neighbouring territories, often before or after we ourselves have arrived. These moments, of our device operating in one territory whilst our body continues in another, can be seen to produce a new and contradictory terrain for action. A free custom-made app on your phone checks for discrepancies between location data and mobile phone towers, thus between where you actually are and where your network says you are. The Border Bumping server then redraws accordingly the map of the national borders you are crossing.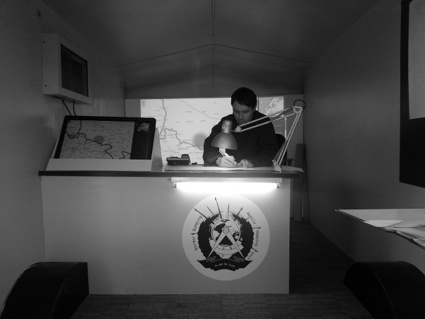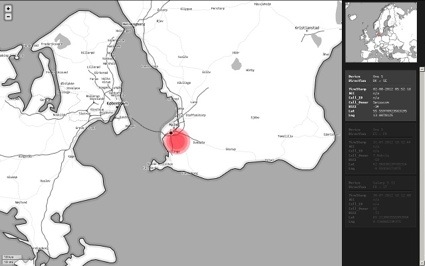 Julian Oliver, Border Bumping, 2012
One of the most stunning works i saw at the festival was a duo of videos by Jan Peter Hammer: The Anarchist Banker and Monarchs and Men. They were part of What have I done to (de)serve this? at Blankspace. The show presented works that reflect on the current global financial crisis and explore alternative economic systems.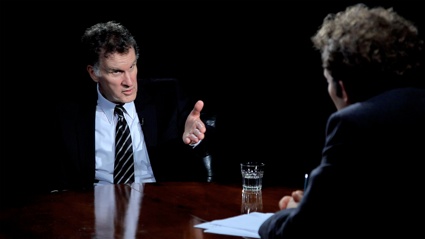 Jan Peter Hammer, The Anarchist Banker, 2010
The Anarchist Banker reinterprets a short story of the same name published in 1922 by Fernando Pessoa.
The protagonist of Pessoa's story was inspired by Artur Alves dos Reis, a fraudster who mounted a scam so big, it shook the credibility of the Portuguese currency, the Escudo. The repercussions on the economy and politics of the country were considerable: the escudo lost much of its credibility and so did the Portuguese government. The crisis enabled the military coup d'état of the 28th of May 1926 and eventually brought the dictatorship of Salazar who stayed in power until 1968.
In Hammer's film, the dialogue between Pessoa's protagonists has been adapted to reflect upon the financial practices of neo-liberalism and the current credit crunch. It is set as a tv talk show in which a banker with a ruthless logic is interviewed in the aftermath of the 2008 financial crisis.
The other film, Monarchs and Men, is a sequel of The Anarchist Banker. The same banker is back on screen with a similar panegyric of 'rational egoism' and individualism. This time the scenario is based on an imaginary conversation between Leon Tolstoy and John Davidson Rockefeller, published in 1913 by Maximilian Harden. Hammer sets the scene at the opening of an art exhibition at a gallery supported by the banker.
The films are brilliantly frustrating. The banker is the star of both. Anyone watching it will detest his brutal point of view and be irritated by the way he invariably defeats any argument opposed to his dogma. But it is also impossible not to admire his eloquence, firm beliefs and unflappable logic. Besides, the media usually show us capitalists attempting to defend their practice. There's no apology nor hypocrisy here, just merciless, unadulterated mindset.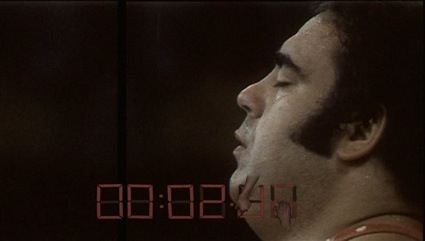 Torsten Lauschmann, Khronos
The theme of the Blue Crystal Ball exhibition at the Holden Gallery should have repelled me. Well actually it did repel me but i tried not to let my prejudices stop me. The show presented film and video works that explore the ideals and values of the Olympic movement.
The videos were very different from each other and very good. Without any exception. But i've already exhausted my quota of video reviews that aren't accompanied by any extract online for the day so you'll just have to take my word for it alas!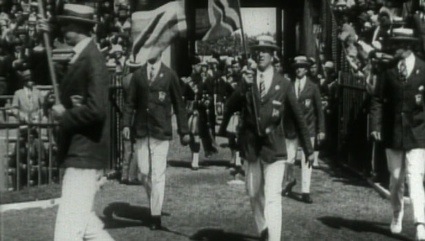 Susan Pui San Lok, Citius, Altius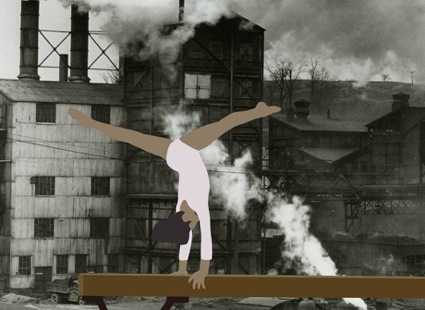 Kota Ezawa, Jump Cut, 2012
And i'll close with men briefs. Because i couldn't find any reason not to end on this happy note.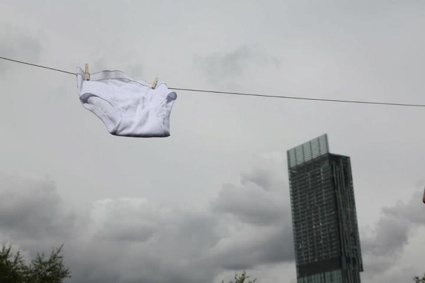 Lanfranco Aceti, Mancunian Panties (detail), 2012. Part of the 'National Panties' series at BlankSpace
My flickr set is over here.
Previously: Artistic automated transport system, Meme Junkyard: Technoviking, Al & Al: The Creator.