An eco-friendly Japanese project that can extend the lives of aging buildings won the Bronze Award in the Asia-Pacific leg of the Holcim Foundation for Sustainable Construction.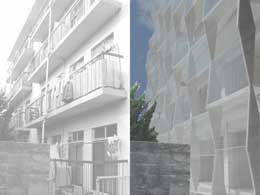 The "air suit", designed by Japanese architect Kazuhide Doi, creates an eco-friendly envelope around a building, increasing energy efficiency and reinforcing the building structure, doing away with the need for more expensive infrastructure renovation.
A thin skin of glass and membrane is used to envelope a building, protecting the structure from heat and water. It also creates a buffer zone for the building, providing warmth in winter through its greenhouse effect, and heat insulation in summer.
"The thin, translucent facade is also reminiscent of a traditional Japanese house," said Doi, referring to the engawa.
The technology was used recently to revitalize a 40-year-old building in Hiroshima where many buildings were constructed using reinforced concrete and are now beginning to show their age. The air suit could easily be adapted for other uses as well.
Via Daily Yomiuri.