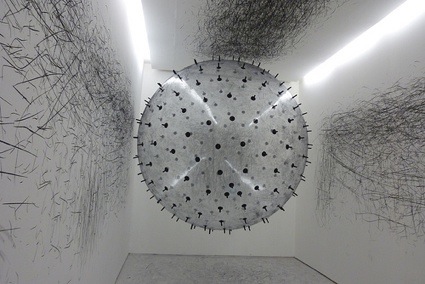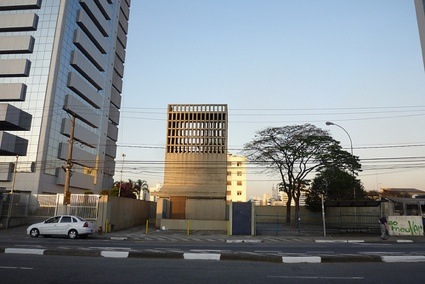 Quick introduction words about the FILE, the Electronic Language International Festival that takes place in São Paulo this Summer. As usual, the event mixes and matches immersive installations, animations movies, performances, machinimas, besides works of web art, documentary, and other goodies you expect from this ambitious new media art festival. This year, however, i've been particularly blown away by the least techy works in the exhibition.
I'll come back to them in the coming days in a more generous report but i'd like to kick off my reports from the festival with a short post about ADA – analog interactive installation, by Karina Smigla-Bobinski.
ADA is a huge helium-filled ball trapped inside a room. Its surface is spiked with charcoals that leave marks on the white surface of the walls, ceilings and floors as it bounced from one side of the room to the other.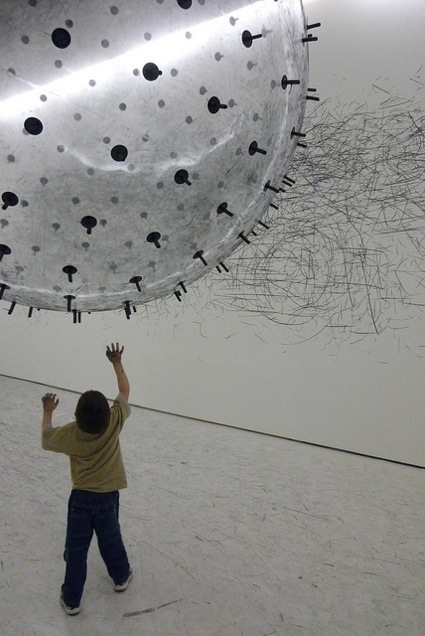 Visitors might want to put the ball in action by pushing it into one direction or the other but after that, the way the ball sketches on the white surface is mostly autonomous, no matter how hard you strive at controlling its movements.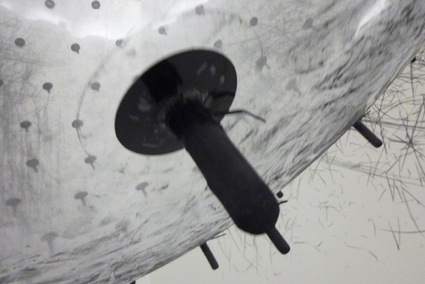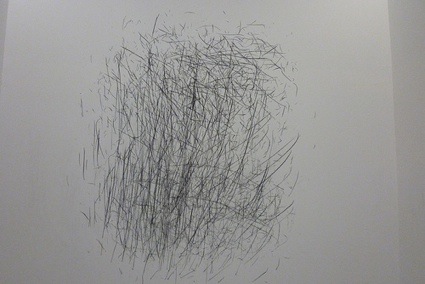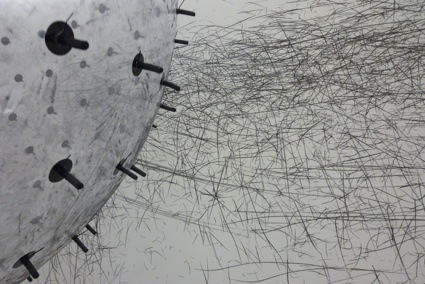 As art critic Arnd Wesemann wrote: It is a movement experienced visually, which like a computer make an unforeseeable output after entering a command. Not in vain « ADA» reminds of Ada Lovelace, who in 19th century together with Charles Babbage developed the very first prototype of a computer. Babbage provided the preliminary computing machine, Lovelace the first software. A symbiosis of mathematics with the romantic legacy of her father Lord Byron emerged there. Ada Lovelace intended to create a machine that would be able to create works of art, such as poetry, music, or pictures, like an artist does. «ADA» by Karina Smigla-Bobinski stands in this very tradition, as well as in the one of Vannevar Bush, who build a Memex Maschine (Memory Index) in 1930 ("We wanted the memex to behave like the intricate web of trails carried by the cells of the brain"), or the Jacquard's loom, that in order to weave flowers and leaves needed a punch card; or the "analytic machine" of Babbage which extracted algorithmic paterns.
FILE, the Electronic Language International Festival remains open through August 21, 2011, at the FIESP Cultural Center – Ruth Cardoso, in Sao Paulo, Brazil. Entrance is free.