A Touch of Code – Interactive Installations and Experiences (available on amazon USAand UK.)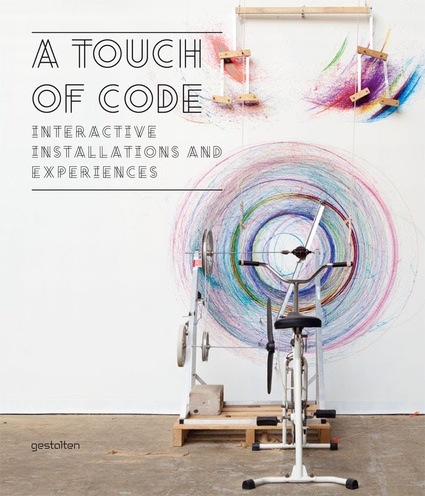 Publisher Gestalten writes: Thanks to the omnipresence of computers, cell phones, gaming systems, and the internet, a broad audience has traded its past reservations against technology for an almost insatiable curiosity for all things technical. Against this background, unprecedented new tools and possibilities are opening up for the world of design. In addition to sketchbooks and computers, young designers are increasingly using programming languages, soldering irons, sensors, and microprocessors as well as 3D milling or rapid prototyping machines in their work. The innovative use of powerful hardware and software has become affordable and, most of all, much easier to use. Today, the sky is the limit when it comes to ideas for experimental media, unconventional interfaces, and interactive spatial experiences.
A Touch of Code shows how information becomes experience. The book examines how surprising personal experiences are created where virtual realms meet the real world and where dataflow confronts the human senses. It presents an international spectrum of interdisciplinary projects at the intersection of laboratory, trade show, and urban space that play with the new frontiers of perception, interaction, and staging created by current technology. These include brand and product presentations as well as thematic exhibits, architecture, art, and design.
The comprehensive spectrum of innovative spatial and interactive work in A Touch of Code reveals how technology is fundamentally changing and expanding strategies for the targeted use of architecture, art, communication, and design for the future.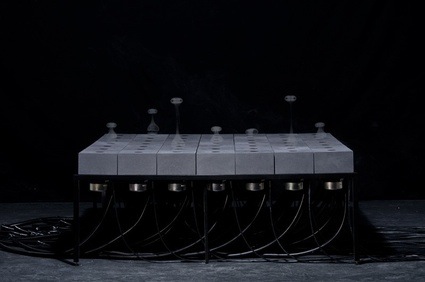 Daniel Schulze, Bitsbeauty, For Those Who See
New media art, interaction design, digital art, communication design, interface design, art&tech, etc. Define them as you like, the works in this book celebrate, in an unfussy, feisty way, the emancipation of computer code from the hands of programmers.
A Touch of Code takes a snapshot of the state of interactive art and design right here right now. If you're looking for a book with historical context and a panorama of what is going on all over the world this might not be the book for you. The works covered are very recent, there's no date next to the title of the pieces selected but i'd say that very few -if any- of them were developed more than 10 years ago. Most of the works were created in the USA or in Europe. With a surprisingly high emphasis on works from German-speaking countries. Which is fine by me, i don't tend to follow German magazines and blogs so i'm often in the dark as to what artists and designers are doing over there.
The book doesn't embarrass itself with much text. There's an introduction by Joachim Sauter from ART+COM, another one by the editors of the book. Other than that, all you get is the usual description of the works and a few lines that comment each chapter (Look, Touch, Explore, Engage and Intervene.)
Still, A Touch of Code is a joy to pore over. It's like a fast, efficient and snazzy blog about interactive installations. The images are fantastic, the design is impeccable, I discovered many young artists and designers (i was actually appalled by the extent of my ignorance) and felt the need to reconnect with artists i had not seen in ages.
Take a look at some of the goods you'll find in the book: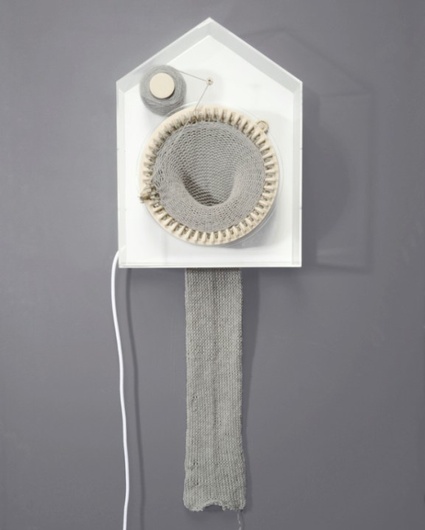 Siren Elise Wilhelmsen, 365 Knitting Clock
Siren Elise Wilhelmsen 365 Knitting Clock that knits 48 meshes per day, and produces one two meter long scarf per year. Knitting 24 hours a day, and a year at a time as a physical manifestation of time, they knit one mesh every half hour all day long, and in a year they each produce a two metre long scarf.
By the end of the year the yarn can be changed and a new year – and a new scarf – can begin.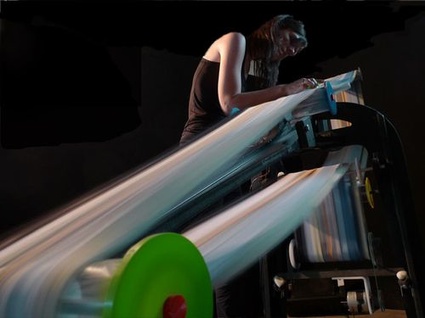 Kathrin Stumreich, Fabricmachine
Kathrin Stumreich's Fabricmachine is a loop-based musical instrument that transforms the opacity, quality and weaving technique of the textile into audio signals.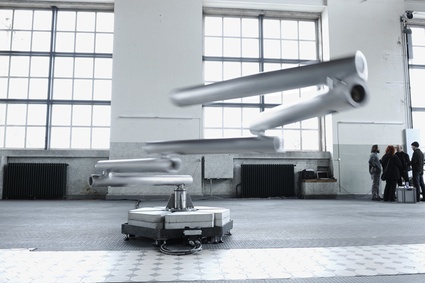 Cod.Act, Cycloïd-E. Image copyright Xavier Voirol
Cycloïd-E is a sound sculpture composed of five horizontally-articulated tubes which swing in unpredictable patterns and produce musical tones. Each section of the armature is a different instrument that emits a sound dictated by its position and speed of movement. The video of the work in action is impressive.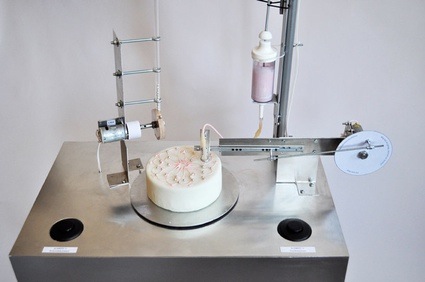 Mischer Traxler, Till You Stop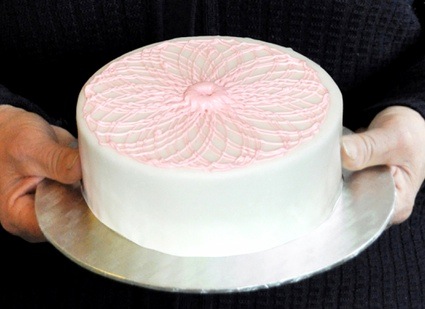 Mischer Traxler, Till You Stop
Mischer'Traxler's cake decoration machine is made of a rotating platform, icing gun, a motor-run arm and a silver dragées spout. The machine perpetually repeats one production step, first the icing lines then the sugar beads, as the cake rotates. It goes on until the customer stops the process.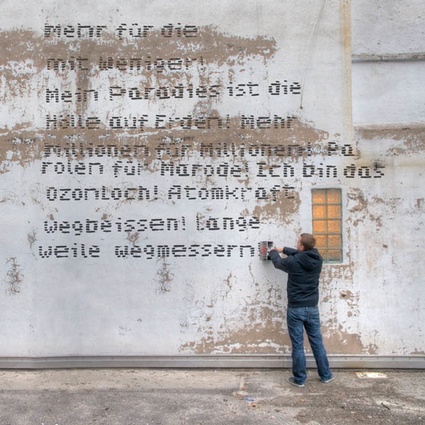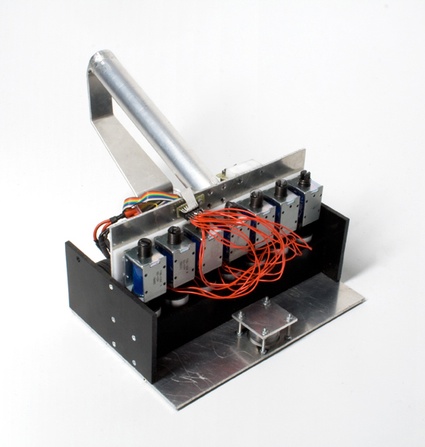 Felix Voerreiter, txtBOMBER
txtBOMBER by Felix Voerreiter generates on the fly and prints out political statements using an Arduino processor and seven markers.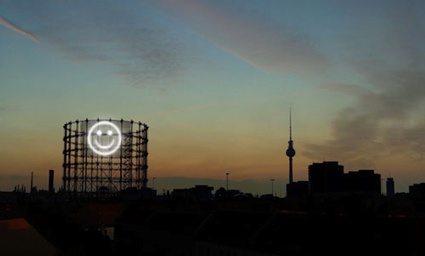 Julius von Bismarck & Richard Wilhelmer & Benjamin Maus, Fühlometer, 2008. Photo: Julius von Bismarck
Fühlometer, by Richard Wilhelmer, Julius von Bismarck and Benjamin Maus, draws a luminous emoticon over the Berlin sky. A software reads emotions out of the faces of random Berliners, the system processes the resulting mood data and turns it in real time into this gigantic smiley.
Thibault Brevet , Self-Made Carbon-Copy Paper Printer
The Self-Made Carbon-Copy Paper Printer is the result of two constraints: no original and no traditional printing method. The printer was hand-made using carbon copy paper. The software was developed for the printer using processing to read the bitmat image and control an Arduino driver. Wherever there is a black dot on the bitmap image, the printer-head hits the paper, leaving a mark. The printer's hardware and software solutions reference the work of do-it-yourself and maverick open-source communities.
Three Pieces, which was housed during several weeks in Victorian Palm House of the Royal Botanic Garden in Edinburgh, is a robot that plays the traditional Chinese dulcimer with its many bamboo fingers while the surrounding foliage hides an ensemble of robotic chimes. The robot performers, which are connected together, are conducted by the living and ever changing elements in the Palm House: moisture content of the soil, plants, temperature, animals, visitors.
Joseph . L Griffiths, Drawing Machine #1 (To Your Heart's Content)
Joseph . L Griffiths 's Drawing Machine #1 (To Your Heart's Content) is a stationary bike with a spinning front wheel that powers an apparatus that draws circles on the surface using coloured markers. Meanwhile, another drawing element makes other doodles based on the side to side motion of the handle bars.
Views inside the book: