The Estonian pavilion is on many 'must see' lists. I wouldn't bother to write that you 'must' see it. Truth is you just can't miss it. It's that lemon yellow section of a natural gas pipe that snakes down the Giardini from the German to the Russian pavilion. The sixty-three meters long of real scale elevated gas pipe draws attention to Nord Stream, the controversial Gazprom project to construct a direct pipeline between Russia and Germany. The pipe would run along the Baltic seabed, which could have major political and ecological implications for neighboring countries.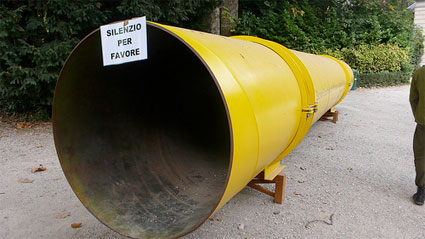 Gaasitoru/Gas Pipe puts in broad day light the one of the most pressing factors that will determine how the architecture of the 21st century develops is not the quest for beauty but energy.
In spite of the undeniable relevance of the project, getting the authorization to install the pipe in the garden of the Biennale was no easy task. 'When we introduced the project to the board of Biennale, the first reaction was a clear no – the Italians didn't want to see this project, uncomfortable in both essence and construction, on the Biennale,' commented Maarja Kask to Baltic Business News, 'Thanks to the support of the general curator of this Biennale, Aaron Betsky, we were allowed in the end to install the gas pipe if we get permission to from all the states whose pavilion the pipe will pass in front of.' Fortunately, they didn't get any veto from Germany, Canada, the UK, Czech, Slovakia, France, the Northern states, Japan, and Russia.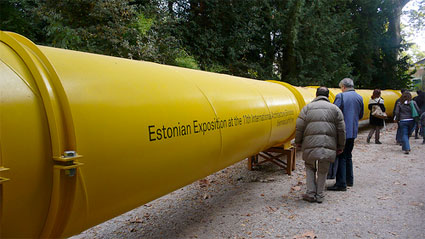 The Estonian team address in a bold and tangible way a series of political issues that should be put on the table more often when discussing architecture: the growing imprint of large-scale infrastructure on contemporary landscape, the architect's position and his or her potentially critical role in relation to power; the future of energy, etc.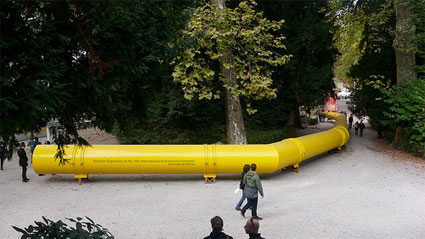 Images of the pipeline.
The Venice Biennale of Architecture continues until Nov. 23, 2008.