Carried by a twenty foot blimp, Movable Feast / Fête Mobile is an autonomously controlled vehicle that, nevertheless, offers its audience limited access to influence its trajectory as well as its optics through an online interface. An onboard wireless local-file server allows the public to exchange media files, remotely view their surroundings from above via a video camera, and display text message on an LED panel mounted on blimp.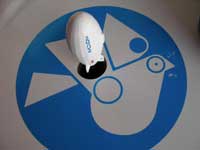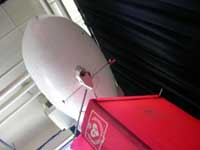 The audience are invited to connect to the blimp's on-board wireless micro-computer through their laptop computers in order to exchange files with the blimp's mobile archive. This allows Fête Mobile to function as a kind of autonomous "sneaker network", physically out of reach of the authorities.
The project is concerned with public space, file sharing, and the phenomenon of local community wireless networking. It proposes a model for an autonomous system of media exchange that exists in the public radio spectrum. It also aims to question some of our beliefs in the invincibility of the Internet. The Internet is in fact merely decentralized. Catastrophic failure targeted at key switching stations along the Internet's backbone could sever communication between whole regions of the globe, overnight transforming the Web into a fragmented archipelago of networked sub-regions. In a world where communications over the Internet has become either impossible or unsafe, Fête Mobile would function as a lifeline.
At its most conceptual level, the project thus extrapolates current techno-political issues into a possible future scenario in which communities are locally connected through peering protocols whilst disconnected from Internet as a whole.
A collaboration between Luke Moloney, Marc Tuters and Adrian Sinclair.
Movable Feast will be deployed for ISEA 2006.