A 72 meter high tower stands at Telefonplan in Stockholm. Half a century ago, it belonged to Ericsson who used it for testing microwave antennas. Today the University College, "Konstfack� has moved to the area and the place is envisioned to be a new creative center for architects, designers and so on.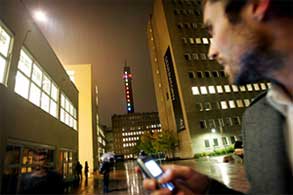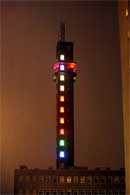 The windows on the ten floors along the tower body constantly change colour. Anyone can call a number, +46 (70) 57 57 807, and control the colours in the windows of the tower by mixing red, green and blue light with their phone. You can do it on site or by looking at a camera stream on the webpage. It can be seen from quite some distance in every direction.
The developers say that "Besides the aesthetic sides of Colour By Numbers we hope that it can be a contribution to the debate about democracy and public space here in Stockholm."
Colour by Numbers is a collaboration between: Milo Lavén, architect, Erik Krikortz, artist and Loove Broms, interaction designer. Photos by Malin Arnesson.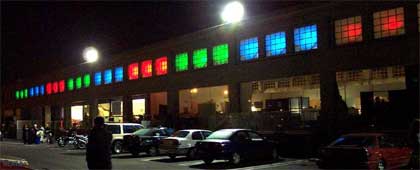 Colour by Numbers looks like a vertical version of RGB, a project Electroland made in 2001. The installation, situated at the Southern California Institute of Architecture, enabled mobile phone users to call a designated number and, using the keypad, activate red, green and blue lights stretched along the 81 windows of a campus building, raising issues concerning private interaction and control of public spaces. Video.