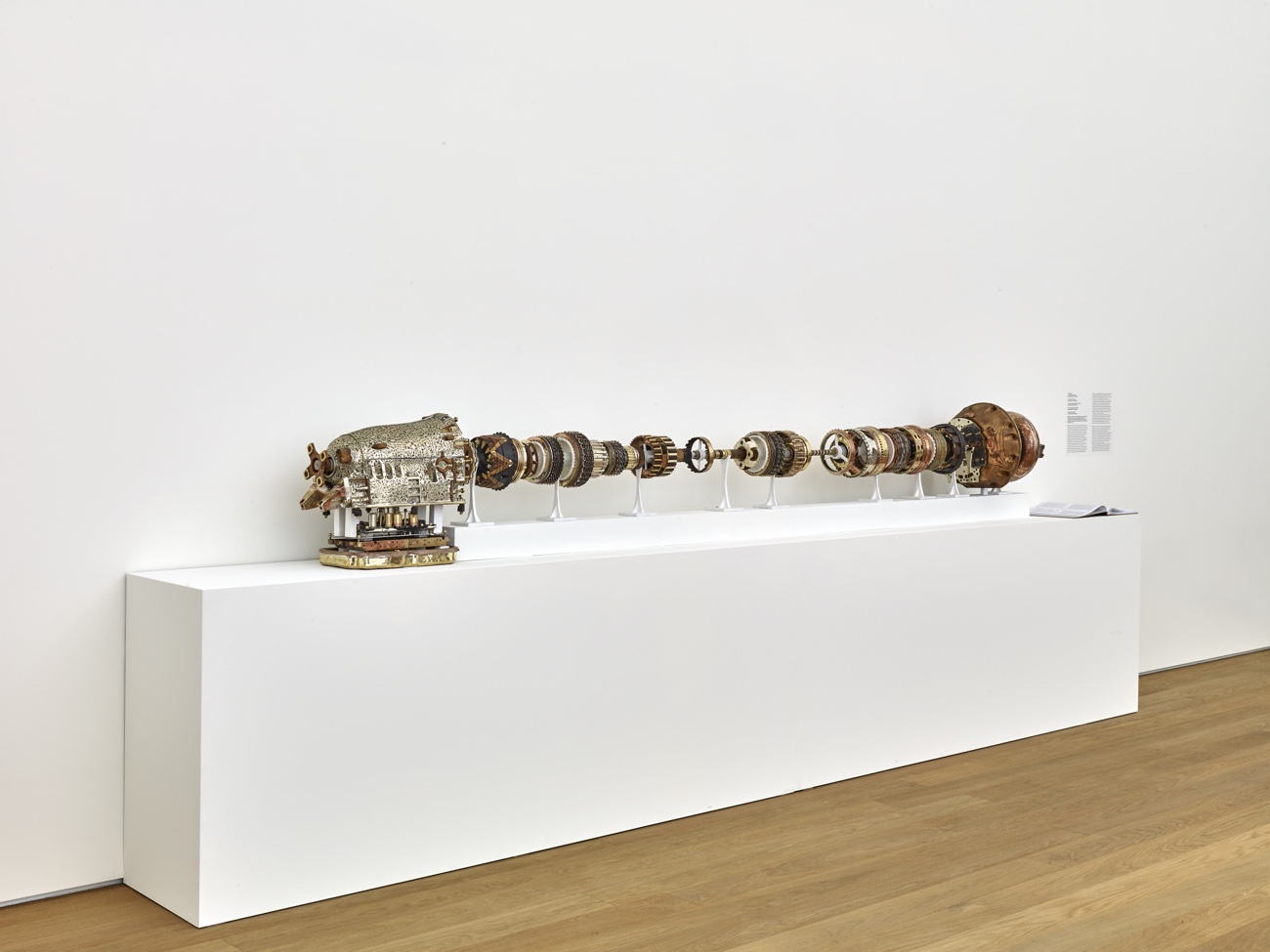 Eric van Hove, V12 Laraki Gear Box, 2015. View of the exhibition Eppur si muove . Art and technology, a shared sphere, Mudam Luxembourg. Photo: Rémi Villaggi, Metz / Mudam Luxembourg
There is a truly amazing exhibition at the MUDAM in Luxembourg at the moment and it's called Eppur Si Muove. Art and Technology, A shared Sphere. Organized in partnership with the Musée des Arts et Métiers in Paris, the show looks at the many links that exist between visual arts and sciences. Contemporary artworks mix with machines and objects that have shaped the history of science. Each of the artefacts on show has amazing stories to tell. Hopefully, i'll find some time to write about them before Eppur Si Muove closes its doors on 17 January.
Right now, i'd like to talk about one of the works i discovered in the show. It is so stunning that it manages to outshine Damian Ortega's dismantled Vespa that is hanging nearby.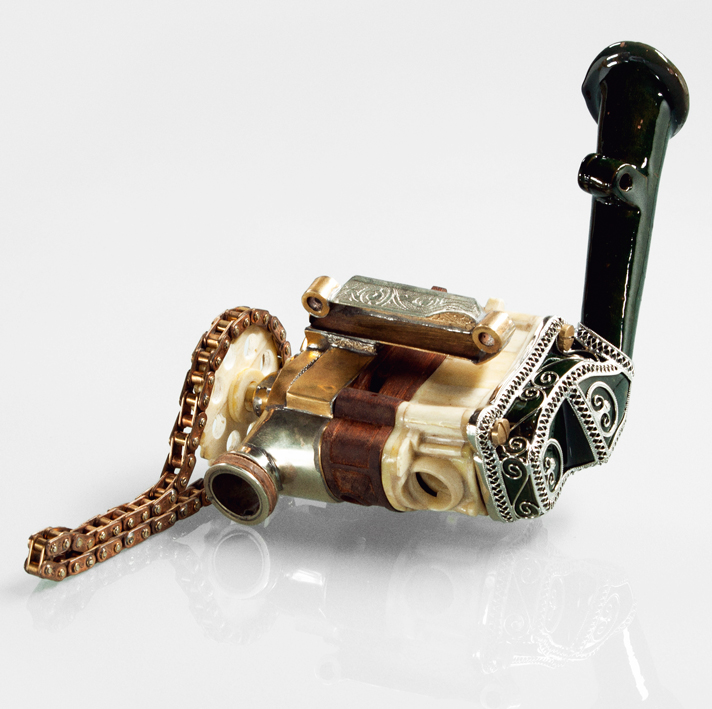 V12 Laraki, Oil Pump, 2013. Cow bone, wood glue, Chinese superglue, recycled copper, resin, dye, tin, lemon wood, paint and yellow copper. Photo Copperfield Gallery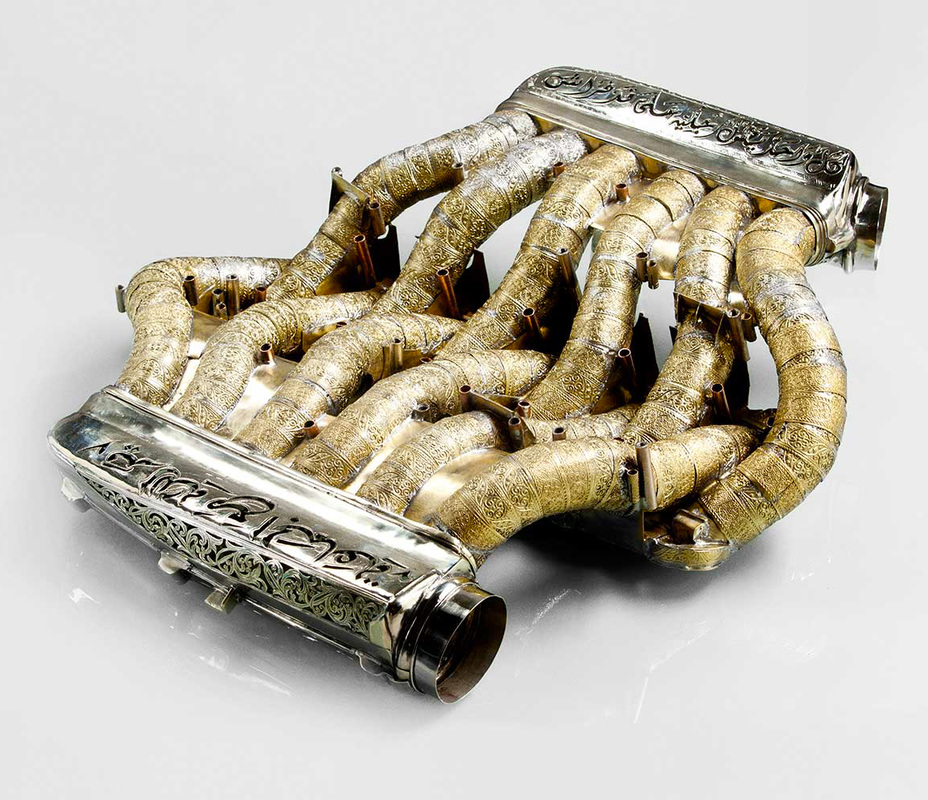 V12 Laraki, Intake manifold (2013) Yellow copper, tin, nickelled silver. Photo Copperfield Gallery
The story starts in 2004 when Moroccan entrepreneur and designer Abdeslam Laraki had the idea of building a supercar that would be 100% Moroccan made. His Laraki Fulgura looked like an Italian luxury sport car but lacked the engine. Thinking manufacturing it in his country would be too demanding, Laraki simply imported a Mercedes V12 engine.
Artist Eric van Hove took up where Laraki left. His V12 Laraki project is a perfect copy of a Mercedes-Benz 6.2L V12 engine. Except that each of its 465 components was handcrafted by Moroccan artisans who used 53 materials traditional to the country. The artist bought a Mercedes engine, his team disassembled it and faithfully replicated each piece using brass, marble, bone, mother of pearl, malachite, agate, precious woods, ammonite fossils, terracotta enamel, and other local materials. Then they assembled the engine using 660 casted copper bolts and the 465 exquisitely reproduced parts.
Millions of highly skilled artisans work in Morocco, most of them are making a livelihood by repeatedly fabricating small trinkets that will please the tourists. For this work, Van Hove gave the craftsmen he collaborated with total control over their own section of the engine:
As the conductor initiating it, I unify the performers, set the tempo, execute clear preparations and beats, and shape the sound of the ensemble, but we work collectively somehow and each of these craftsmen is unique and influences what is happening, the artist told Ibraaz.
Each work is signed and authored by the artist of course but also by the craftsmen.
V12 Laraki reverses the industrial process. Instead of replacing hand-crafted objects by mechanization and automation, the work goes back to craftsmanship, using traditional, popular and almost forgotten techniques to reproduce one of the icons of Western engineering.
Interestingly, the adventure didn't stop there. The work was so mutually satisfying for both Van Hove and the artisans that the artist moved his workshop from Brussels to an area outside Marrakech and hired some of men who worked on the V12 project to create more ambitious projects together.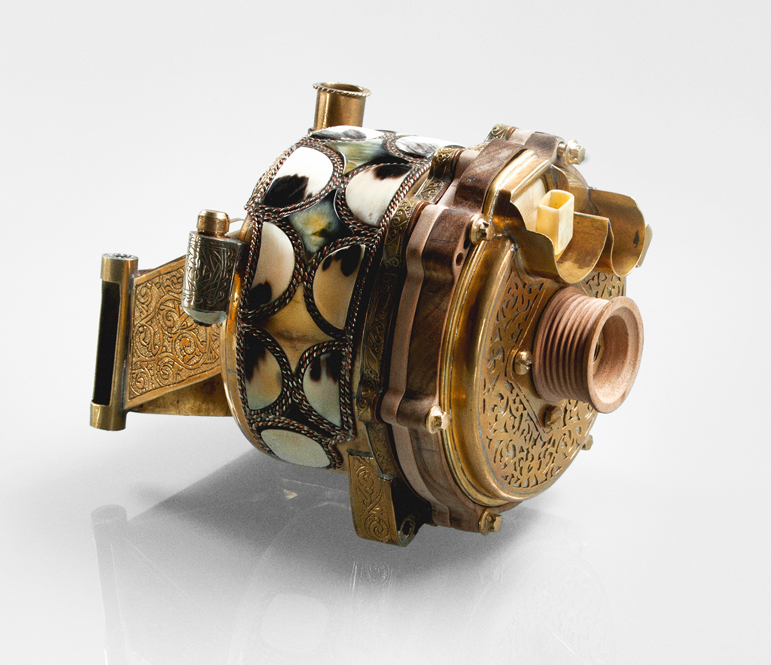 V12 Laraki: Alternator, 2013. Yellow copper, red copper, nickel silver, mahogany wood, cedar wood, cow bone, sand stone, cotton, ram's horn, cowskin, tin, chinese superglue and cow horn. Photo Copperfield Gallery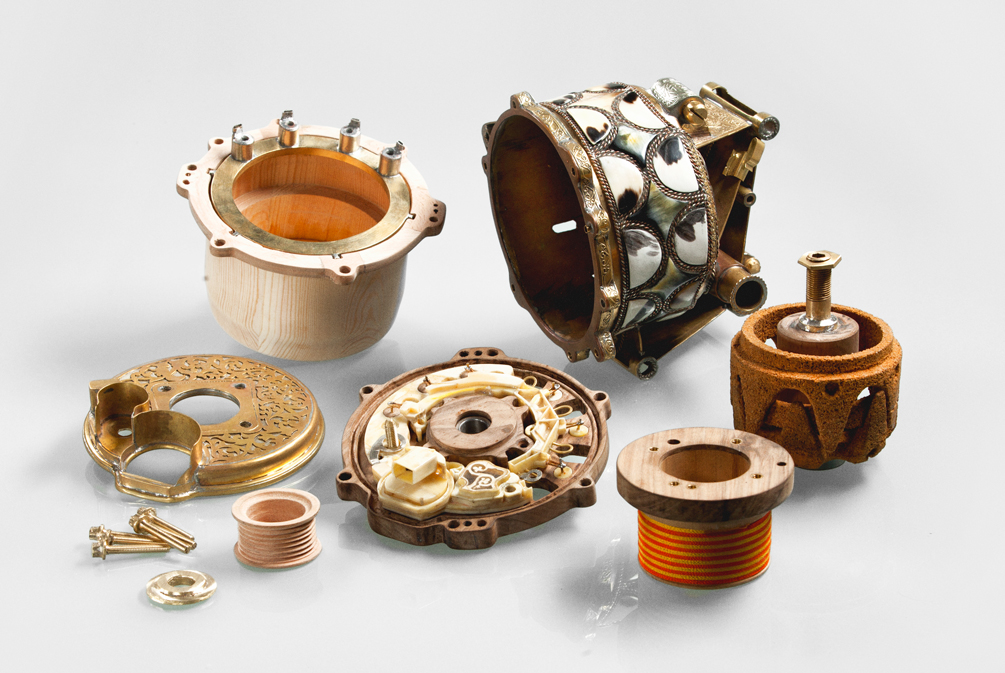 V12 Laraki: Alternator, 2013. Exploded view of above. Photo Copperfield Gallery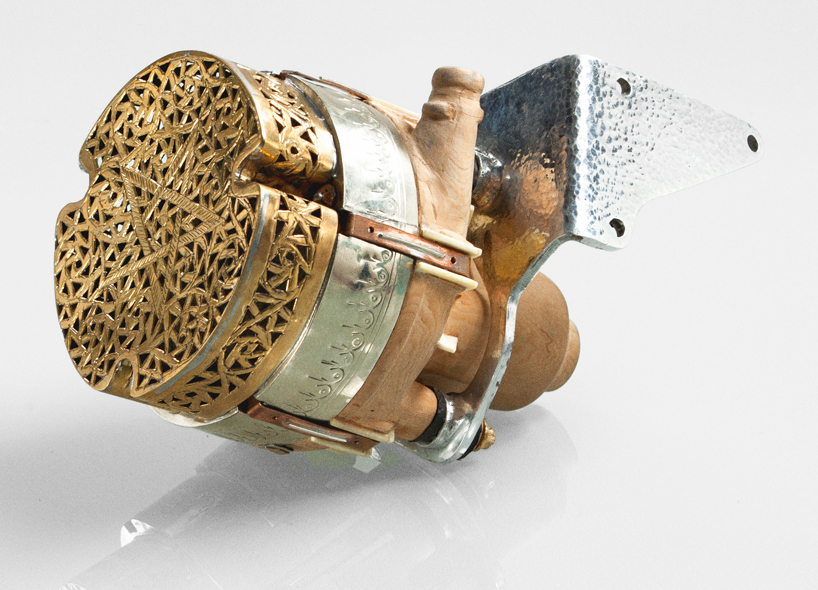 V12 Laraki: Air Filter, 2013. Yellow copper, nickeled silver, tin, Middle Atlas white cedar wood, red copper, cow bone, recycled aluminum, rolling bearing and cowskin. Photo Copperfield Gallery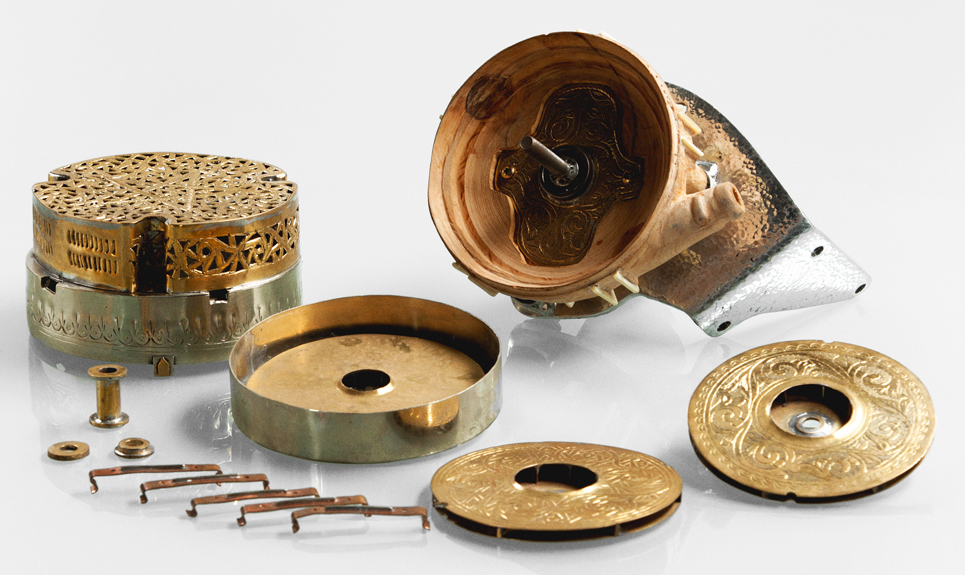 V12 Laraki: Air Filter, 2013. Exploded view of above. Photo Copperfield Gallery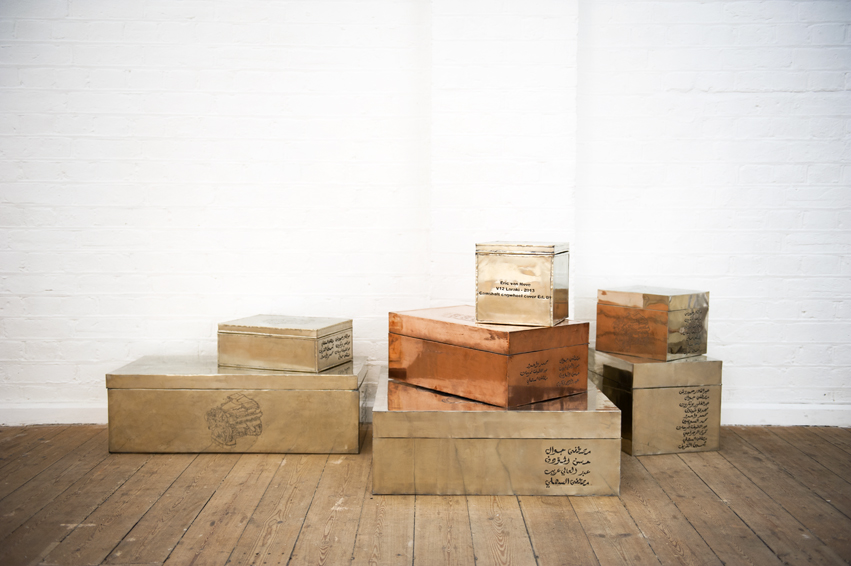 As installed, copper & nickelled silver inlaid boxes, each bearing the names of the craftsmen and artist. Photo Copperfield Gallery
For background, story, concept, techniques, challenges and anecdotes about the work, check out this video interview with Eric Van Hove:
Eppur Si Muove. Art and Technology, A shared Sphere at the MUDAM in Luxembourg. Hurry up, the show closes on 17 January 2016.