With homes getting increasingly smaller, single people might find it difficult to add a personal permanent touch to their spaces. The K.G.B lamp aims to enable a new secret layer of meaning for them.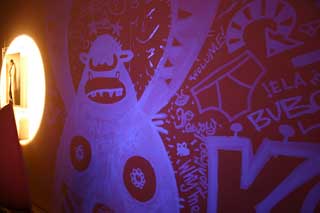 The K.G.B kit is comprised of an invisible ink spray can that reveals your drawing only under U.V. light and a lamp which acts as a regular source of light. When held by the handle, a secondary U.V. bulb is turned on, revealing secret graffiti on walls. The boring white room is instantly turned into a playful graffiti space. And the gun handle gives the lamp another mysterious twist.
Designed by the "Magic Blanket duo", Dana Gordon and Alejandro Zamudio Sanchez.
This project, along with many other cool ones by IDII, is being exhibited from April 7-10th (noon-8pm) then from 11th-21st (noon-5pm), at the Fabbrica del Vapore, Via Procaccini, 4.
Once again, thanks Aram for the images, mine are too crapy ;-)
Aram has taken pictures of the show and even uploaded several videos online to give you a taste of what you're missing if you can't make it to Milan.