The Gun Control Alliance is committed to enhancing public safety by reducing the number of guns in South Africa society through stricter gun control.
It consists of a diverse number of organisations and individuals who have endorsed the Charter for Gun Control which recognises that the current Arms and Ammunition Act is outdated and fails to adequately screen firearm license applicants, or monitor existing gun owners.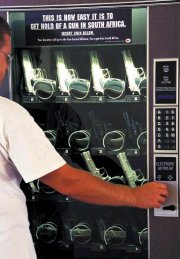 For one of its campaigns in 2000, the association had installed on university campuses and shopping malls several vending machines that sell guns. A simple and direct way to demonstrate how easy it is to get hold of a gun in South Africa. The money collected was used to support the activities of the gun-free society.
Via guerrigliamarketing.