The Gender Anarchy Project breaks down assumptions of gender. The sign on the bathroom doors is replaced by an interactive sign that draws attention to gender ambiguity.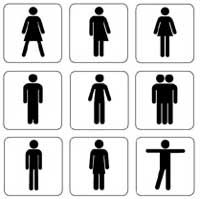 The installation is in honor of the gender movement which began in the nineties and the recent efforts by activists for gender-neutral bathrooms.
Author: Amelia Marzec.
The work is part of the Parsons ' 2005 thesis projects show and is installed till June 10 at the Sheila and Arnold Aronson galleries – 66 Fifth Avenue, Ground Floor, between 12th and 13th Streets.