Pe Lang and Zimoun from Untitled Sound Objects have a fantastic portfolio of interactive sound pieces. Their poetic and extremely elegant installations seem to live and thrive from the walls, ceilings, and windows of the art galleries where they are installed.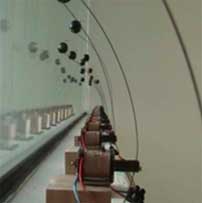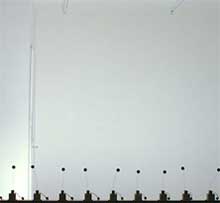 For one of their pieces, they covered the entire window display of the art space with simple robots standing next to one another. Sensors register whether and at what distance somebody is standing in front of the display.
As soon as the sensors detects a presence, the robots knock on the window display. The further away the person is, the more hesitant and at greater intervals the knocks occur, the nearer the person comes, the more intense and faster the knocks get, until – when the person is right in front – the machinery is running at high speed, thus weaving a dense carpet of rhythms.
The window itself, but also the parts knocking on it are slightly manipulated to cause a wide variety of different, interweaving sounds in a small space. Through subtle inaccuracies and constant slight
variations of the robots the installation appears to become organic and alive.
Untitled Sound Objects will be the guests of the espacio menos1 in Madrid, from February 8 till 18.
Via mediateletipos which is, imho, the best source of information about anything related to sound art.