On Tuesday Muslims are celebrating Eid al-Adha, the Islamic day of sacrifice. Every Muslim who is rich enough is supposed to donate an animal to be slaughtered, and the meat is donated to the poor.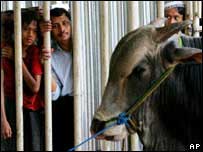 In Indonesia, a newspaper, TV station and local bank have joined forces to provide an easy alternative- you can buy an animal at your nearest ATM machine.
Having made their electronic purchase, customers are promised photographs of the slaughtered animal and a letter of thanks from the community which will benefit from the donated meat. So far almost 4,000 goats have been sold this way at a cost of about $70 (£40) each.
A sacrificial cow will set you back more than $500.
Via BBC News.