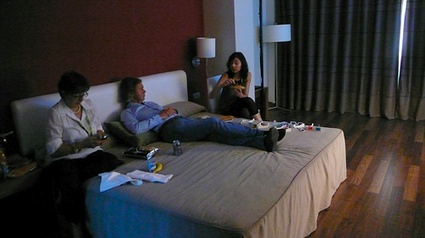 Video art is best screened inside isolated dark rooms. Seats are more than welcome, especially if you have to watch tens of videos in a row. LOOP art fair understands the importance of the comfort factor better than most biennales, museums or even film theatres. The fair took place inside the snug rooms of the Hotel Catalonia Ramblas (great breakfast buffet, über-shitty wifi) right in the center of Barcelona during 3 afternoons. Videos were displayed on big screens inside bedrooms and some galleries added a smaller screen in the bathroom to show another piece. So here we were all cosying into armchairs, spreading over beds, taking notes in the dark and chatting in the corridors of the hotel.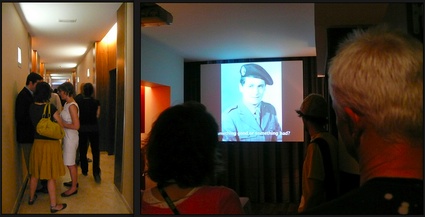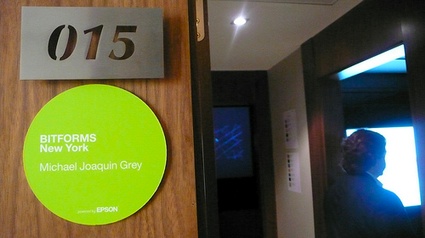 Here's a few works i noticed:
Specta Gallery brought two animations by Lars Arrhenius. One of them is The Big Store. A collaboration with Johannes Müntzing, The Big Store is set in the Stockholm department store where Swedish minister of foreign affairs Anna Lindh was assassinated in 2003. Arrhenius/Müntzing have set their focus on the minutes before the murder, as any other day at the store, except that customers, shop keepers, and other protagonists appear as if their body had passed through an x-ray machines. People wander quietly inside what is probably many people's nightmare: a long walk inside a shopping mall emptied of the only elements that makes it remotely appealing: its goods.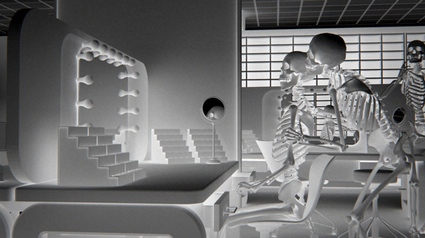 En dag i varehuset / The Big Store. Still from animation, in collaboration with Johannes Müntzing, 2008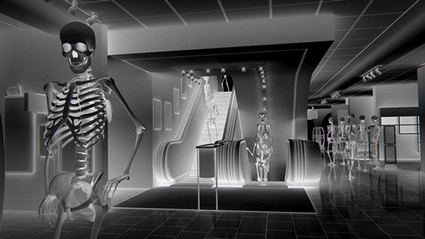 En dag i varehuset / The Big Store. Still from animation, in collaboration with Johannes Müntzing, 2008
I couldn't find a video of The Big Store online but you tube features two other videos by Lars Arrhenius:
The Man Without Qualities and The Street.
Max Estrella Galería de Arte selected the work of Daniel Canogar to represent his gallery. Now Canogar's didn't come with artworks that could be described strictly as videos and that's what made the gallery's bedroom all the more interesting.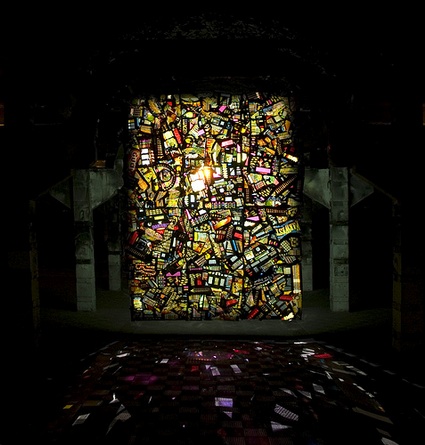 Jackpot at Matadero in Madrid. Image courtesy Daniel Canogar
One of the pieces on show, Jackpot, a collaged panel formed by broken fragments of slot machines. A projection back-lights the panel with Las Vegas-type flashing lights. The piece looks at our fascination with media screens, the extolling of money as the new religion of late capitalism, and indirectly alludes to the financial system as a game, whose current troubles highlight the inherent dangers of being seduced by its glimmering light. 'Screen' is the key word where LOOP and Jackpot intersect. The video installation is indeed the result of the artist's quest for new ways to break the traditional frames of the screen.
Video.
The bedroom of the gallery Filomena Soares was the magical one. I sat there for almost 40 minutes to watch in loop a video that lasts only a few minutes while people around me kept whispering words such as "fantastic" and "magnificent". "O Percurso" (El Camino), a video by Vasco Araújo, attempts to encapsulate three key elements that define gipsy culture: inheritance, nomadism and oral tradition. The video shows the journey through the inhospitable landscape of Andalusia of a man and his son, they just left a land behind them and are looking for a new one. While walking, the son wonders when they are going to arrive and his father tells him again and again that no land is theirs, just like the wind isn't, that what matters is never to stop. What matters is freedom.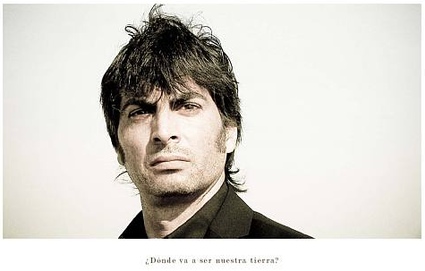 Vasco Araújo, O Percurso (El Camino), 2009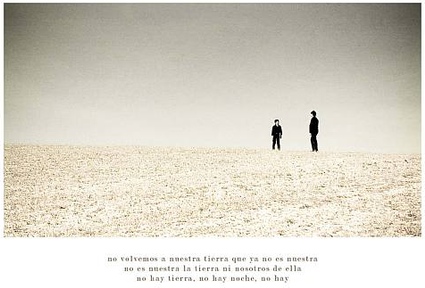 Vasco Araújo, O Percurso (El Camino), 2009
Susi Jirkuff is interested in media perceptions and relations between reality and fictions, stories and images. Her videoanimations are playing with different TV genres. By remixing viewer assumptions they reveal the manipulation by the media. The espaivisor – Visor Gallery in Valencia, Spain, brought two of her videoanimations to the fair.
The works on show explored the paradox of pop music: on the one hand it's a product made to be a commercial success, no matter its quality. On the other, it's a expression for intense emotions.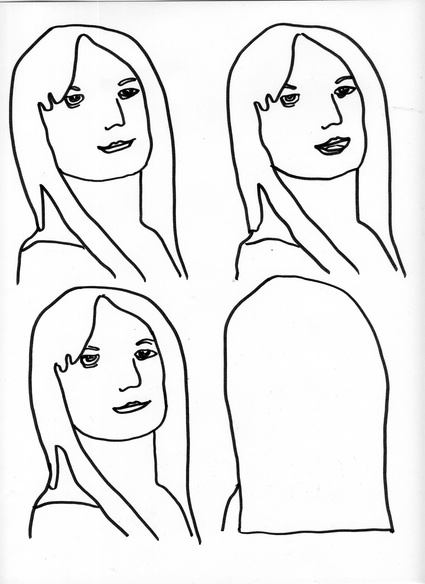 People Who Like Bonnie Tyler, 2009, 6´ 05´´, videoanimation
The artist explained: I'm interested in the gap between the media presentation and the message that is received by the consumer. In pop music this gap is deep: on the one hand a settled product consisting of a constructed personality, visual perfection and music, on the other hand an often young recipient who is very much emotional involved in his own life and uses this product to express himself. Emotions are transferred into feelings, a sentimental consumable print of psychic experiences. We more and more learn to act and stage aside an authentic emotional expression believing that we are very authentic.
This mirroring of false authenticity to true emotions back to false authenticity is the starting point for 'People Who Like Bonnie Tyler'. I drew some potraits of fans who use this website for chatting and asked my sister, a musician, to record 'Total Eclipse of the Heart' with some of her students. I gave them some of the drawings and they gave them their voices. Bonnie Tyler herself appears as a ghost from her 1984 music video and texts by fans show that their admiration is everlasting.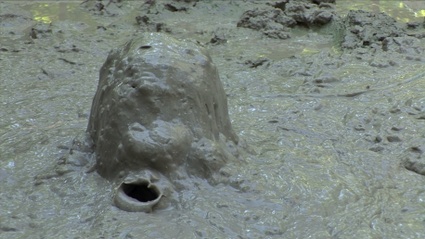 Braverman Gallery was screening an arresting video by Gilad Ratman. The 588 Project started when the artist discovered on you tube videos showing men immerging themselves completely inside thick mud, breathing only through plastic tubes. Ratman went to see those mud immersion enthusiasts and documented them as they are swallowed up by the mud. Watching the video only makes you feel claustrophobic.
Because of the huge amount of art events i attend each year i sometimes have the feeling that i'm slowly mithridatizing myself against the pleasures of art. I'm glad events like this reminded me why i got into art blogging in the first place. See you next year at LOOP, ok?