Desperate to experience the thrill of a trip into space? If you can't afford Space Adventures's multi-million ticket to fly into space and if you don't want to wait till 2011 to hop on one of Richard Branson's upcoming Virgin Galactic flights, then the Soyuz Chair, designed by Design Interactions graduate Nelly Ben Hayoun is the best you can hope for right now. The comfortable living room chair won't fly you into space but it will replicate the experience of a liftoff.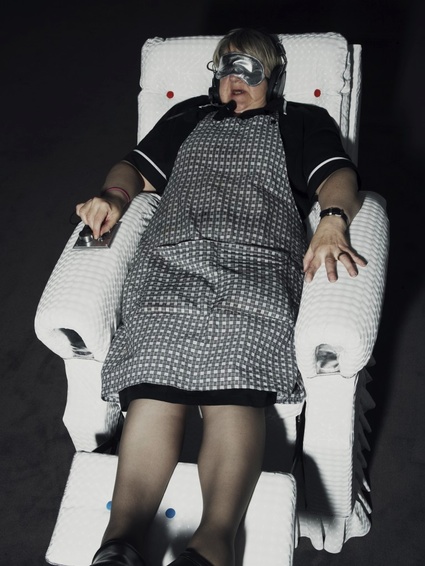 Space tourism is said to become a booming industry. Today, the opportunities offered to would-be space tourists are limited and expensive. Space tourism company Space Adventures will ask you to shell out $20-28 million to get aboard a Soyuz spacecraft. The upcoming Virgin Galactic will take passengers into suborbital space at a mere US$200,000. Flights are expected to be made available to the public shortly after the construction of Spaceport America, the world's first purpose-built commercial spaceport is completed Around 2011.)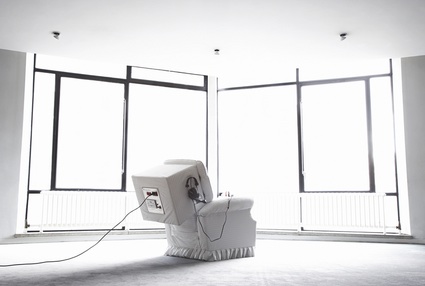 The designer consulted with astronaut Jean Pierre Haignere to ensure a take-off experience as close to the original one as possible: : the inclination of the chair, the frequencies of the vibration, the sound, etc. Soyuz Chair accurately reproduces the 3 stages of the Soyuz rocket launch. Reclining into launch position (on your back so as to stand better the acceleration), you face the sky, put on your headset, and use the control panel to select your mode; just a single stage, or the full lift off experience.
Interview with astronaut Jean Pierre Haignere:
Conceptually: The Soyuz chair brings the debate on
– the democratization of space and science
– the creative possibility of a domesticated space
– the power of human passion.
Photography: Nick Ballon.
You can try the Soyunz Chair for yourself, at SHUNT in London, from July 8 to 16. Departure of the chair 6pm to 8pm.
And if you can't make it to London on time, the chair will be at the exhibition WHAT IF? Testing the boundaries of our future, running 09:10:2009 until 13:12:2009 at the Science Gallery in Dublin.
See also: Brendan Walker at This Happened and Thrill Laboratory.