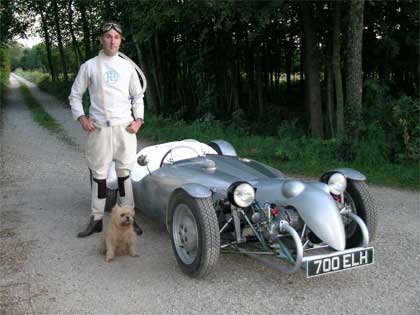 Yesterday i was in Turin. And bored (nothing new under the sun thus) so i followed exibart's advice and visited the Guido Costa Projects gallery.
Paul Etienne Lincoln was exhibiting for the first time the Panhard Special, a spectacular insect-looking vehicle planned and realised in 1976 and modified over the years. The life-sized prototype car is powered by an improved Panhard Levassor Tigre engine (launched in 1959) and fuelled by nitrous oxide, natural gas and linseed oil.
The construction started thirty years ago, in the midst of the first oil crisis when alternative energy sources were investigated. The work explores "breathing" (the introduction of oxygen and fuel into the combustion chamber of an engine.) The goal was to create a vehicle with the cleanest possible combustion engine, and probe the theme of respiration and the man/machine relationship.
Each part of the vehicle was designed and realized manually, with a partial knowledge of engineering and without using pieces already available on the market. The Panhard Special combines principles from early aviation and automobile design: its air-cooled Tigre engine is reminescent of the aluminium-clad nose of The Spirit of St Louis.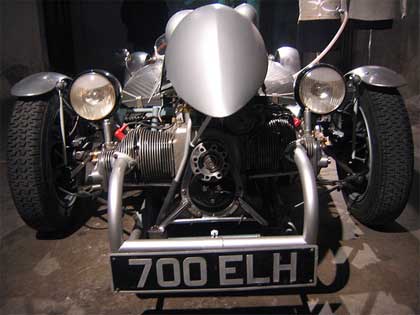 A specially designed suit allows the driver to precisely control the heated airflow from the engine to adjust his/her own body temperature. The suit, with a multitude of tubing sewn into a waistcoat, plugs via a tube into a control valve in the cockpit. Besides, inflatable implants in the back of the inner jacket insulate the driver from vibration, increased speed resulting in increased pressure in the implants.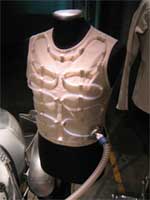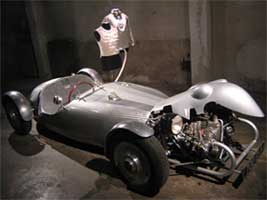 The vehicle was accompanied by a collection of material describing the car's internal fuel system and construction history as well as a short film, The Velocity of Thought, that shows the Special driven up through the spiral ramp of Giacomo Mattè Trucco's Lingotto factory to Lingotto's iconic rooftop test track.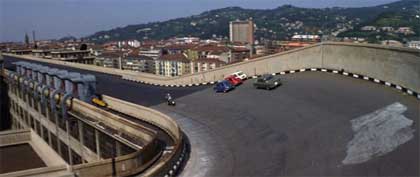 Car chase on Lingotto's rooftop in The Italian Job
All information taken from the exhibition catalogue. On view until February 10, at the Guido Costa Projects gallery, in Via Mazzini 24, Turin. Big big thanks to the person who opened the gallery for us, let us enjoy the exhibition in peace and gave me the catalog.
Images on flickr.
Other re-vamped cars: old East German Trabant turned into an American Chevrolet El Camino; doorless BMW with its wanking robot hand.