Yesterday i felt the urge to balance eTech's overwhelming geekiness with some good girly vacuity. Thanks Jason who introduced me to the worls of Beauty Bar! It's sooooo old news in the US, but new to me as i'm only European. And after this US trip, i'm more European than ever, can't wait to be back to the usual swirl of art bienniale, new media festivals, conferences on bioart, to over-crowded spaces, noisy streets, tiny cars and food that contains less than 24 additives. I felt like a dork all along my stay here, saying "waaa, this is a huge muffin! look at this huge bottle of shampoo! this meal is huge!" and so on.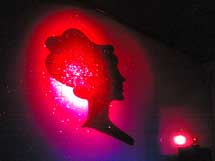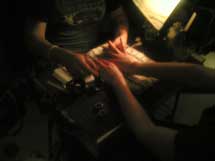 Back to the Beauty Bar. It's a normal night club, except that you can also go there to have your nails done while enjoying a cocktail (for only $10). DJ was good (for what my opinion is worth), the theme of the evening was Pussy Galore, the ladies were pretty and prissy and i laughed all along (didn't test the dexterity of the nail attendants thought.)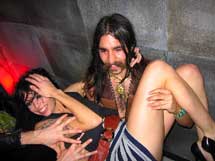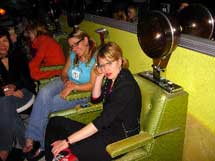 Wonder when we'll get a Beauty Bar in Milan or London. I think it will be huuuge here.
My pictures on flickr are as lame as usual but the bottom pictures are made in Jason.
BB is located at the corner of El Cajon Boulevard and Euclid Avenue (4746 El Cajon Blvd.)