Yesterday evening i visited Salt on the Wound, an exhibition of some of most significant works of American photographer Andres Serrano, at the Padiglione d'Arte Contemporanea in Milan.
It's very hard to ignore Serrano's work. He's been spending the last decade(s) shocking the world with photographs that use semen, that depict a masturbating nun or Jesus Christ on a crucifix submerged in a glass of the artist's urine (the Piss Christ.) I usually try to avoid using the word "beautiful" in my posts but in the case of Serrano's work it's proving too hard. I entered the gallery thinking i'd have a nice time watching a few fashionably scandalous pictures hanging on walls. I definitely wasn't prepared for what i felt there.
Starting with the Black Supper which dominates the first room and mesmerized me for some time. The artist realised the photographies by spray painting statues of Christ and the Apostles in black. He then submerged them in water. The statuettes started to fizz and as a result, the characters are surrounded with a halo of bubbles.
Pieces from Serrano's most famous series art part of the Milan show: American archetypes, Church, Nomads, Budapest, The Interpretation of Dreams, A Hystory of Sex, etc. The Klansmen series of portraits of Ku Klux Klan members is particularly stunning. All you can guess from the personality of the men (and women!) hiding behind the hood can be gathered from the eyes that peer through the fabric. Klansmen are spooky (especially if you naively believed that KKK was a thing of the past), but there's a lot of irony in that series when you think that the Klansmen posed for the camera of someone from half Honduran, half Afro-Cuban background. They can even be a bit grotesque at the same time when you look at the title they give themselves: Imperial Wizard III, Grand Dragon of The Invisible Empire, The Grand Kaliff, etc.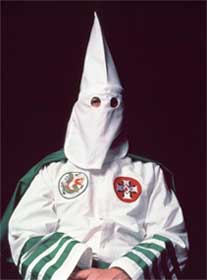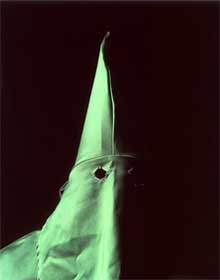 Klansman (Grand Dragon of The Invisible Empire) and Imperial Wizard III
The exhibit ends with Serrano's "The Morgue" series, photographs of different means of death. From the most peaceful, "Fatal Meningitis," in which a small child seems to be only sleeping, to the most horrifying, such as Burnt to Death or Killed by Four Great Danes. There are pictures online but they look sad and even more disturbing than the one i saw (though they are the same). The Morgue pictures were certainly disturbing and sad but they were not threatening nor did they make you feel like you were some kind of nasty voyeur. Probably because they nearly looked fake. The skin on the bodies could be made of butter and the wounds had some aesthetical qualities. The crude stitches made me wince though.
Puntolinea has some images of the works on show at the PAC. Interview by Coco Fusco of Serrano.
The exhibition runs until November 26.