While i was in Pittsburgh last month, i was lucky enough to meet Riley Harmon, one of Golan Levin's talented students.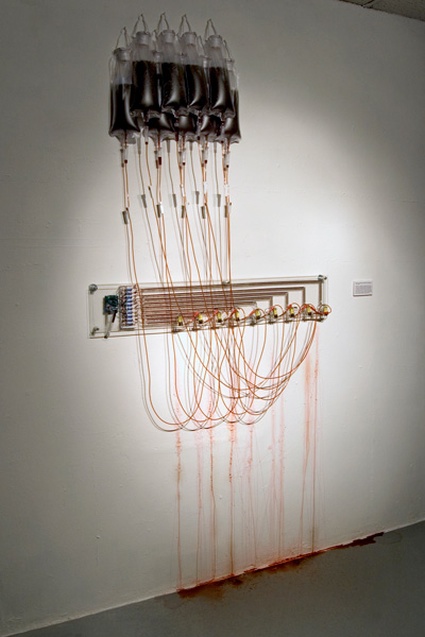 Riley Harmon, What It Is Without the Hand That Wields It, 2008
Riley showed me What It Is Without the Hand That Wields It, a piece which has been touring the festivals and exhibitions almost non-stop since 2008. I obviously felt deeply humiliated not to have come across it before.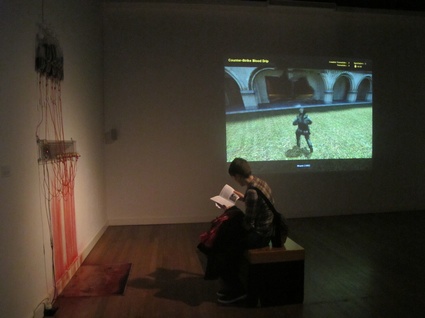 Exhibition view at the Nederlands Instituut voor Mediakunst (NIMk), Amsterdam
What It Is Without the Hand That Wields It is one of those game-based pieces where the actions of online players have consequences on the physical space (see Domestic Tension for example or in a more imaginary way, John-Paul Bichard's Evidencia series.) It is also a work that is so simple and effective you wonder why no one thought about it before.
While exonemo's UN-DEAD-LINK translated digitized and symbolized death into the 'screaming' and motion of everyday devices, Riley Harmon went for the visceral and powerful experience. Each time a player dies in a game of Counter-strike, a popular online first person shooter, electronic solenoid valves open up and dispense a small amount of fake blood. The trails left down the wall create a physical manifestation of virtual kills, bridging the two realities. During the show's run players who have a copy of Counter-Strike can join the game and spill more blood over the walls and floor of the exhibition space:
The installation will be on view this Fall at Nikolaj, Copenhagen Contemporary Art Center. It will then travel to Istanbul, location TBA.
Don't miss Harmon's Passengers video series. Some are still works in progress, others are already on the homepage of his website. I laugh each time is see them. Laugh and feel uncomfortable too. The artist cut scenes from Hollywood movies, removed one of the two characters sitting in a car and took his place. Except that he's not participating in the dialogue nor displaying a facial expression that would match the scene in any way. Here's an example:
Related posts: Feeding the Tardigotchi, Domestic Tension, UN-DEAD-LINK.