Let's take a break from those Milan and Turin reports and head back to Aachen, shall we?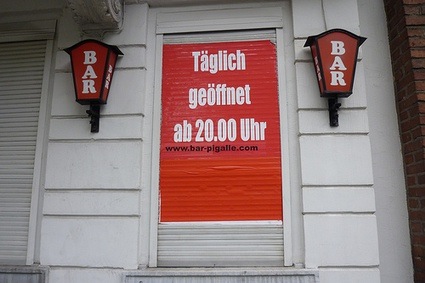 The Ludwig Forum is hosting until the end of the month West Arch – a new generation in architecture, an exhibition which introduces to the broad public the work of 25 architecture studios from Belgium, the Netherlands and Germany.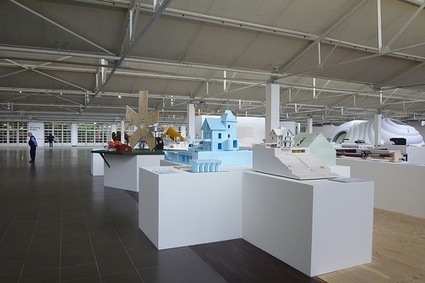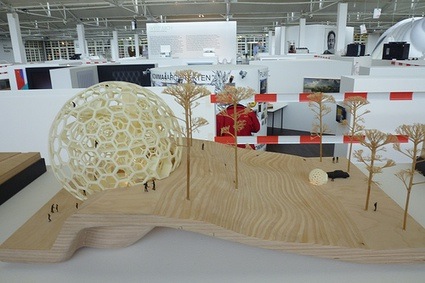 The studios singled out by the curators are characterized by the witty, experimental, and often unconventional strategies they adopt to respond to contemporary demands and issues. Moreover, many of the architects represented in this exhibition are embracing collaborations with other disciplines such as visual art, design or graphic design.
From the curatorial statement: We assume that a pragmatic, partly ironic approach is predominant: acceptance of the factual leads to a new realism. Putting existing structures to a new use is a strategy that is not only helpful from an ecological and economical point of view but also creates new aesthetics. Theory and practice are not conceptually separated. In times of economical crisis the production of ideas is redeployed to what is possible.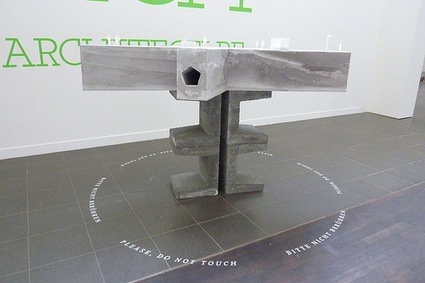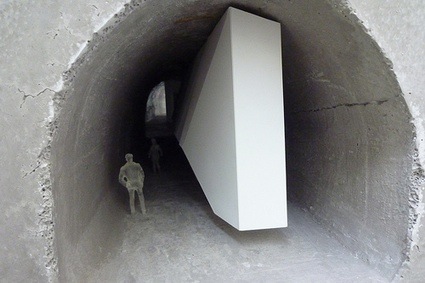 Impeccable selection of architecture studios, perfect distribution of the works within the space, clear description of the works on show, a catalog that contains the right balance of illustration and information, engrossing documentation made of models, films, photos, books, drawings and plans. I wish i'd see shows like this one every week.
A few projects i (re)discovered in the exhibition:
Modulorbeat used perforated metal to erect the translucent temporary pavilion switch+ for the 2007 Skulptur Projekte Münster.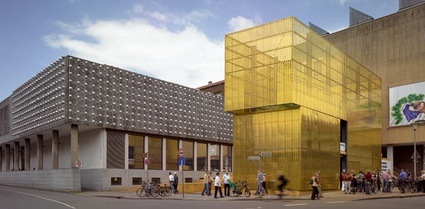 Modulorbeat, switch+, 2007
LAb[au] collaborated with Frederik De Wilde to create EOD 02, an installation starring fish that perceive their environment and communicate with each other by emitting electric signals, either in pulses or waves. Each of the four aquariums contain an electric fish that discharge different electric signals. The electric communication between the fish is captured by antennas and transformed into sound. Under each aquarium a matrix of LEDs pulses according to the intensity and rhythm of the signals.
Using only recycled pieces of washing machines, Rotterdam-based architects 2012architecten built the Miele Space Station, an experimental structure compounded out of five separate modules, each of which can be carried by two people. Once on site, the segments can be placed in various configurations so that the object can be used to host a bar, office, music shop or serve as an information kiosk.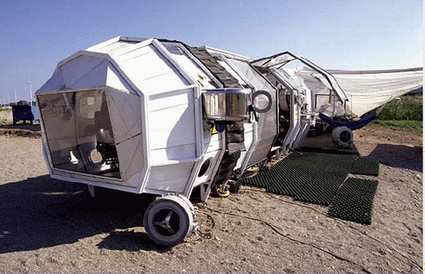 2012Architecten, Miele Space Station, 2003-2008. Photo credit: 2012Architecten. More images
Teaming up with with Jeanne van Heeswijks, 2012Architecten carried on experimenting with domestic appliances and built the Recycloop, a pavilion made out of kitchen sinks.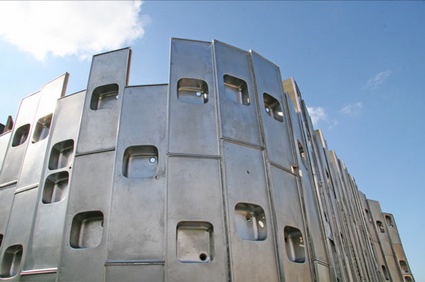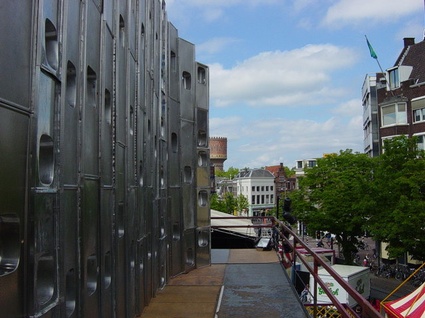 More images at desmint
In order to meet local zoning regulations of this nature preservation area, half of the program of Villa 1 by The Powerhouse Company lies below the ground. Above the ground, the Y-shaped building looks like a glass box while the space below feels as if it has been carved out of the earth.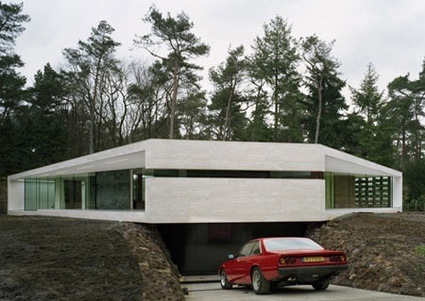 Powerhouse Company, Villa 1, 2005-2008
With A-Cross, Brussels-based Anorak questions the application of art, architecture, design and graphism within the use of public space through a common language: a 558 cm-wide white cross erected in various archetypal situations.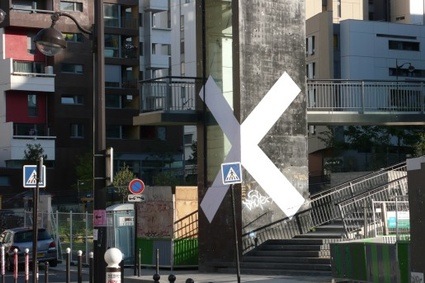 Anorak, A-Cross, 2009
To recreate a traditional Inuit collective dinner with seal meat Mediamatic in Amsterdam, DUS Architects designed a huge table that almost completely filled the room and surrounded by one continuous sofa. Only members of the Proviant-Klub-Room (named after environmentalist Brigitte Bardot) were invited to the celebration.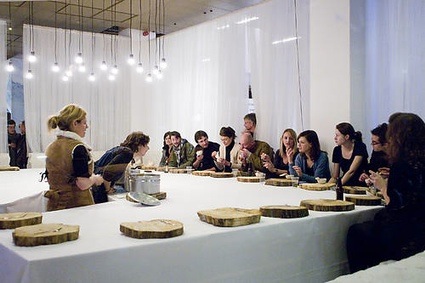 DUS Architects, Proviant-Klub-Room, 2010
Another of DUS architects' project, the Gecekondu Summerhouse Hotel aimed to import Istanbul's illegal urban setup (one third of all housing) into the increasingly regulated Dutch urban space. Gecekundu, the Turkish name for shanty building, literally means 'built over night'. Because these buildings are built in one night, the founder of the building receives ownership rights. The building bricks of the Gecekondu Summer Hotel that DUS made at Almere Beach are the typical nomadic bags, the so-called china bags (or 'turkentassen'), filled with sand from the beach.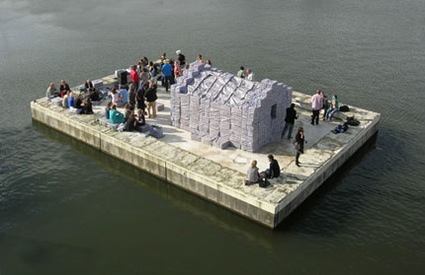 DUS, Gecekondu Summer Hotel, 2009
Rationator is a detached house for a family with 3 children in Overath, a small town at the outskirts of Cologne. Located along the bank of the Agger River, the house is threatened by floods up to 2,5 m above ground level. BEL's design anticipates possible flooding with flood resistant materials and construction techniques.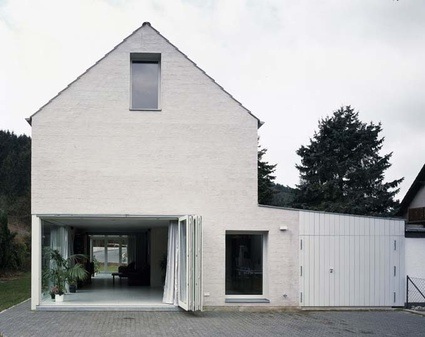 BEL, Rationator, 2003-2004
Views from the exhibition: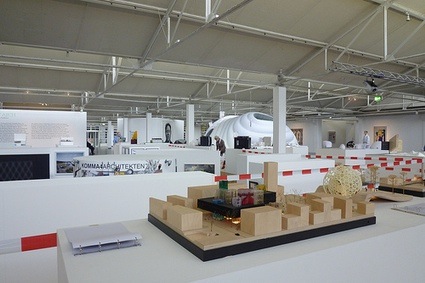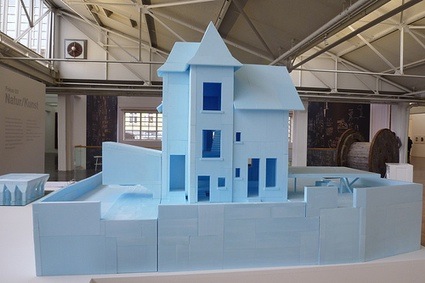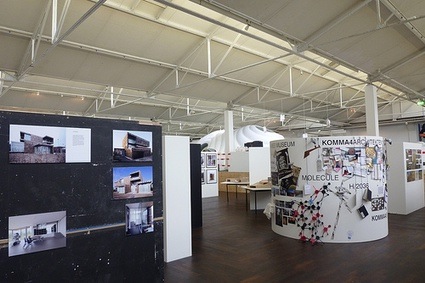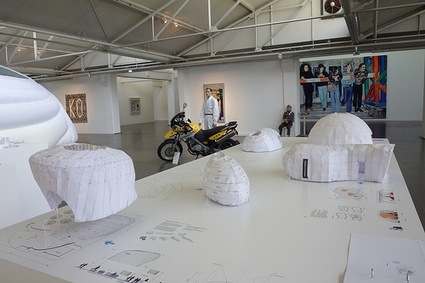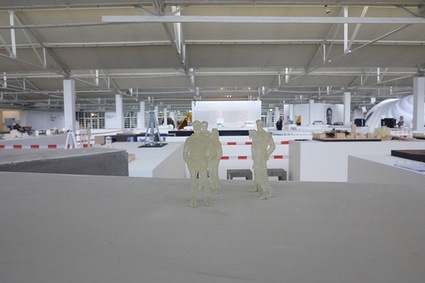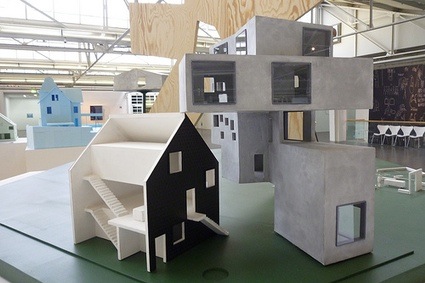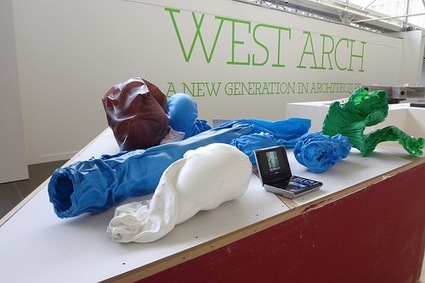 My images from the exhibition.
West Arch – A New Generation in Architecture remains open until 14 November 2010 at Ludwig Forum für Internationale Kunst in Aachen, Germany.
Also on view at Ludwig Forum: Eros und Stasi.
Related: Living inside washing machines, Architecture Biennale in Venice – The Belgian pavilion.