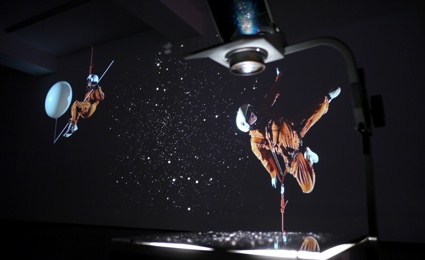 Space Maintenance / Lost in Space, 2012. Installation view at EB&Flow, London
Time machines, false memory, earthly landscape, moon rock gardening, flying saucers, lunacy, galactic adventures and the occasional rabbit. That's the world sketched by Sue Corke and Hagen Betzwieser. Roughly speaking, Sue is a printmaker and Hagen is a 'New New Media' artist but together they are more than the sum of their parts, they are We Colonised the Moon.
The work of WCTM is clever and nonsensical, dreamy and rooted in techno-scientific experiments. It is driven by its own logic. I'm not sure that the interview below is going to lift the whole mystery behind their work but i certainly had a lot of fun in the attempt.
Authentic Goods from a Realistic Future, at EB&Flow, London
Hello Sue and Hagen! I discovered your work a year ago, when you were showing '101 Harmless Scientific Experiments To Try At Home' at the Acme Project Space in London but you've obviously worked on many ideas and projects right after that. What are you up to this Summer?
Sue: This summer we have had two shows running, at EB&Flow in London and Villa Rosenthal in Germany. The shows are both mostly dealing with work we have done together over the last couple of years. Most recently we have been working on ideas about astronaut training and space maintenance, shooting a lot of videos and building moon rocks out of authentic moon dust simulant.
Hagen: This is definitely the direction we are focusing on now. Installation, video projection, artefacts, movement and performance. We started more 2D for sure because we came together through making graphic work, we continue to make prints but most of the time we're working on installations now.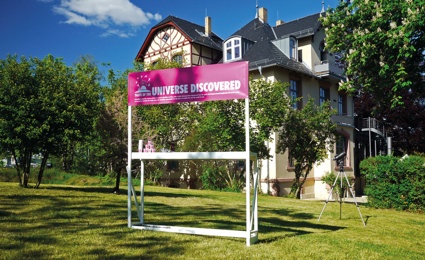 Taste of the Universe, 2012. Villa Rosenthal, Jena
You come from different backgrounds. Sue is involved in printmaking and illustration while Hagen used to work mostly with video and conceptual art. How did you two get to work together?
Sue: Pure accident. We literally bumped into each other at a bus stop in Norway. Hagen was in a residency programme at the Nordic Artists' Center in Dale (NDK) and I was visiting to make a short illustration project about forests and star constellations there.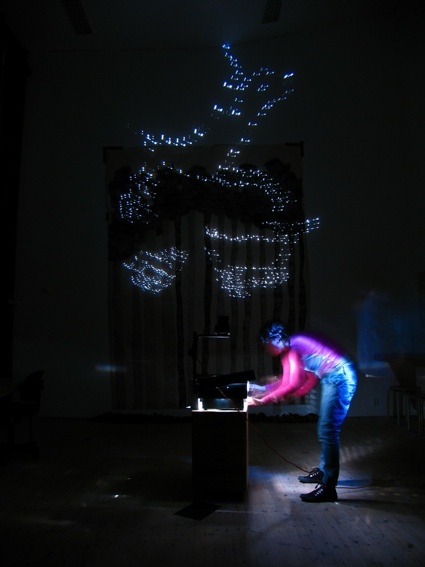 At NKD, Norway, 2008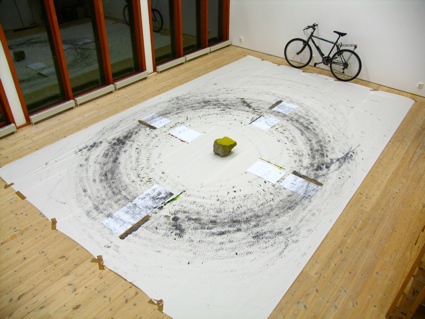 At NKD, Norway, 2008
Hagen: It all started a bit like RUN DMC and Aerosmith working together as studio neighbours.
When I met Sue I had just finished a DIY particle collision experiment in my studio. Whilst the first beam of the Large Hadron Collider was fired I was riding my bike in circles over wet paint for ages until I was hell dizzy!
Sue: Dale is surrounded by the most amazing Norwegian mountain and fjord landscapes. We made an expedition to Sognefjellet, a Photoshop perfect wilderness, and had endless discussions about how reality is constructed. In the process we discovered some shared interests. We both had backgrounds in science and media. My parents were chemists. Hagen was a junior astronomer in an observatory close to Heidelberg in Germany. I worked for a spell in advertising and multimedia. Hagen had been an art director for a design agency.
Hagen: Through endless hikes and talks about The Clangers, YPS, Blue Peter, Particles, Heinz von Foerster, Constructivist epistemology and so on somehow we came to the point where we thought it could be an interesting idea to work on a project together.
Sue: The ideas we generated during this trip were so fun that I definitely wanted to work like this more. And it was obvious Hagen had absolutely no idea about printmaking!
Hagen: True. I thought only about my little A4 laser jet. Oh boy :) But she convinced me the quick cartoon style sketches I make for my works would work really well as silkscreens. So this is how a nature encounter, theory, two different illustration styles, childhood interests, professional skills and ink became the starting point for our collaboration … and even our name WE COLONISED THE MOON is made in Norway. Out of this small joint illustration / print project it became now an ongoing and growing collaboration since 2008.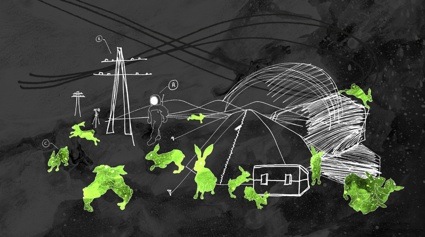 Approved for all Ages, 2008-2010
You've '(re-)created' the smell of the moon in at least two exhibitions. How did you do that? How much of the result is the fruit of your imagination? Is this a pleasant smell?
Sue: Astronaut Charlie Duke, the tenth man to walk on the moon, said it was not unpleasant. The Apollo astronauts were drawn from the military. I think they knew what they were talking about when they likened the smell to gunpowder. Naturally this is their frame of reference but that's how we all interpret sensory information. I like the smell of burnt matches myself.
Hagen: No one can smell the moon directly of course. The vacuum in space prohibits this. But this gritty tacky meteor bombarded dust on the surface gets on to their spacesuits and back into the LEM. Then there is this massive reaction with oxygen and moisture. The loose molecules go off like firecrackers and generate the smell they experienced.
Sue: So, we had the smell synthesised by Steve Pearce, a chemist who is an international aroma expert in the UK. He makes flavours and smells commercially for his own company and had been approached by NASA some years ago to work on the smell of space for astronaut training.
Hagen: What's attractive to us about this phenomena is the strong link between smell and memory and the association with place, whether it's real or imagined is actually the crux the work we make hangs on.
Sue: Curator Caro Verbeek from the Stedelijk Museum Amsterdam knew we were working on the idea of space aromas and asked us to make a piece for her for the event "Do It Smell It" on olfactory art in 2010. We came up with the idea of a scratch and sniff postcard from the moon. A momento from a place most people will never go. A fictional memory.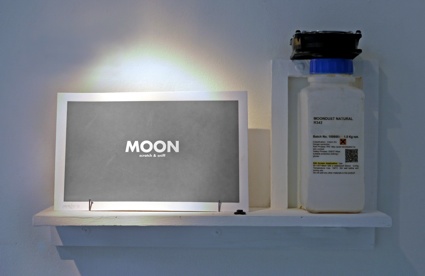 Moon Scratch Sniff, 2010
Hagen: Then in 2011 for a commission from The Arts Catalyst and FACT Liverpool we created an installation for the exhibition Republic of the Moon. Visitors could enter (on own risk) a film-set like test chamber. Periodically an astronaut resprayed an array of "authentic" moon rocks with synthesised lunar aroma. As longer you stayed in the environment as more you got pollinated with moon smell. After you left, the smell travelled for several hours with you on your clothes out into the city.
Sue: At the moment we are also doing a lot of "Live Moon Smellings" using helium balloons and pins! We have enough smell left to pollinate an area twice the size of the Olympic stadium.
Enter at Own Risk, 2011 at FACT, Liverpool
What's behind the name We Colonised the Moon?
Do you feel bound to do certain types of works that involve science, space because of it? If, for example, you'd decide to develop vegan cooking projects one day, would you do it under a different name?
Sue: I guess it's really a kind of band name. A comment one of us made when we saw how lunar the glacier region we visited in Norway looked. It just stuck.
Hagen: The truth is the name comes from an encounter with an electricity pylon. Surrounded by this pristine wilderness the pylon looked like the first man made structure on a virgin planet — which more or less then created the idea that this might be what it looks like when we start to colonise the moon.
Sue: So no, we're not necessarily all about science or space or pylons. We just started there.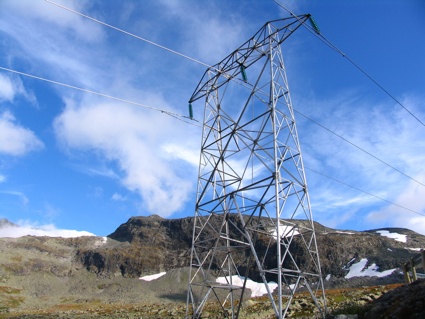 The WCTM Pylon, somewhere around Sognefjellet, Norway, 2008
By the way, Hagen can you tell us what are the scope, objectives and functions of the Institute of General Theory?
Hagen:
The Institute of General Theory is a project of indeterminate duration, for anything. It operates in an undefined area, in the grey zone where there is no distinction between fiction and science, art and craft, independent work and self exploitation; between game, experiment and paid work, between experimental and studio space, or between museum and university.
Jean-Baptiste Joly, Akademie Schloss Solitude, 2007.
After I graduated in 2001 at Merz Akademie Stuttgart, the Institute of General Theory became, besides my daily agency design job, my independent playground for experimental projects. Then, when I became a fellow at Akademie Schloss Solitude in 2005 the Institute turned into my full time artistic career. It's my operational format and combines pretty much everything I am interested in since early childhood until today in a professional dilettante way.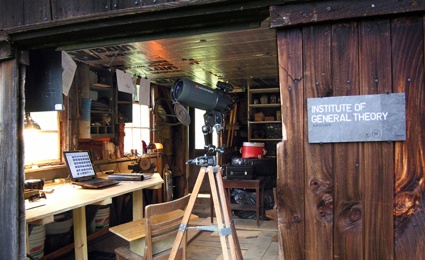 Institute of General Theory, 2007, at Hall Farm, Vermont, USA
I have another question for you, Hagen, your short bio says that your "artistic practice is exploring the gaps and connections between art and science to create New New Media." I sometimes write about the connections between art and science so i'm interested in your mentioning of the gaps between them? What are the most interesting/fascinating gaps between art and science? And should they remain gaps or should they somehow be made to disappear?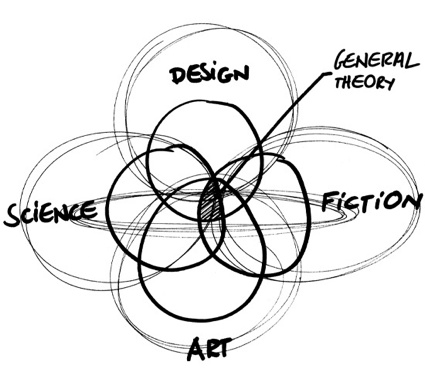 Hagen: Working with scientists is mostly fun and generates often interesting results for both sides. But academic artistic research makes me grumpy! There is a lot of art-science-art, science-art-science that takes itself way too serious that even tumbleweed would stop to roll. New New Media is Post Artistic Research, liberated from University fantasies about how things should be done according to the most recently developed textbooks.
Sue: I grew up with the Clangers and Blue Peter and a DIY attitude to life. What I like about the way Hagen operates is I can walk right in and join in without worrying if we do it right. Misunderstanding is actually even productive.
Hagen: In the last couple of years there is so much sophisticated theory that it is sometime hard to see the art behind it. I am not saying my own work is not based on mountains of theory but I like to offer the observer first an enjoyable view and if he wants he can go and discover as much more as he wants in my landscape and not the other way around.
Sue: This suits me too. I think theory like technology should not be the thing you notice first.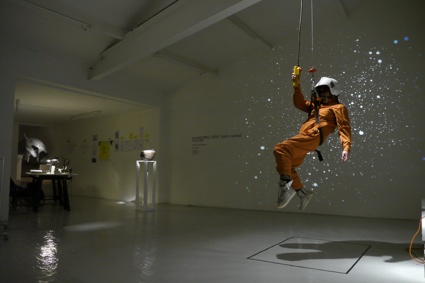 101 (Mostly) Harmless (Almost) Scientific Experiments to Try At Home (video)
Last summer, you were showing 101 (Almost) Harmless (Mostly) Scientific Experiments to Try at Home in London. Could you share some of them with us?
And explain us how we could replicate one or two of them home too?
Hagen: Haha! The biggest experiment was definitely being holed up together for two months in ACME Project Space, a studio in Bethnal Green. Two options, homicide or art.
Sue: Indeed! Normally we work together on and off for say a couple of weeks max at a time and in between the work goes on online. This was altogether a different experience.
Hagen: The project was inspired actually by a children's book on science from the 1950s I think. You know the kind of thing. Make Your Own Atomic Bomb in 5 Easy Lessons.
Sue: What people want to get up to in the privacy of their own homes is their business. Mostly I guess it does not involve black holes but I think amateur science is a great tradition which should be encouraged. So we decided to tackle anti-gravity with an electric hoist, built our own design for a future satellite disguised as an asteroid and began a campaign against cosmic rays.
Hagen: From what I learnt the Scottish Enlightenment seems to have taken place mostly in the pubs of Leith. I have no problem with that. Dilettantism was always a powerful driving force for progress and only in recent times has it become this negative aftertaste. I am very happy to be a professional Dilettante!
101 (Mostly) Harmless (Almost) Scientific Experiments to Try At Home
Any upcoming projects, exhibition, residency, public presentation you could share with us?
Sue: The next thing we are definitely participating in this year is a special three day "Kosmica" festival at Laboratorio Arte Alameda with curator Nahum Mantra in Mexico City. "Republic of the Moon" will also travel on from Liverpool too and some more actions are in the pipeline.
Hagen: Also in September my latest work as the Institute of General Theory, "A Bucket full of Particles" will be part of On Dilettantism a wonderful show curated by Frank Motz at Halle 14, at Spinnerei in Leipzig, Germany.
… and of course … (say it loud now!) … NO COSMIC RAYS!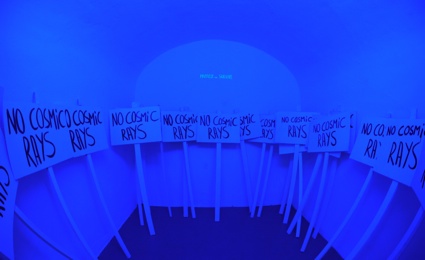 NO COSMIC RAYS, 2012
Thanks Sue and Hagen!
Authentic Goods from a Realistic Future is at EB&Flow, London until 1st September, 2012
Coming up:
On Dilettantism, Halle14, Spinnerei, Leipzig will open on 15th September and run till 18th November, 2012. It does look like a wonderful show indeed.
Kosmica Mexico will land at Laboratorio Arte Alameda, Mexico City, from 27th to 29th September, 2012
"Space Adventures #1" at Villa Rosenthal closed a few days ago.