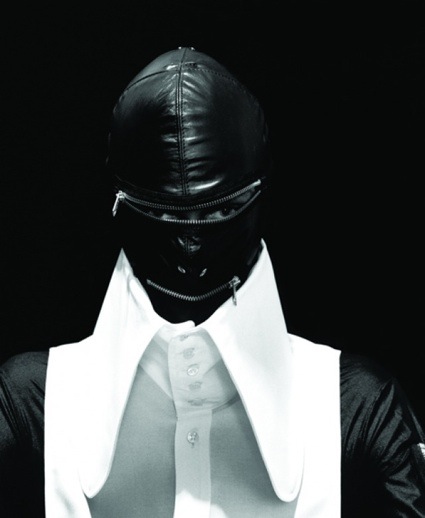 Walter Van Beirendonck, 'Revolution', A/W 2001-2002. Photography: Elisabeth Broekaert
One of the many (very many) reasons why i wouldn't want to be a man is because the way they have to dress is so uneventful. Last Summer's most flamboyant sensation was the 'mankle'. Poor lads! On the other hand i wish i were a man so that i could dress head to toe in Walter Van Beirendonck. I do have a lovely paper dress staring a portrait of Van Beirendonck sitting naked on the back of a bear and little grey penises near the hem but nowadays he doesn't design much for women.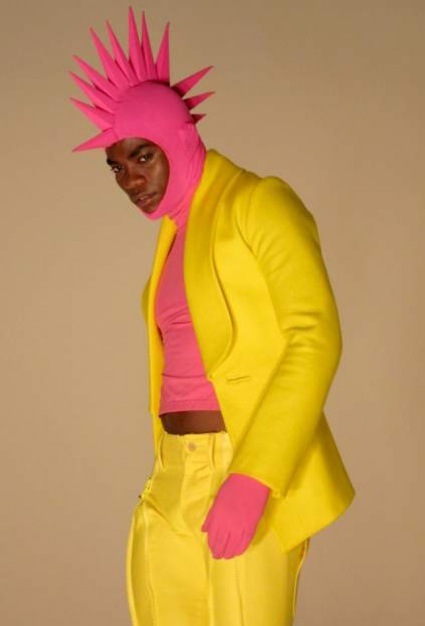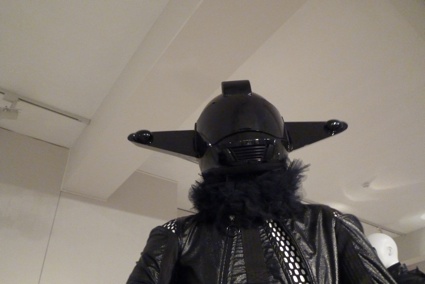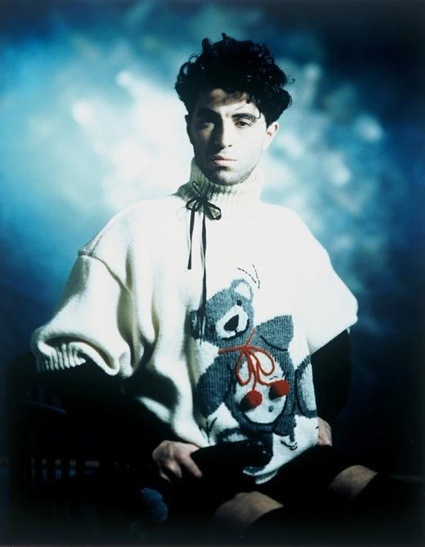 Walter Van Beirendonck A/W86-87, Bad Baby Boys. Photography by Patrick Robyn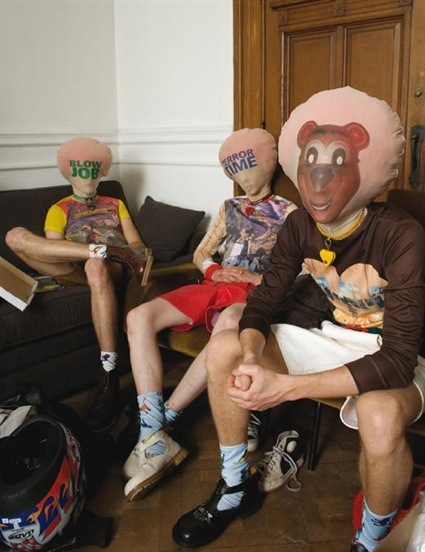 W.&L.T. S/S96, Killer/Astral Travel/4D-Hi-D. Photography by Ronald Stoops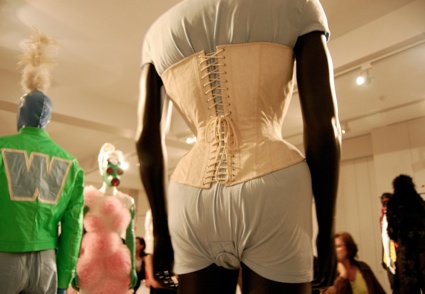 (image: Reflecting in my sunglasses)
I love his work so much i almost made cartwheels a few days ago in an art gallery where i found a leaflet promoting his solo show at the Fashion Museum in Antwerp. I spent 4 hours in public transports to get to Antwerp, walked under the rain until somewhere between the Martin Margiela boutique and the sublime Dries Van Noten store, i found myself in front of transparent doors adorned with the naked red silhouette of WVB.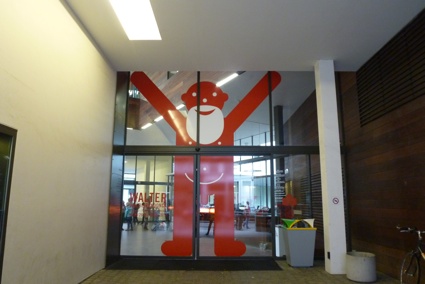 More than just a showcase of the designer's most extravagant pieces of archive,
Walter Van Beirendonck: Dream the world awake invites visitors to nose dive into his universe. Of course there are the clothes and accessories worn by mannequins gyrating on a pedestal….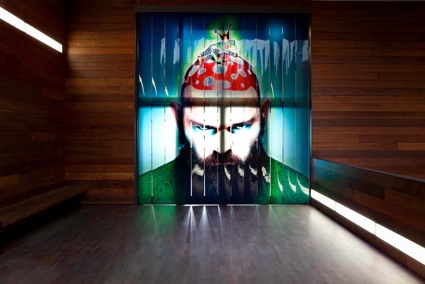 Image Courtesy of MoMU (c) Photography: Ronald Stoops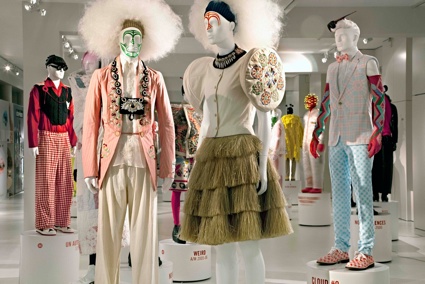 Image Courtesy of MoMU (c) Photography: Ronald Stoops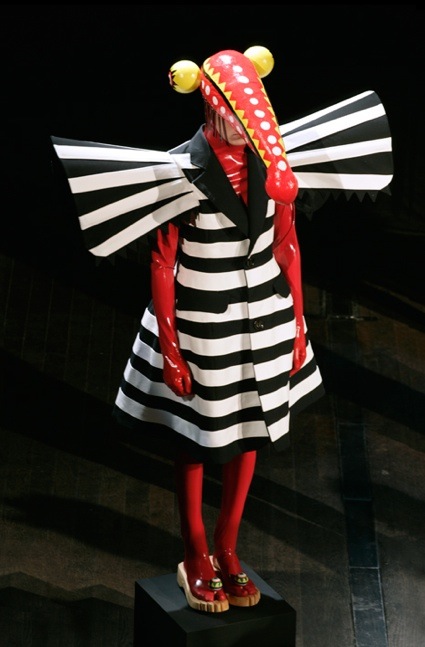 Walter Van Beirendonck, Stephen Jones: The Bee, Sex Clown collection, 2008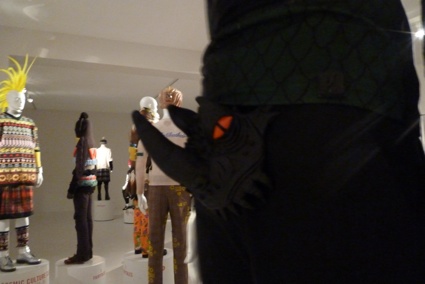 But there are also toys everywhere. Vintage, Japanese, Mexican toys, etc.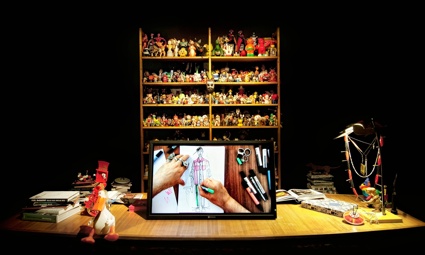 Image Courtesy of MoMU. (c) Photography: Ronald Stoops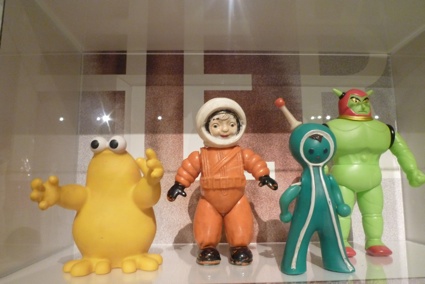 Masks and ritual objects from Papua New Guinea, Austria, North America.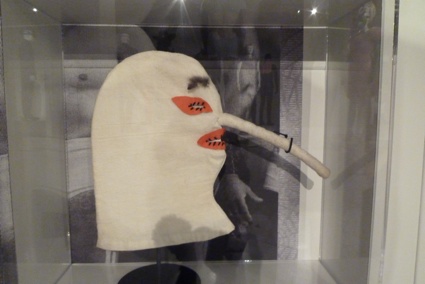 Mask, Iroquois, North America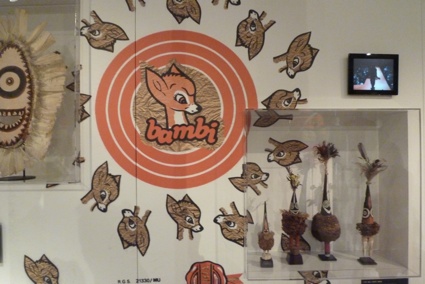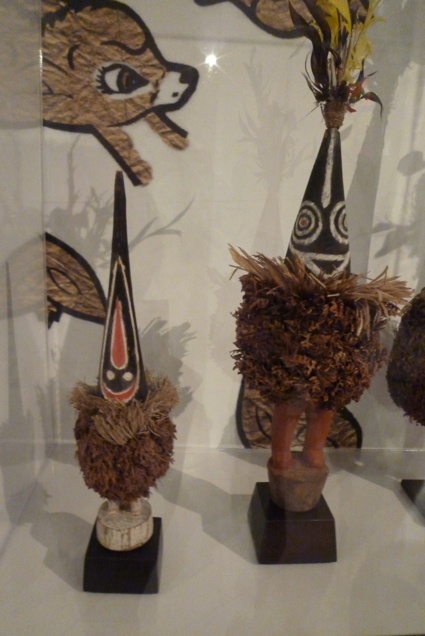 Dolls from Papua New Guinea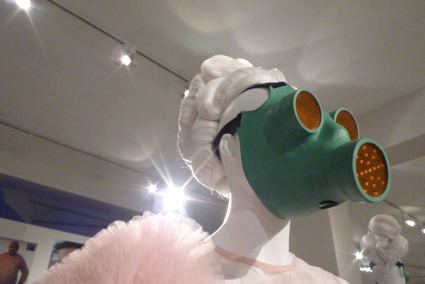 And works by artists with whom the designer shares concerns and ideas: Ai Weiwei for his political engagement, Robert Mapplethorpe for his documentation of the S&M world, but also the Chapman Brothers, Mike Kelley, Erwin Wurm and Grayson Perry.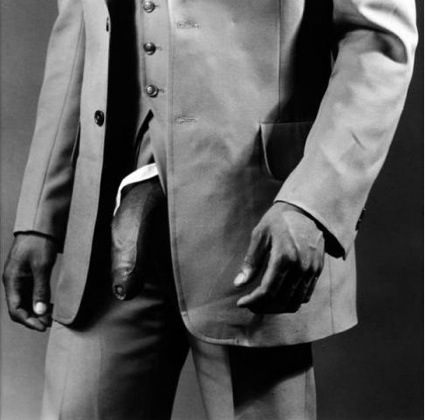 Robert Mapplethorpe, Man in Polyester Suit, 1980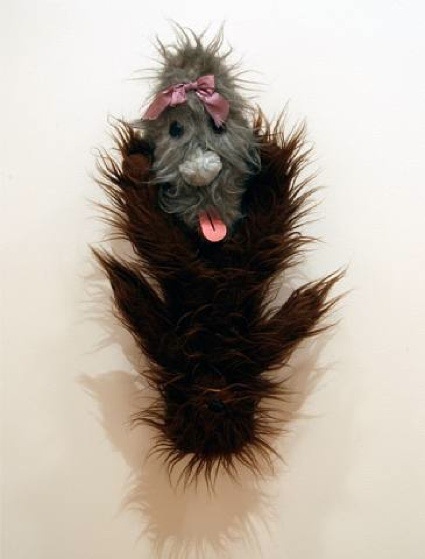 Mike Kelley, Double Figure (Hairy), 1990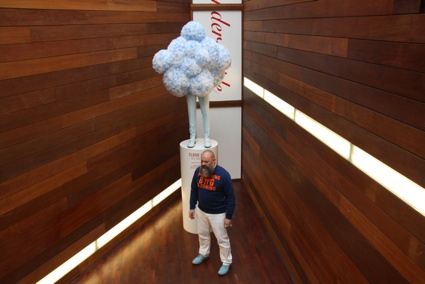 Van Beirendonck standing in front of costumes he designed especially for Erwin Wurm's exhibition Wear Me Out at the Middelheim Museum in Antwerp (image De wereld morgen)
Isn't he cute?
The exhibition echoes the main interests of the designer. There's obviously his relentless search for alternative ideas of beauty and representations of the body. This preoccupation is reflected in the models he sends on the catwalk. Some are bodybuilders, others are chubby 'bears' (a characteristic type in the gay community), or they can be thin, fragile boys.
He puts them on stilts, wraps them in latex, has them wear T-shirts with prints of preoperative drawings for plastic surgery, sends them on the runway with gas masks, corsets, prosthetic horns or with the face adorned with stick-on latex interpretations of Maori facial tattoos, etc.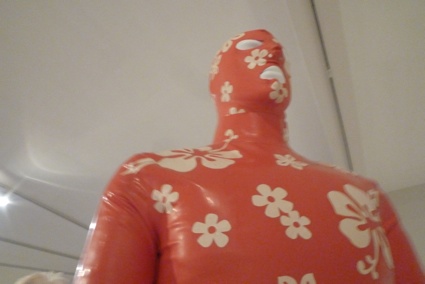 Van Beirendonck's collections might seem whimsical and outlandish but many of them are instilled with controversial themes and political commentaries: AIDS, the burqa debate, censorship, gender issues, mass consumerism, ecology, war, capitalism, etc.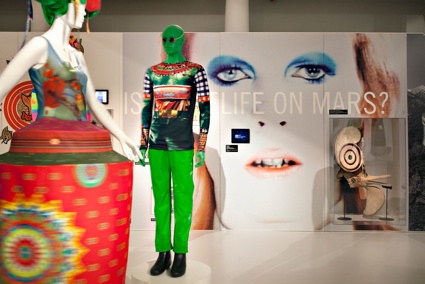 Image Courtesy of MoMU. (c) Photography: Ronald Stoops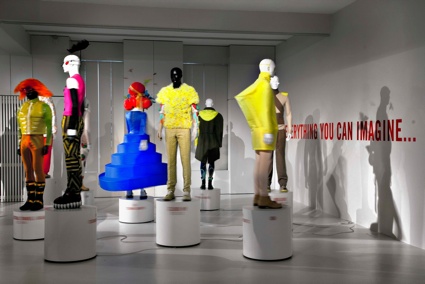 Image Courtesy of MoMU. (c) Photography: Ronald Stoops
Finally, a spectacular room was entirely left to Walter van Beirendonck's collaboration with fashion photographer Nick Knight/SHOWstudio.com and stylist Simon Foxton. Their photography and video project brings into a new light the most memorable pieces from his archive: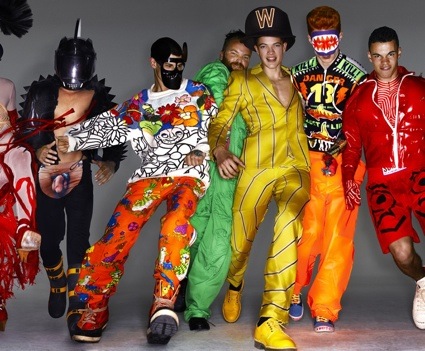 So ladies, you know where to drag your man in need of sartorial inspiration this weekend! Walter Van Beirendonck: Dream the world awake runs at the Fashion Museum in Antwerp, Belgium, until February 19th, 2012.
Niewsblad.be has a photo set on flickr. Mine will come later, when i finally get back to wifi-wonderland.