Waag Society is developing Frequency 1550, a "mobile learning game". The citygame, using mobile phones and GPS-technology, will transport 11 to 12 year-old students to the medieval Amsterdam of 1550.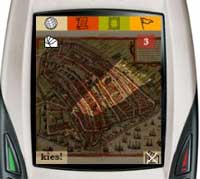 The Amsterdam UMTS-network is interfering with a different time period: the Middle Age. The city's bailiff gets in contact with the 21st century Amsterdam. He thinks the players are pilgrims coming to 1550 Amsterdam to visit a relic: the Holy Host associated with The Miracle of Amsterdam. He promises an easy access to citizenship if players can help him retrieve the holy relic which recently got lost.
GPS makes allow teams to know the position of other players and objects. They have to demonstrate their knowledge of medieval Amsterdam by doing location-based media-assignments on the city's history, they get in virtual phone contact with characters that provide information on locations and on the disappearing of the holy relic.
The pilot will take place in 2005 from 7 to 9 February.
Via In-duce 's new list of mobile phone games.