Two of my favourite mags The Journal of Aesthetics and Protest and Volume are out:
Volume is an architecture and urbanism magazine. It's neither a highly specialized print that mere mortals like me find hard to approach nor is it one of those glossy Vogue-lookalikes with chichi spreads of fashionably 'sustainable' buildings. It's not 'something in between' either.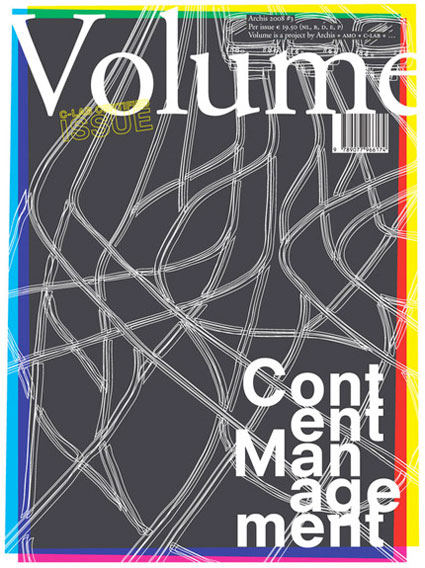 This issue presents many trends, people, ideas that might look like they do not directly belong to the world of architecture and urbanism but are perfectly pertinent and relevant to architects and urbanists. And because almost anything architects and urbanists do ends up concerning the hoi polloi (that's you and me, my friend), there's much food for thoughts and heated discussions in Volume 17:
The editors explain: At the close of this era of expansion and surplus Volume speculates on one of the period's emblematic inventions: Content Management, or the collecting, organizing and sharing of digital information. Our retrospective appraisal of recent developments in the managing of information offers inside into the ability of Content Management to serve the current realities of digital abundance and material shortage, and to protect both vast and extremely limited quantities.
Jesse Seegers and Jeffrey Inaba quizz Ken Goldberg on burning dollar bills and other less trivial matters, Chris Anderson about 'free' culture and PageRanking on business cards. They also get Julien De Smedt to discuss his views on free-wheel experiementation, the proliferation of 'post-OMA offices', why not choosing and mismanaging can be valuable strategies. Benedict Clouette and Forrest Jessee's interview with publisher Lars Müller (whose Face of Human Rights is on my must read list) evokes books as a form of content management.
Volume dives into almost mainstream US culture with an interview of Rachel Maddow (available online) and another one with Arianna Huffington (best enjoyed after having savoured this article about the so-called death of the blogosphere.)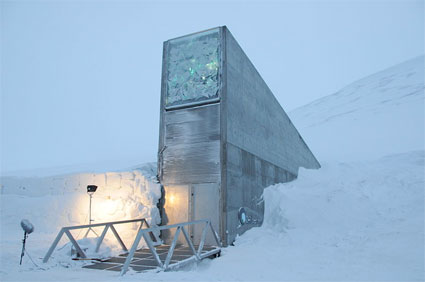 Entrance of the Svalbard Global Seed Vault. Credit: Mari Tefre / Global Crop Diversity Trust (more images)
Those are only a few of the many interviews of smart people by other smart people.
Just to contradict all the above i should add that many of the issues covered in Volume 17
1. are not interviews. C-LAB explores the World Heritage, the content management system for cultural and natural treasures. Easy happiness is at reach in "Architecture is Merciless", a presentation by Jacques Herzog about Beijing's Bird Nest and in a short series of photos that display how Vogt Landscape Architects transplant nature into a constructed context. "Seeds of Paranoia" gives the lowdown on the Svalbard Global Seed Vault. This must be one of the rare articles that goes beyond the hype aspect of the project.
2. openly belong to the world of architecture. For example, Professor of Architecture at Columbia University Mark Wigley has a short essay on architecture seen under the lens of content management.
The Journal of Aesthetics and Protest by the same publishers who released the very excellent the book, An Atlas of Radical Cartography.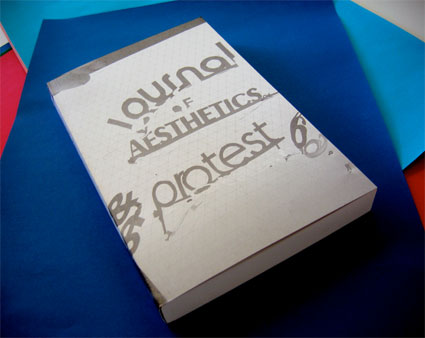 Among all paper magazines, JoA&P is probably the one most likely to truly and gently give rise to social changes. Smart, wonderfully edited and available for a mere $15, the magazine is heavily centered on the US scene and i wonder if we have anything similar in Europe. And if we don't i wonder what we're waiting for.
The 300 pages of the sixth issue are broken down in three 'conceptual' sections.
1. I Love To We is a call for a new terminology to describe the formations of grassroots cultural resistant practices. These "interventions, strategies and tactics in the territory" explore the war on terror and the global order. A quick selection of the many essays featured in this section: LA-based organization Bicicocina (or Bicycle Kitchen) describes its self-assigned mission to teach people to work on their own bikes. Lisa Anne Auerbach wrote an insightful essay on the new "Don't Do It Yourself" battle triggered by corporations' avid assault and capitalisation of the D.I.Y. culture. Aimee Le Duc analyzes what happens when an old police station in San Francisco is bought and transformed into a home and office by someone like artist and architect Bruce Tomb.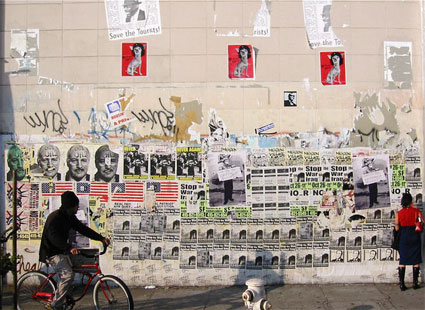 Graffiti Wall
2. Antiwar Survey Respondents has almost 20 activists not only describe their antiwar activities but also answer vital questions such as "How do you measure success for this activity?' and 'In order to continue and be successful with this or other related activities, what would you do or need?' The answers should convince readers that activist actions do have an impact and inspire them to join the movements or start their own.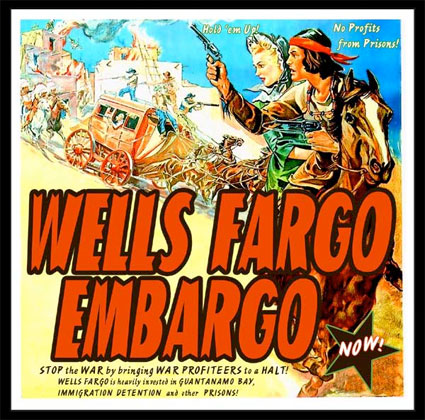 Center for Tactical Magic collaborating with UC Santa Cruz students on Wells Fargo Embargo
3. Another Theory Section. Under a title which could hardly get any more cloudy and bland are a handful of lessons learnt (sometimes the hard way) by artists and activists: problems encountered when trying to get art in public space, the recent history of the art collective in light of the persecution of the Critcal Art Ensemble, the danger of nostalgia to culture, etc.