Visitors to the ART+COM roof terrace can have a peek into Berlin's past with a digitally augmented telescope called Timescope.
The "timescope" invites people to a virtual journey in time via a series of controls that enable you to view the development of Tauentzienstraße from 1904 until today through its eyepiece. You can move it in any direction and the historical view will adapt itself to the postion of the telescope.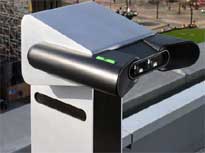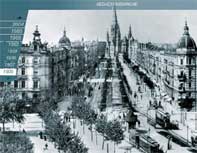 The Timescope can be set up and used on tourist sites to give visitors the chance to get a closer view of how a place looked in the past. It can also be used for large-scale building projects, to show how a building project has progressed and how a building will look in the future. Additionally, it can be used at geological interesting sites, enabling viewers to perceive natural history visually.
See also: Elastic time and space telescope, a sightseeing telescope allowing the viewer to elastically manipulate time and space.