Another installation from the Smile Machines show, Transmediale.
Stéphane Gilot's Video Game – World 2 associates surveillance technology with virtual worlds. The Video Game capsule on the one hand suggests a spaceship module, and on the other is inspired by pragmatic domestic architecture of the Seventies, one that made the most effective use of the limited space available. You can sit down in the lower part of the capsule and navigate a landscape, steering a small vehicle through what looks like a virtual 3-D world.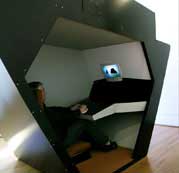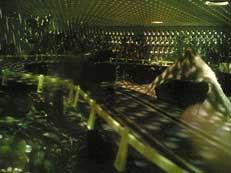 But in fact, the vehicle follows the track in the upper section of the capsule, and it carries a video camera. And at some point you're bound to notice that the landscape you're navigating is the one you've observed through a small window on the top of the capsule a few minutes before.
Transposition of the programmed architecture of video game space to the space of a real model is designed to sharpen the observation skills and attentiveness of the audience. The analog realisation catapults the player back into the real world again.