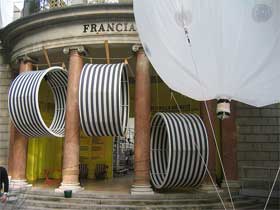 Musette Party at the French Pavilion of the Biennale. Titled métacity/métavilla, the place is stylishly chaotic, unpretentious, and very welcoming. Right from the porch, with deck chairs, card tables scattered about and Daniel Buren's striped cylinders.
Inside, visitors were naturally "using" the space: discussing around the big table, watching TV with their kids, sitting in armchairs or doning yellow helmets before climbing up to the roof of the pavilion where they could find hammocks, a great view on the Giardini della Biennale, a small swimmingpool and… a sauna.
In fact the space seems to be inhabited 24/7 by a happy bunch of people serving drinks, cooking, working on their laptop and even selling Yvette Horner's favourite musical instrument; there was also a comfy-looking sleeping dorm.
It looked like nothing else. No shiny white model of spectacular apartment blocks. No graphics on the walls. Instead of focusing on life in the big cities, the curator, Patrick Bouchain, trusted the architects and graphic designers from EXYZT to give a merry view on everyday life in a provincial town or a small quartier.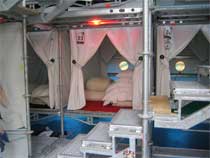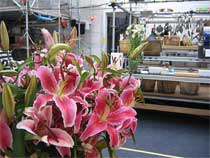 The Metavilla is the act of transforming an empty pavilion into a livable space for 3 months.
The pavilion left no one indifferent. Some loved it, others even wrote that it was one of the worst pavilions at the Biennale this year. I don't agree. First of all for a very selfish and superficial reason: why the hell did they close the nice bar that was just outside the giardini? It was way nicer than the friggin bars cum bored waiters that sell super sad panini inside the giardini. The French pavilion, imho, has the merit of being a fun place where people were happy to sit down and relax.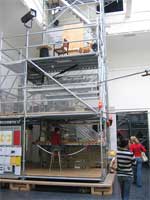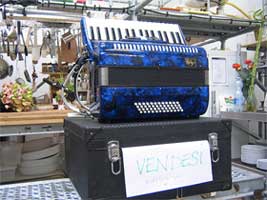 But most of all, i loved that pavilion because it reminds us that architecture doesn't necessarily have to be about life in overcrowded and hyper-connected cities. Because the places we are going to inhabit should be made for human beings. Because it's not all be about high-tech. Because the experience of visiting a pavilion shouldn't be reduced to "enter, admire, buy the catalog and off you go to the next one?"
My images from the French pavilion.