Isabelle Arvers is a curator, art critic and artist specialized in independent video games. She is also the Director of Kareron, a non-profit organization that supports artistic and educational projects in the fields of art, digital creation and video games.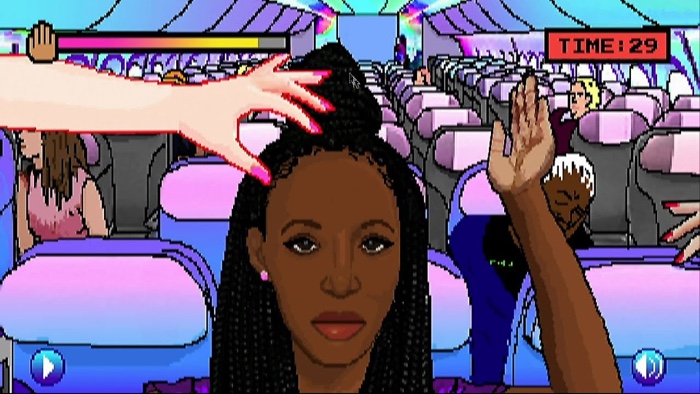 Momo Pixel, Hair Nah (photo)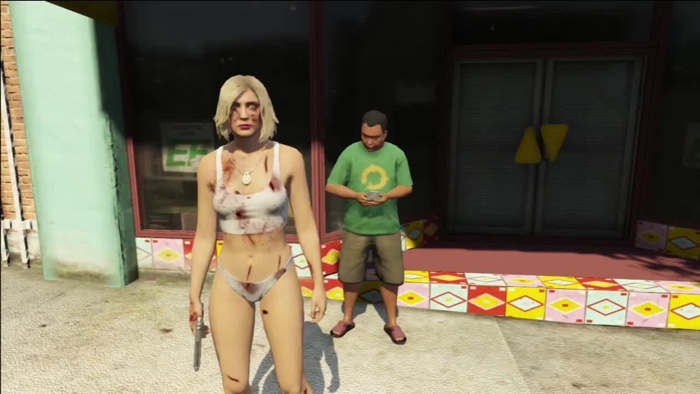 Georgie Roxby Smith, 99 Problems [WASTED], GTAV intervention, 2014
To celebrate her 20 years as curator in the fields of art and video games, Isabelle Arvers is about to embark on a world tour that will take her to over 15 countries, each of them "outside the American and European beaten paths". She's planning to meet digital artists and independent developers and come back with a richer, non Western-centric and more nuanced overview of the different ways gaming communities across the world are exploring the issue of diversity, with an emphasis on female, queer and decolonial practices.
Her expedition will also investigate how we can create new concepts of "working together" and new connections within the worlds of game art, independent games, games DIY art in non-Western countries.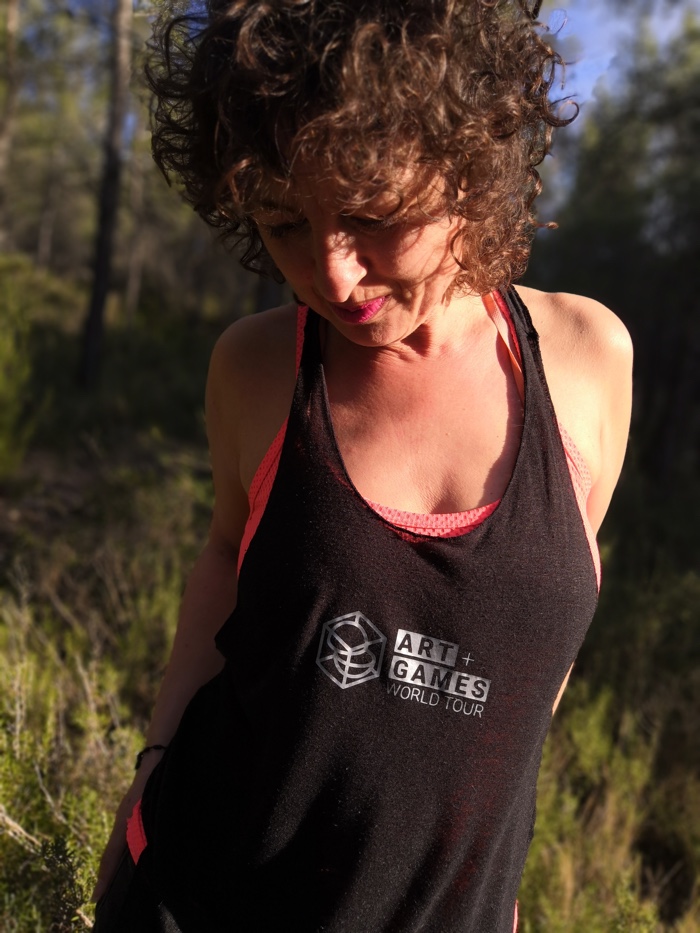 Isabelle Arvers
I'm a bit embarrassed to say that it's the third time i'm interviewing Isabelle Arvers. Simply because she's smart, genuinely passionate and an expert in everything art & games. There will also be a fourth interview obviously. As soon as she's back from her Art Games World Tour, i'll be waiting for her to tell us what and who she's discovered in Taiwan, Thailand, Indonesia, Senegal, Ivory Coast, Colombia, Argentina, Lebanon, Egypt, etc.
Hi Isabelle! Let's start with what has been the biggest surprise for me when i was reading the programme of the Art+Games WorldTour. You've been a curator in the fields of art and video games for 20 years!?? You must have been one of the pioneers in that profession at the time. How did you realize that was what you'd want to dedicate your energy and mind to? 
It came from a discussion I had with teenagers in the 90′, telling me that they were dreaming in video games and that they loved so much video games images that they would have preferred to see them on TV. It made me realize the power of games on our imagination and their capacity to manipulate people's mind. I decided that games were a very serious question and that we – cultural producers, curators, intellectuals – had to pay attention to it. That's why I decided to offer an alternative to AAA – big commercial – games and to promote alternative and artistic uses of video games and to distribute other types of games, games done by artists but not only, also what we now call experimental games, creative or indie games. 
In 1999, I was working as a partnership manager for Art 3000, a non profit organization which was organizing the General Meetings of Interactive Writing. I selected an interactive graphic and music table created by Andre Ktori (Founder of the sound music collective Audiorom in London), as well as 2 PC games. One was a pervasive game In Memoriam by Eric Viennot (edited in 2003 by Ubisoft) and the second game, Isabelle by Thomas Cheysson, was a game using Artificial Intelligence.
The year after, I was in charge of the image and computer games content for an online gallery – Gizmoland – where we were selling music, games, digital art, and animation, only by downloads. My job consisted in persuading game companies, little independent game studios to sell their games online, which at that time wasn't their business model at all!! The year after, I curated my first big exhibition in a huge "physical" space. It was the gaming room of Villette Numerique: Playtime (2002) – combining 30 years of computer games history, games created by artists and sound games in an online gallery.
For this exhibition I was inspired by the exhibition Let's Entertain curated by Philippe Vergne at the Walker Art Center which was investigating what cultural industries had to learn from super attractive big malls. The same year, the exhibition "Game On" was hosted at the Barbican Center in London. Playtime is the true beginning of what would become my main practice: mixing the art and the game world with other disciplines: music, dance, online performances and break mind and cultural ghettos. Last December, as I had to leave my house, cleaning and ordering my archives, I realized that 20 had passed and I felt a huge need to renew my practice
Nomada Studio, Gris
How has the profession evolved over time? Do you find, for example, that you can now present yourself as a curator in the fields of art and video games and that people understand immediately what you do (both in France and in other countries)? That some circles take art and video game more seriously than 20 years ago?  
The profession evolved a lot as there are now Curatorial studies as well as games studies. There are academic studies on games as an art form and the art world is paying more attention to games both as a medium or as an art form. In France, what is funny is that games became interesting for cultural structures through the prism of cultural heritage and preservation and thanks to serious games. Then the growing benefits from the game industry made the rest! But the particularity of my work consists in the meeting between different artistic disciplines and universes and when you want to cross cultural ghettos it still remains a bit suspicious, both from the art side than from the game world. However, artists and game designers are more and more using the same tools or software, the language/vocabulary/objectives are still different, but we can create the encounter and break the last walls remaining between art + games and indie games events.
In other countries the contexts are slightly different depending on which countries we are talking about. Cities like Chicago, Los Angeles, New York mix art and games. I wrote a report about my last trip in New York and what was the state of the art+ games world there in 2017.
In Brazil, connections between the art world and the game world also exist, with a strong tradition of promoting interactivity in big events like File. Last year, I organized a special edition of Art Games Demos in Medellin and it was quite hard to find artists working with videogames as a medium or even referring to computer games. We discussed it with the artist Miltos Manetas who now lives in Bogota and he told me that Colombia was "Pre-Internet and computer games". The indie games scene is more developed, but there is a huge interest for it in Universities or in the art schools where I gave talks about the art + games relationship. The same in Egypt, where I gave machinima workshops with the artist Ahmed El Shaer to most of the times women students.
Students and artists are often really interested by game engines as a medium. There is just a need to show that games can be used in art schools to create hybrid artworks and push the creation in that direction. In the case of Egypt, what local structures also told me is that they need permanent spaces to learn and practice, not only temporary workshops, without an access to mentoring after these workshops. On the indie game world, the easiest access to open game engines, the dematerialization of games platform, the game jams and indie meetups opened the doors to more creative and diverse videogames.
Isabelle Arvers, Art Games Demos at La Jaquer EsCool in Medellin
I love that Sébastien Acker has described you as an "Activist of an art that is emancipated from the international majors of the genre." Can you tell me something about this type of video games? Is it just a question of being less professional or having less money than the majors? Or is more a question of content, audacity and creativity that make this type of video game so fascinating to you and their public? 
In 2011, I presented the Pirate Kart at the Art Gallery of The Aix en Provence Art School invited by the Festival Gamerz. The Pirate Kart is a compilation of 1005 games created by 378 developers: an indie games presentation and experimentation inside a game art festival intended to show the mind-blowing evolution of game creation in the indie games scene, and to show the diversity and the originality of these games, quite different from the AAA games but which need to be considered as well. This compilation was made possible by Mike Meyer, a game developer in Florida, and to quote his reference to the Scratchware manifesto:"It is time for revolution. Walk into your local bookstore; you'll find tens of thousands of titles. Walk into your local record store; you'll find thousands of albums. Walk into your local software store; you'll find perhaps 40 games. Yet thousands of games are released each year." Wikipedia defines a scratchware as "If a game has original content, offers great gameplay and replayability, has a professional look, is bug free, costs $25 or less for the complete program, and was made by three people or less, it is scratchware."
We need to show these games and give an alternative to the traditional places of games distribution. We need to give exposure and to promote these games, because they also represent the state of the art of today games production. For me, it doesn't mean that they are less professional, but ten thousand times more diverse in terms of representation, aesthetics, concepts and messages. As Anna Anthropy urges in her book Rise of the Videogames Zinesters: everybody should create games to enhance diversity of aesthetics and subjects, indeed, she recently published Make your own Twine Games in March 2019 and "Make your own Scratch Games" which will be published in July 2019.
David OReilly, Everything (Gameplay Film)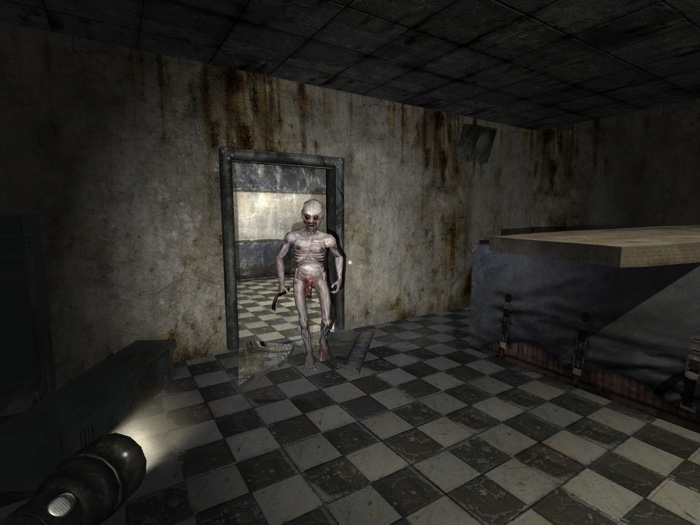 Penumbra Black Plague in-game screenshot
Concrete Games, Matter (PC Trailer)
I used to discover a lot of video games ideas and talents through the game section you used to curate for the GAMERZ festival in Aix-en-Provence. It always allowed me to catch up with an art form i'm not so versed into. Which works or creators would you recommend are worth looking at at the moment? 
I went to an amazing festival in Netherlands, The Overkill Festival in 2018, invited to curate a machinima exhibition dedicated to Immortality. I was extremely lucky to meet Robin Baumgarten and his quantic inspired games as well as Alistair Hutchinson and his interactive theater play. I would also recommend to go on Itch.io where you can discover a great amount of indie games online. Oujevipo, the website created by Pierre Corbinais is also a fantastic resource to discover short games. I am currently preparing a workshop for ISEA 2019 in South Korea untitled Games as lights and colors on canvas for which I selected games focusing on light and darkness and had the pleasure to play to Reflections by Broken Window Studios, as well as Penumbra by Frictional Games or Matter by Concrete Games. Each of them presents a different type of gameplay and pretty different aesthetics. Otherwise my last preferred games are Everything by David O'Reilly, or Hair Nah by Momo Pixel.
Pierre Corbinais, Bury Me, My Love
Lucas Pope, Papers, Please
Molle Industria, Nova Alea gameplay
Then, it is hard to speak about all the games we had the pleasure to present during the 6 editions of Art Games Demos we curated with Chloé Desmoineaux. Some of them were thematized on queer and feminism, others on borders and migration or on the city, generative city, utopic city… Enterre moi mon amour is a mobile game created by Pierre Corbinais in which you discuss with a Syrian migrant, in the game Papers, Please by Lucas Pope you play a guard at the border of a fictious state, Nova Alea, a game about gentrification made by Paolo Pedercini from Molle Industria is also amazing, The game The Game, a game about sexual harassment by Angela Washko looks more like an interactive fiction. Lately I found beautiful the game Gris by the Spanish studio Nomada Studio and I discovered yesterday the game What Remains by Aymeric Mansoux, "an 8-bit interactive fiction and adventure video game by Aymeric Mansoux about environmental issues, the manipulation of public opinion, and whistleblowing».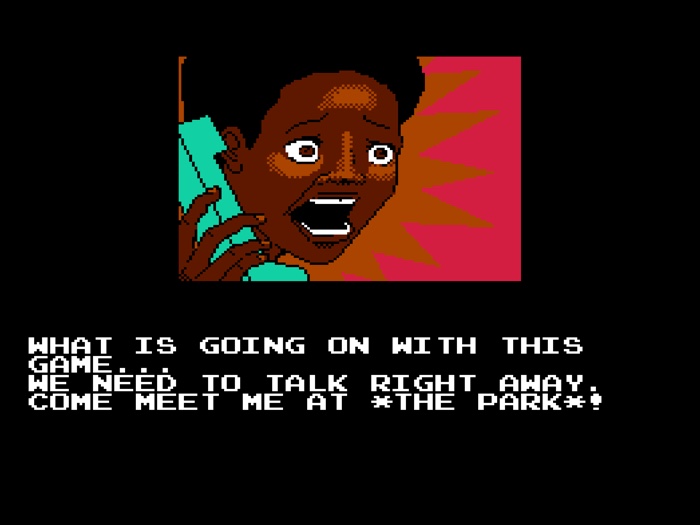 Aymeric Mansoux, What Remains, 2019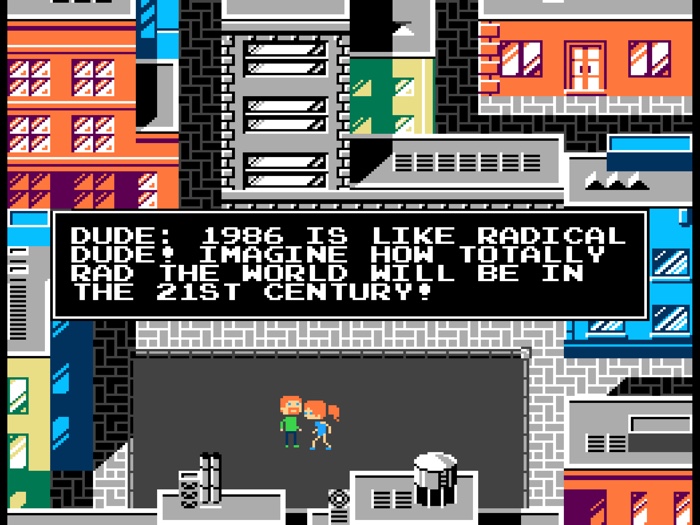 Aymeric Mansoux, What Remains, 2019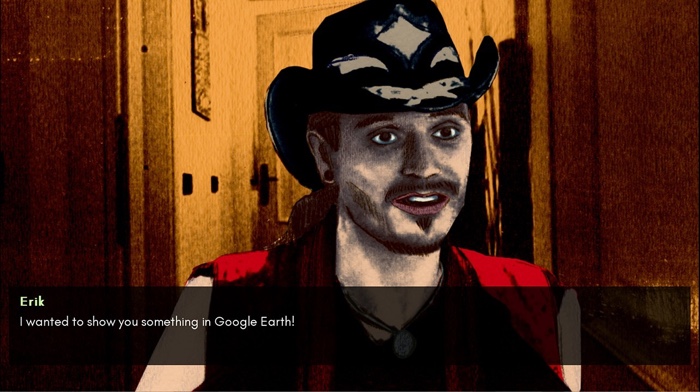 Angela Washko, The game The Game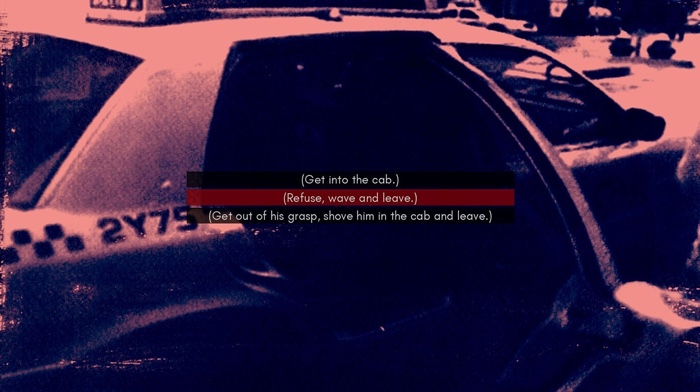 Angela Washko, The game The Game
The Art+Games WorldTour you are about to embark on looks very ambitious: you'll be spending several months traveling, meeting, discovering, working in very different cultures. How much of what you will be doing once over there will rely on preparation and existing contacts and how much on pure chance and improvisation?  
I decided for this World Tour to discover art and games scenes I do not know already. The only places where I already went to are Brazil and Colombia, where I do have some contacts now and where they are people I love and want to see again. For the other countries I will travel to – South Korea, Taiwan, Thailand, Indonesia, Japan, India, Argentina and Mexico which are the first steps of my trip in 2019 before I go to Nigeria, Senegal, Ivory Coast and Middle East countries in 2020, I mostly rely on friends' contacts and on my online researches, before my departure. My main fear is that people won't have the desire or the time to meet me, because I won't stay very long in each country, so it might be difficult to be at the right time at the right moment. People are not waiting for me and that's totally understandable. To give you an idea, for my first step in South Korea, I think that I sent more than 60 emails and only got 6 replies. Hopefully, thanks to IRL meetings, it will open the doors to other contacts and meetings. That's totally part of the game. I know it will be hard, a mix of fear and excitement. Like when you learn how to play a game: big and numerous failures, for few little successes! For this world tour, I am asking support from women in games – I just partnered with Women in Games – LGBTQI networks in art, DIY and feminist networks as well as from the game art network or the indie game scene. Let's hope I will be lucky. And that the communities will support me by giving me more contacts.

Art Games Demos, Une Quinzaine de Féminisme(s), 2017
What make the Art+Games World Tour project so interesting is that it is looking at the diversity of video game, trying to give more visibility to the female, queer and decolonial practices and works. I'm particularly curious about the decolonial practices. Could you give some examples of them?  
I think that games are a good reflection of our surrounding world, they can give us a good overview of our current society, they are also a perfect medium to talk about games and the game industry. In 2011, I curated a machinima exhibition on feminism and on player's freedom inside a videogame. I showed the work of Angela Washko and Georgies Roxbie Smith, both renowned for their feminist actions inside WOW or GTA Online. Some years after, we curated an Art Games Demos on queer and feminist movements in videogames during The feminist fortnight in Marseille. A way for us to raise awareness on sexism in the videogames industry and community. Women are still underrepresented in the industry and even if things changed a lot after the Gamergate in the US, there is still a need to change the representation of women in videogames and to give more attention to games created by women or trans persons. In western countries, there is a quite new consciousness about it, with conferences on diversity in events like the Game Developers Conference or at Amaze, but I am really interested to discover and meet other feminists in the non western world as well as LGBTQI organizations around the world in order to connect with other realities and create new paths and connections between networks.
I worked a lot abroad but it was a "western" abroad: I mostly worked in the US, in Europe, in Canada and in Australia. Western and white…
There is a strong network for our practices in the western world, but diversity is a very recent concept in these worlds. It is great to feel that recently it even became a new "trend", a "tendency", people even mentioned feminism or diversity as a new "fashion"… Interesting but dangerous when you see the power of evangelism growing in countries like Brasil, USA or South Korea as well as abortion bans around the world. Our emancipation is still young and might be weak so we need to defend it and to connect around the world.
Trying to promote decolonial practices is something very important when you think about games as a globalized culture. When I traveled to Brazil or Egypt to give machinima workshops, I was surprised to discover that youngsters were all playing to the same games: GTA, FIFA, Call of Duty, Fortnite, etc… even if the local culture was powerful. In my workshops, I tried to push youngsters to play Indie Games or games related to their local culture, but it appeared as less fascinating to them… less "beautiful". It made me realize that we almost play the same games everywhere, which mean that the moral, ethics, concepts of these games are globalized. So, are they universal? Not at all.
Universalization is a colonialist heritage. I want to decentralize my point of view. I want to go against my own beliefs and mind constructions. I want to better understand the counter forces to the capitalist model. How can we put the idea of commons in this? The first thing I know is that I don't know anything, I am not traveling with prior ideas in my mind, as I truly don't know the situation where I am going to travel, but I know where I come from and the possible damages of what we call good intentions. So my first aim is to learn, learn from the others and discover other ways of working together.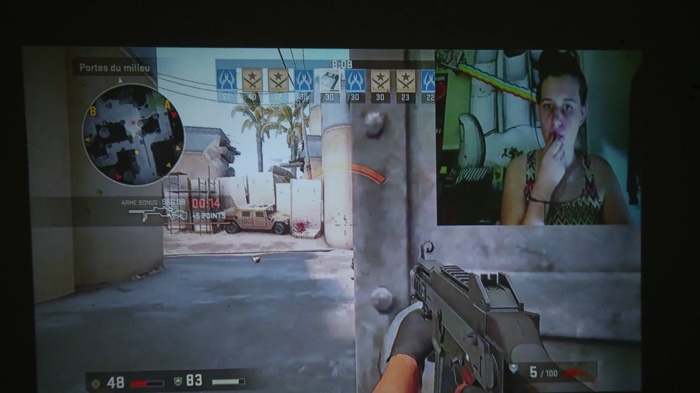 Lipstrike Chloé Desmoineaux at Art Games Demos in Medellin (photo)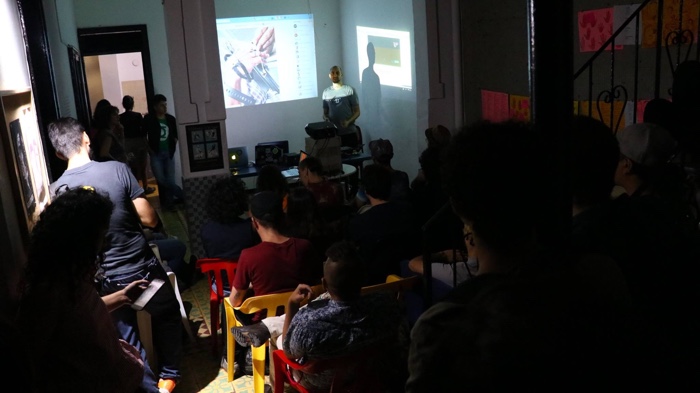 Rehabilitation Game presented by Arango Chavarría, EAFIT Virtual Lab, at Art Games Demos in Medellin (photo)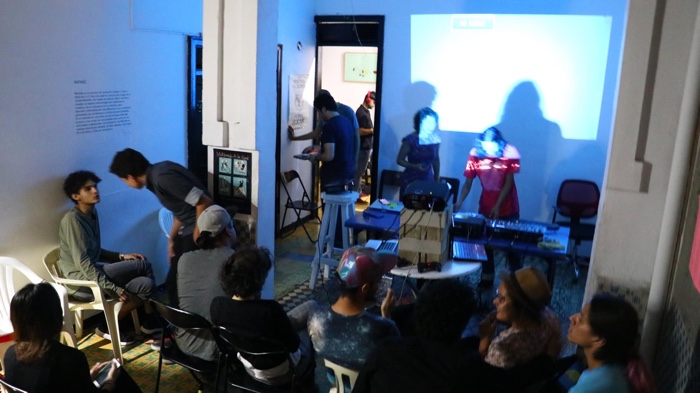 Noisk8 at Art Games Demos in Medellin (photo)
Art+Games WorldTour is not just looking at games and creators. It is also concerned with innovative and inspiring modes of exchanges and collaborations developed in parts of the world the Western art+game community tends to overlook. Could you already tell us about some of these methods and what we might learn from them?
To give you a concrete example, when I was in Colombia last year in a residency at Platohedro in Medellin (an amazing art and residency space dedicated to feminism, technology and open culture). While I was there, we talked about a European festival that wanted to collaborate with Platohedro. It ended by only inviting a Colombian artist in Europe and paying for his trip, which was felt as a neocolonial attitude and not as a true collaboration.
Georgie Roxby Smith, 99 Problems [WASTED], GTAV intervention, 2014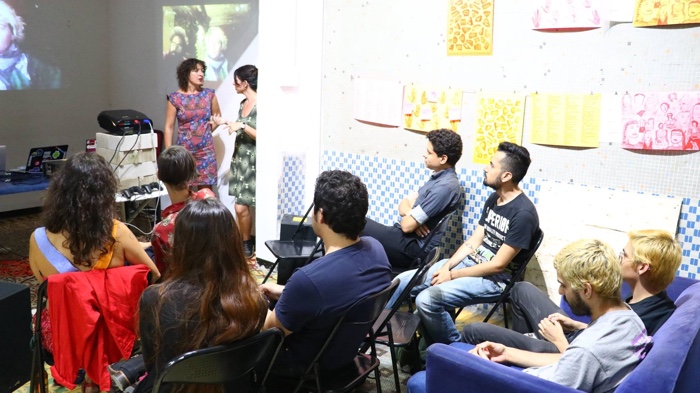 Introduction by Isabelle Arvers at Art Game Demos in Medellin (photo)
To collaborate is not just a question of an invitation to promote artists or creators outside of their countries… It is more about sharing and mixing practices, intentions, responsibilities and giving back to the people.
Also, during my residency, I wanted to investigate the question of gender racism and meet trans persons while I was there. The community feedback was: what do you do in return for the community? We agreed that I would give a machinima workshop on identity and gender to Mesa Diversa Comuna 4, a LGBTQI organization just before to leave to Bogota. Cultural structures like Platohedro, Moravia, El Museo de Antioquia or El Exploratorio in Medellin work and learn with and from the communities: food, gardening, technology, sustainability, etc. Everyone is a bank of knowledge that needs to be heard and shared. In 2011, I wrote a text about collaboration vs participation for the online Journal Archee dealing with collaborative practice in the artworld, let's see how this world tour will enrich or modify my thoughts.
When I was hosted in Rural.scapes for my first artist residency in Santa Tereza Fazenda in Brasil by the artists Rachel Rosalen and Rafael Marchetti, I super enjoyed all the collaborations we had with the local communities: children, women, farmers and how the point of the residency was to mix local knowledge and technics with artistic practices, electronics, sound or even games. So I want to focus on this type of practices and attitudes for a field that is globalized and still dominated by capitalism and mind gentrification to quote the amazing book by Sarah Schulman, The Gentrification of the Mind. Then, for this world tour, I partnered with Mehdi Derfoufi, a specialist of post colonial cinema and games studies, who offered me to analyze and apply a postcolonial approach to the games I will find and meet on my road. I will also keep a travelogue/logbook of my feelings and thoughts about this particular and very personal research and quest. These notes will be published monthly on the website of the French journal Immersion.
Thanks Isabelle!
Previously: Games Reflexions, Machinimas at the GAMERZ festival, 8 Bit Movie – Some fast and messy notes.