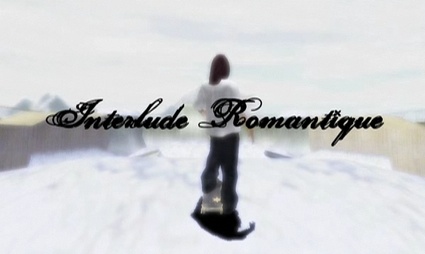 Frédéric Nakache, Interlude romantique, 2007
By now you have probably realized that i keep going back and forth between the various art and design events i attended over the past few weeks. Today i return to the GAMERZ festival in Aix-en-Provence because 1. i want to remind you that this truly unique event is going to close on Sunday 2. i just interviewed the lovely and very frenchy Isabelle Arvers who not only curated a machinima show for the GAMERZ exhibition but is also one of the most respected experts in art and video games, 8it music and free + opensource culture in France.
The program of machinimas is currently exhibited at Arcade Paca, an agency for performing art in Aix-en-Provence. Isabelle's selection is remarkably diversified. Some of the machinimas comment on current social issues, others have a critical view on the very game platforms they are using. Other again play with the codes that produce the synthetic universes. Some are sarcastic, other are poetical.
Since i had the chance to catch up with Isabelle i had her talk about her curatorial work for GAMERZ but also about the machinima scene in her country.
Can you tell us something about the machinima scene in France? Who are its actors but also how well is the genre received both by the broad public and by cultural institutions in the country?
I began to show machinimas in 2005. It was at the Pompidou Center, in a show untitled Machinima vs Demos and we invited Burnie Burns to talk about the serial Red vs Blue, which helped the machinima movement to become famous. The same year, Xavier Lardy created the website Machinima.fr
It was just three years after the first machinima film festival edition in New York. At that time there was very few French machinimas. Alex Chan directed his political machinima The French Democracy in 2005 just after the French riots. But to give you an idea of how this movement was mostly anglo saxon, he subtitled it in english and then posted it on the Movies website. One year later, Bill & John, an other French machinima, directed by KBS Productions won many prices in machinima festivals.
During those years the French machinima scene was quite reduced, or was more intended to emerge in the amateur short film scene (and was mostly narrative). But since 2008, a new scene has been growing. Now we can talk about a French scene. Along the amateur scene, some artists began to work with machinima : like Benjamin Nuel, Nicolas Boone or Les Riches Douaniers.
Also something quite boring is now happening : some young directors make machinima to become famous and to be able to say that they are movie makers… Really strange for me who thinks that what is interesting in machinima is the reverse engineering part in it.
Anyway, from 2005 to 2008, some festivals like the Flash Festival or the Animation film festival in Annecy, asked me to curate special machinima programs. Also, there is a machinima section inside the Short film festival in Clermont Ferrand. Nemo festival is also showing machinima, first by inviting the machinima section of the Bitfilm Festival in Hambourg, then also by asking me to curate programs or with the invitation of Chris Burke, the talented and great director of This Spartan LIfe, the talk show shot in Halo 2 & 3.
So we can say that there is some interest for the machinimas by the institutions. Since 2009, Margherita Balzerani is also organizing the Atopic film festival, first intended to be a festival related to virtual universes it then became a machinima festival last year with the help of Xavier Lardy. As for the festival last year, I am part of the jury of this festival and the selection this year is quite interesting because there are less films directed in Second Life, regarding last year, which is a good point for me!!
About the audience, we began with 13 people in the room and now we can fill big venues, that's great…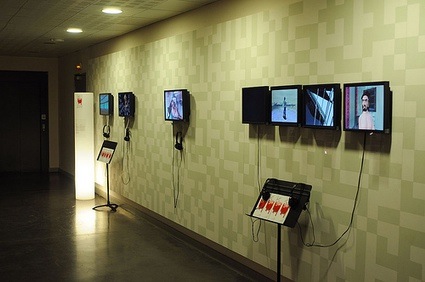 View of the exhibition space at Arcade Paca. Image credit: Luce Moreau, courtesy Sylvain, Gamerz festival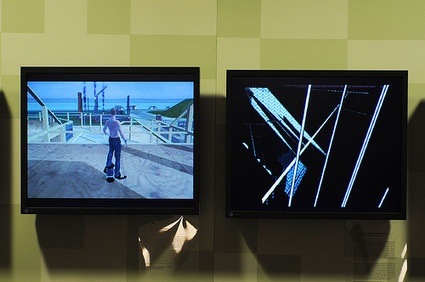 View of the exhibition space at Arcade Paca. Image credit: Luce Moreau, courtesy Sylvain, Gamerz festival
What guided your curatorial choices for the selection of machinimas you are presenting at Gamerz? Did you pick up the best machinimas you had seen over the past few months/years? Or were you guided by a particular theme? Or else by a desire to show the versatility of the genre in 9 films?
Normally, when i curate a machinima program, i try to show the diversity of the genre, while presenting, narrative, humorist short films, artistic or experimental movies, documentaries, adds, video clips, etc Often I am in the discovery perspective and want to show what is possible to do in movie making with games. But this year, I wanted to be a bit more radical and wanted to show more engaged videos. Some of them like Participation or Google Stooge are critical about Second Life, social networks or digital marketing. I was also very interested by the work of David Griffith (which is really beautiful) as it is the result of a live coding performance. Also I was attracted by the work of Julian Oliver while it is the result of a glitch. Then, there are few French machinimas movies by Benjamin Nuel, Les Riches Douaniers or Frédéric Nakache which are meditative, or like live portraits… I also love the work of William Flink: very short and abstract films, i really like his universe.
SlimGirlFat, MooN – spyVspy Aeon, 2010
Some of the works you have selected seem to have a fairly critical view on the virtual worlds they engage with. Can you comment on this 'orientation'?
As i wanted something new, i decided to contact the Piksel mailing list as I was part of Piksel, the free and open source software festival in Bergen, Norway some years ago. That is how i found Participation by Linda , and the videos by Julian Oliver and David Griffith. This is how i chooses to make part of my selection. I think that the artist network is always the best to find deep good artworks…
I also just wrote an article about machinimas for a book edited by Norie Neumark (Cheats or glitch ? Voice as a game modification in Machinima) in which i compare machinima to situationists movies, while defining voice in machinimas as a game modification. Mass consumption objects are often really good to give critical point of views to a broader audience!!!
Google Stooge from Phil Rice on Vimeo.
The GAMERZ festival seems to be pretty unique to me. Not only if one looks at France but also at the rest of Europe. How have you seen it evolve over its very short existence?
Thanks for them! Really! and i absolutely share your point of view. There is an international game art scene (Cory Arcangel, Eddo Stern, Alex Galloway, Mathias Fuchs, Margarete Jahrman, etc.) that you often find in game art exhibits. They are the "names" in that scene. What is interesting in Gamerz is that it not only focuses on game and art but also on fun, ludic and interactive artworks. The artists are often emerging artists, not so famous, but with a very deep critical view of the artworld and information society. I think that this festival is great because it is the result of a huge work to find artists thanks to an artistic network. Always the best artists are found and invited by other artists. Dardex M2F is an artists collective, it is like that that we first met. Anne Roquigny a friend of mine who works for the laboratory Locus Sonus at the Art school of Aix-en-Provence advised me to meet them some years ago, because they were just out of that school at that time. We immediately decided to work together and i joined them for the third or fourth edition…
First the festival began in an art gallery and grew each year. When we first met, the budget was really tiny, now it is getting better and looks like a "respectable" festival, a parcours of artworks with a very diverse selection. This year I particularly enjoyed the work of Labomedia and also of Selma… i found it very sensitive.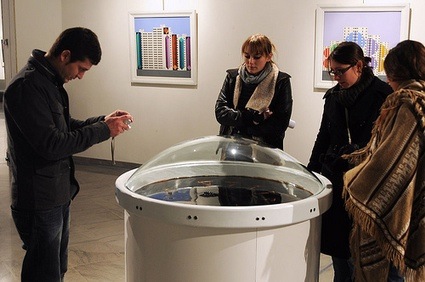 Selma Lepart, Mercure Noir, 2010. Image credit: Luce Moreau, courtesy Sylvain, Gamerz festival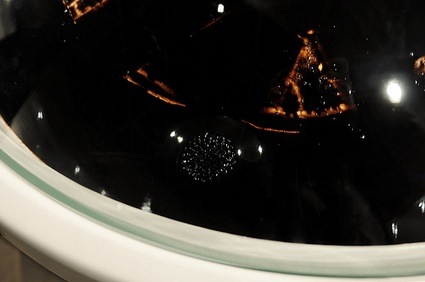 Selma Lepart, Mercure Noir, 2010. Image credit: Luce Moreau, courtesy Sylvain, Gamerz festival
What is nice also is the work done with La Maison Numérique in Aix-en-Provence. Dardex decided to create a production place to invite artists in residence, they work at la Maison Numérique and sleep at the Vazarely Foundation. It is really important as we are so poor in France for digital art production. Since the CICV disappeared we don't have real production place for digital art which is very sad for a country like France.
Any upcoming project of yours (exhibition, performance, articles, workshopes, etc) you'd like to share with us?
Thanks for asking it!! So, this year I am preparing two exhibitions. One in Marseille at the Library Alcazar in March 2011 : a retro gaming exhibition untitled Game Heroes. There will be also an other exhibit related to game art, reverse engineering and machinimas : le Salon Numérique at La Maison Populaire in April 2011.
Tonight, I am showing a new WJ-S performance (project by Anne Roquigny) about retro gaming with a Game Boy music set by Confipop (tonight at Seconde Nature for the Festival Gamerz), then, we will give WJ-S workshops with Anne in France in 2011 (Valenciennes.)
I am also really happy to make machinima workshops with youngsters from the suburb area. I began them in October and each time I work with a collaborator : Benjamin Nuel for a machinima workshop in Lyon coordinated by a contemporary music scene, L'épicerie moderne. I also work with Alutt, the administrator of the French community website of the Movies. We are both working on machinima workshops in Strasbourg, on the invitation of Ososphère, a digital music and art festival. In january, I will give a new machinima workshop at the Pompidou Center, in the new teenager gallery which is at the level -1 of the Center. This time I will give it with my partner: Emmanuel Mayoud.
I am really happy about those workshops, it has been so many years that i wanted to create that. I contacted so many institutions to do it and finally this year there is an interest and I really believe that it is important to do it. Because we have to show that it is possible to divert mass consumption objects to express ourselves, with games but also with the net (using wj-s to show that the net is a space of creation to quote Anne Roquigny!!)
I try to democratize this phenomenon and I hope that for many youngsters it will become a new means of expression.
Finally, I am also quite happy with a new activity I am leading this year : I train people to use Pleade, a free software developed by the company of my brother Jean Luc Arvers in Bordeaux: AJLSM. Pleade is a free software dedicated to publish archives and make them searchable. I am discovering the archive world and how the memory of a country is preserved and what is preserved and how… For me it is absolutely fascinating, i love this new job and all the people it makes me meet… Last time i was at the National Superior School to work on the archives of Michel Foucault: Les Mots et les Choses. Another time we were working on the publication of the Charcot archives about magnetism and hypnotism…. at Jussieu University.
I tend to relate that work to the net.art and digital art preservation and how bridges can be built. I am also very happy to train people in the use of free software, it comes really well with my ethics!
To end with, i need to finish an interview of Bob Stein from the Institute of the Future of the Book, for Amusement Magazine…. but i am quite late…
Merci Isabelle!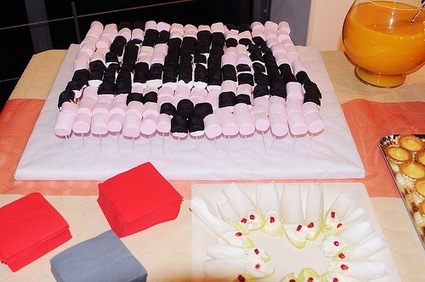 Buffet at one of the openings of the GAMERZ festival. Image credit: Luce Moreau, courtesy Sylvain, Gamerz festival
Check out Isabelle's selection of Machinima at Arcade Paca in Aix-en-Provence. It is part of the GAMERZ festival which remains open in various art galleries in Aix-en-Provence until 19th December, 2010.
More stories about the GAMERZ festival: Project NADAL and Images from the GAMERZ festival.
Looks like gamescenes beat me to it! Read Game Art: Isabelle Arvers on the French Game Art scene.