Trespass. A History of Uncommissioned Urban Art, edited by Ethel Seno with contributions by Carlo McCormick, Marc and Sara Schiller (available on amazon UK and USA.)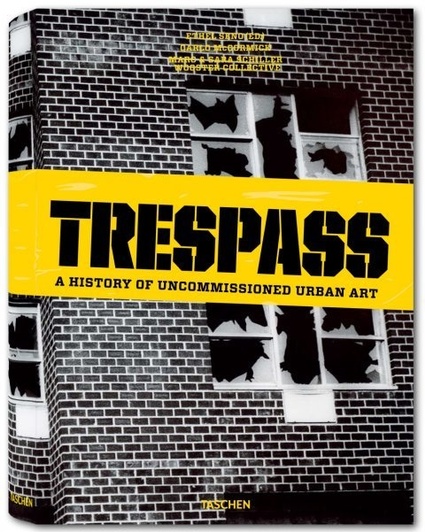 Publisher Taschen says: Made in collaboration with featured artists, Trespass examines the rise and global reach of graffiti and urban art, tracing key figures, events and movements of self-expression in the city's social space, and the history of urban reclamation, protest, and illicit performance. The first book to present the full historical sweep, global reach and technical developments of the street art movement, Trespass features key works by 150 artists, and connects four generations of visionary outlaws including Jean Tinguely, Spencer Tunick, Keith Haring, Os Gemeos, Jenny Holzer, Barry McGee, Gordon Matta-Clark, Shepard Fairey, Blu, Billboard Liberation Front, Guerrilla Girls and Banksy, among others. It also includes dozens of previously unpublished photographs of long-lost works and legendary, ephemeral urban artworks.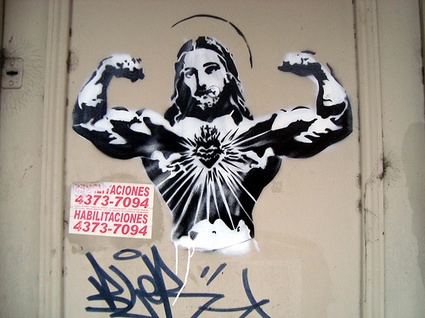 bs.as.stencil, Mighty Jesus, 2008. Image credit: DobleG
Trespass is not simply a street art book. Even if it were, it wouldn't be any street art book. This one comes with the Wooster Collective seal of approval. Marc and Sara Schiller have contributed an essay to the book. So did Banksy. And culture critic and curator Carlo McCormick.
Trespass features graffiti of course but also other types of urban reclamation, such as protest interventions in public space and illicit performances. These grassroots, creative actions might be uninvited and illegal (the book ends with a small chapter on graffiti and law in the USA) but that doesn't prevent nowadays' advertisers and corporations from trying to track, exploit, and copy them.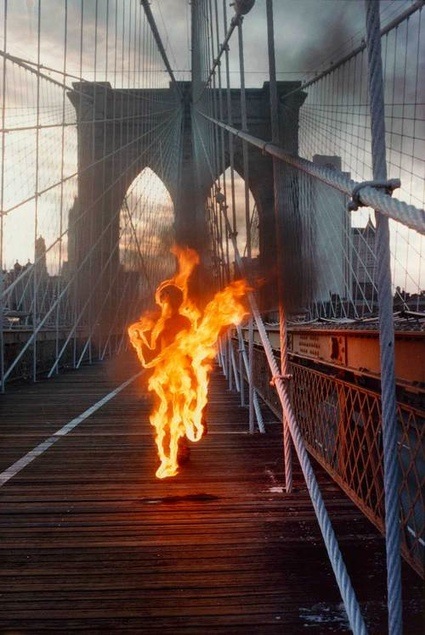 Paolo Buggiani, Minotaur, Brooklyn Bridge, NYC 1980
The most fascinating quality of the book is that it brings what we would lazily describe as 'street art' into historical context, affiliating today's most iconic clandestine artists with performers and activists from the '70s and the '80s.
More importantly, the works inside the book invite us to see our urban environment with new eyes and reassess our relationship with it. But i'm sure you've heard that one before so i'll end with a few interventions i've discovered in the book:
Father Anthony Joseph (aka Joey Skaggs) peddling the Portofess, a confessional booth mounted on the back of a tricycle. "If people can confess on Oprah, Phil and Geraldo, I don't see why they can't confess right here on Eighth Avenue," he declared on his way to the site of the Democratic National Convention in New York City during July of 1992.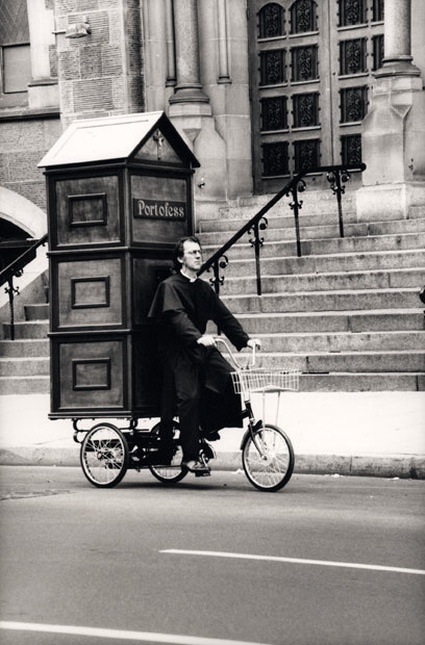 Joey Skaggs, Portofess: Religion on the move for people on the go, 1992
John Fekner's stenciled spray painted messages on Charlotte Street in the South Bronx became a background where politicians, activists and leaders liked to be portrayed. Presidential Candidate Ronald Reagan chose to stand in front of Broken Promises on August 5, 1980 at the People's Convention.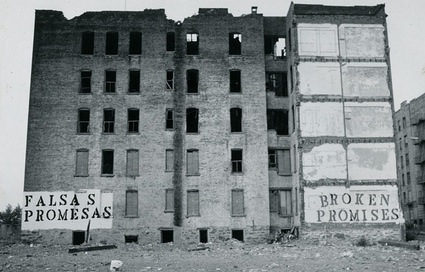 John Fekner, Falsas Promesas Broken Promises, Charlotte Street Stencils, South Bronx, NY 1980
On a wall built by Israel to segregate Palestinians: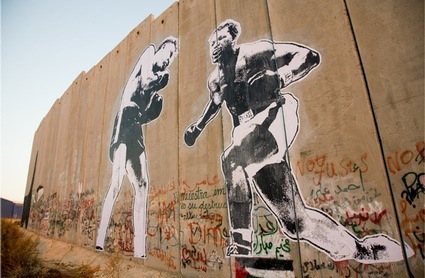 Faile, Boxers, 2007
Shannon Spanhake distributed a community garden inhabiting inside the potholes around Tijuana. She planted flowers and vegetables and added a note inviting inhabitants to take care of and use the garden as their own.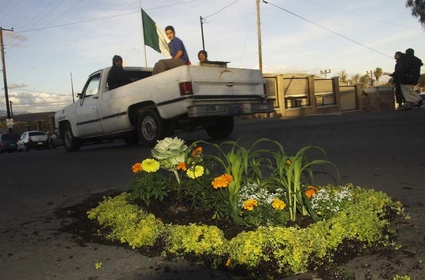 Shannon Spanhake, A Tijuana Garden
Un incidente in gondola was not a performance, but an orchestrated accident. After special preparations by Hans Winkler, who sits on it, the gondola did sink in a canal. The project addresses a City flooded with tourism and struggling to preserve its sinking beauty.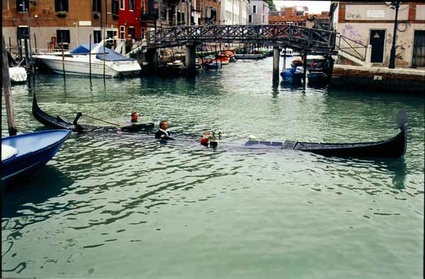 Hans Winkler, Un incidente in gondola, Venezia, 2002
Have a look inside the book. There's also a not so exciting video presentation of it.
Trespass is available in English, German, French, Spanish, Portuguese and Italian.