Just back from Frankfurt where i participated to the marvelously organized and well-attended Node08 Forum for Digital Art conference. As i was in town for two days, i visited All-Inclusive. A Tourist World at the Schirn Kunsthalle.
Ho-Yeol Ryu, Airport, 2005. Courtesy Ho-Yeol Ryu
All-Inclusive. A Tourist World presents works from 30 artists depicting and commenting on various phenomena influenced by the continually growing tourist industry.
Vladimir Raitz pioneered modern package tourism when in 1950 his company, Horizon, provided arrangements for a two-week holiday in Corsica. For an all inclusive price of £32.10s.-, holiday makers could sleep under canvas, sample local wines and eat a meal containing meat twice a day. Within ten years, his company had started mass tourism to Palma, Lourdes, Costa Brava, Sardinia, Minorca, Porto, Costa Blanca and Costa del Sol.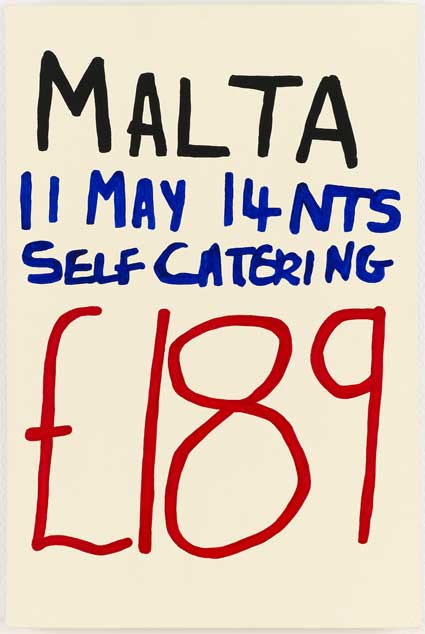 Jonathan Monk, #129, MALTA £189, (From the series: Holiday Paintings, 1992-2000). Photo: Anders Sune Berg, Copenhagen
An increase in the standard of living, affordable air travel and the development of the package tour enabled international mass tourism to thrive. For someone living in greater London, Venice today is almost as accessible as Brighton was 100 years ago.
The World Tourism Organization (UNWTO) forecasts that international tourism will continue growing at the average annual rate of 4 % (at least in places where global warming won't totally destroy the sector.) As a result international arrivals are expected to reach over 1.56 billion by the year 2020.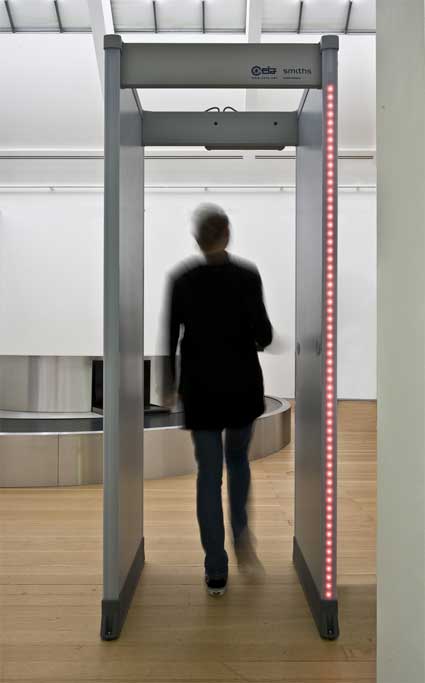 Ayse Erkmen, Safety Doors, 1996-2008. Photo: Norbert Miguletz
The All-Inclusive exhibition opens with 2 artworks which both evokes two of the most unpleasant moments that pave the tourist's journey: the passage through security with Ayşe Erkmen's Safety Doors which will inevitably ring as you go through, and the wait for your suitcase with a baggage conveyor belt turning around its own axis by the Scandinavian artist duo Michael Elmgreen and Ingar Dragset .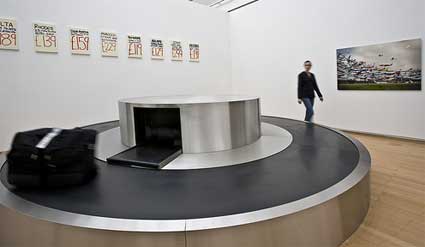 Uncollected (Baggage reclaim) (2005)
Further away, you're met with another tourist staple: Tensa-barriers that control more than they guide your way along the long long queues. Eva Grubinger's Crowd, 2007 is separating one room of the exhibition to another one. There's no alternative: you have to go through it and feel as foolish as ever.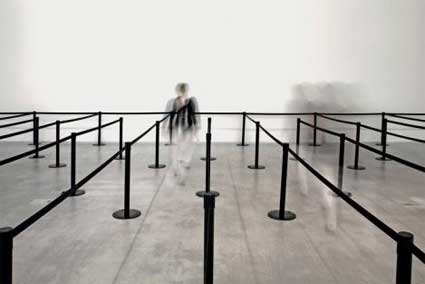 Eva Grubinger, Crowd, 2007. © VG Bild-Kunst, Bonn 2007, Foto: Markus Hawlik
The mood is set, you're not here to dream and get an overview of the most charming aspects of tourism. And you might exit the show feeling guilty to contribute to the phenomenon. Not that this will stop you from booking a Summer holiday next week.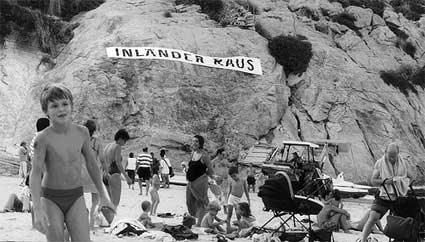 Santiago Sierra, Banner suspended in front of a cove, Cala San Vicente, Mallorca, Spain. August 2001. Photo: Santiago Sierra
One of the most symbolic artworks show in Frankfurt is Santiago Sierra's 2001 action on a Spanish beach. In August, the peak of touristic period, he had a huge banner hung from a rock wall overseeing a beach in Mallorca that read "Inländer Raus" ("Natives, go away"), targeting the tension on the resort island between the Spanish residents and the German tourists. out). The work not only inverts the classic xenophobic motto "Auslander Raus" (Foreigners get the hell out), but it also overtly refers to German retirees and celebrities who have virtually displaced the Spanish natives in Majorca.
Responding to complains, the town council immediately ordered the banner torn down, then had it re-installed, and finally it mysteriously disappeared. Soon after the announcement that Sierra had been selected for the Venice Biennale, a series of articles in Spain's mainstream press attacked the decision, probably because people were afraid the artist might destroy the Biennale pavilion.
The work evokes also the tremendous impact that tourism can have on an entire area. Think of Benidorm, that village turned "the Manhattan of the Costa Blanca", or of that forgotten city in the Basque city which has become a tourists magnet since its Guggenheim Museum opened in 1997.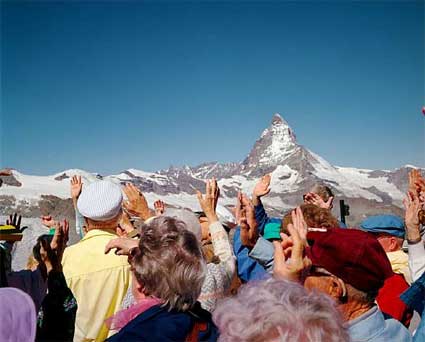 Martin Parr, The Matterhorn, 1990
The number one favourite activity of the tourist is taking picture. There are plenty of those in the show. Not by tourists but by renown photographers. Martin Parr's (more in Martin Parr retrospective: from fish & chips to mass tourism) depict tourist patterns of behavior frozen to clichés in a Swiss mountain resort.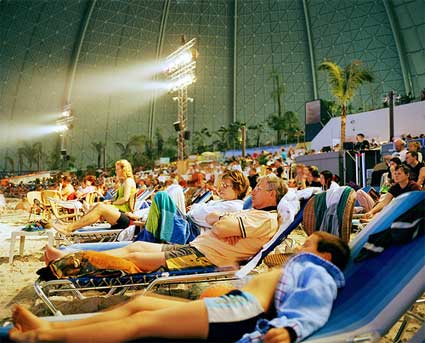 Reiner Riedler, Schilift, 2005
Reiner Riedler's lens focuses on artificial tourist landscapes. His photo series Artificial Holidays show people sunbathing on an indoor tropical island in Berlin, skying in Dubai, having dinner at the bottom of Florida's very own Mexican pyramid are based on similar stereotypes. They confirm the theory that tourist photography mainly serves the purpose of confirmation and not of discovery.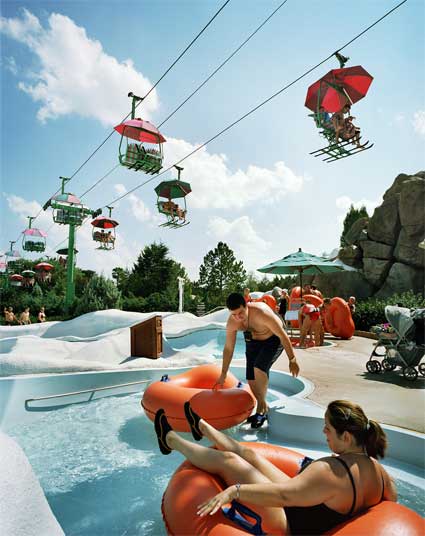 Reiner Rieder, Indoor Pool "Tropical Islands" in Berlin Brandenburg
Thomas Struth's Museum Photographs show tourists in shorts, jeans and t-shirts with their cameras and guidebooks as they wander around museums with a look on their face that says that no matter how interested they might or might not be in the paintings hung on the walls, they just "have to" be there and be seen contemplating the works. You look at them and find it a bit repulsive then you realize you're just one of them, no matter how educated and refined you might be. Last year, for example, art travel packets -including flights, car rental, entry tickets and hotel- enabled the enlightened to tour the most distinguished event of the European art Summer: the Venice Biennale, Art Basel, documenta in Kassel, and Skulptur. Projekte in Münster.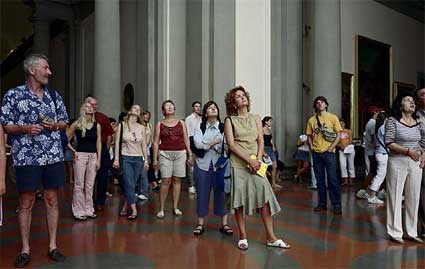 Thomas Struth, Audience 8 (Galleria dell'Accademia) Firenze, 2004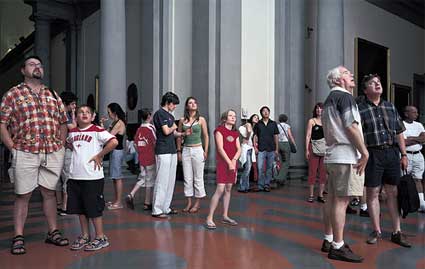 Thomas Struth, Audience 1, Firenze, 2004
NL Architects's futuristic scenarios do not forecast a brighter future. In their manipulated images, tourism is used as a weapon by invaders coming to your shores with amusement parks erected on the decks of aircraft carriers.
NL Architects, Cruise City, 2003. Courtesy: NL Architects, Amsterdam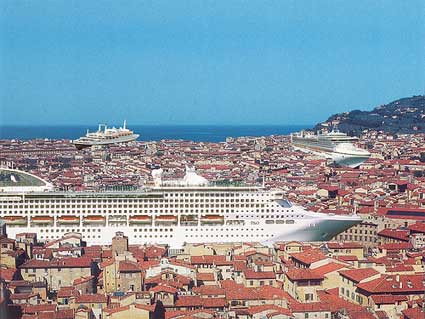 NL Architects, Plugin City, 2007. Courtesy: NL Architects, Amsterdam
Tourism and travels are not just about cultural city trips and long afternoons at the beach, it can also be grounded in political and economic circumstances. The Moroccan artist Yto Barrada has captured this fact in A Life Full of Holes: The Straits Project, her photo series about Tangier and the Straits of Gibraltar. The narrow channel that divides Europe and Africa is a sea basin just 14 km across in some places. It is one of the most traveled waterways in the world, but few Africans are able to cross it. The photos examine the hope of migration, its influence on the Tangier cityscape and the temptations of leaving to begin a new life in the other side of the sea.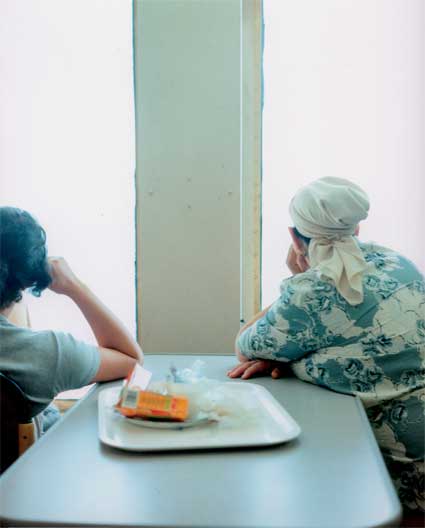 Yto Barrada, Women at Window, 2002. Foto © MUMOK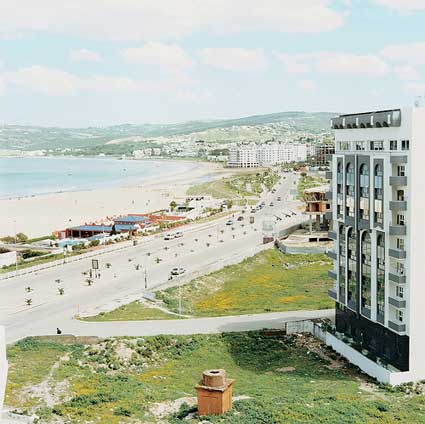 Yto Barrada, Bay of Tangier, 2002 (From the series: The straight project, 1999-2003)
All-Inclusive reminds us that tourism is one of the most powerful economic forces in the world and as such it is one of the hottest topics in the debate over globalization. Tourism doesn't just bring mouthwatering economic perspectives, it comes with ecological and political aspects: migration, terrorism, pollution of the environment, prostitution, etc.
Both Stern and FAZ have slideshows.
"All-Inclusive. A Tourist World" is on show at the Schirn in Frankfurt from 30 January to 4 May 2008,