Keeping up with the visit to the exhibition of the Venice Architecture Bienniale at the Palazzo delle Esposizioni:
A nail house is a Chinese neologism for homes belonging to people who refuse to move out and make room for estate development. The most famous case is the one of Wu Ping and Yang Wu who declined during two years to sell their house to the developers of a shopping mall under construction in Chongqing. The developers cut their power and water, and excavated a 10-meter deep pit around their home. The family turned down an offer of 3.5 million yuan (US$453,000), but eventually settled with the developers in 2007.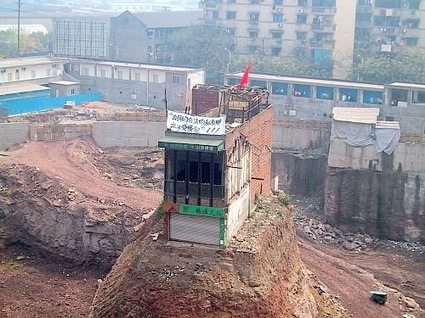 Nail house in Chongqing (image)
Architect Caruso St John and artist Thomas Demand are paying homage to the Chongqing nail house with a project currently exhibited inside the Palazzo delle Esposizioni during the Venice Biennale of Architecture.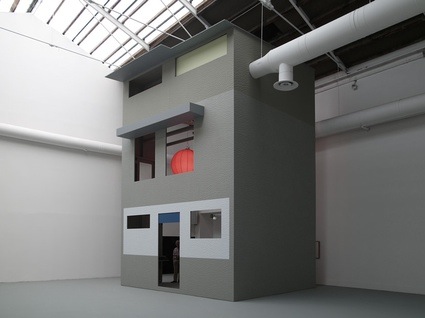 Caruso St John + Thomas Demand, Nagelhaus
The Nagelhaus (nail house in german) is the winning project of a competition to redesign the Escher Weiss Platz, a former industrial area in Zurich undergoing a dramatic transformation that involves new commercial developments, new cultural institutions, and even new inhabitants. Caruso St John and Thomas Demand propose to reconstruct the Chinese Nail House in the square, under a road viaduct, and to open it to the public as a 24/7 restaurant. The modest building would appear as an archaeological fragment of a street that stood there previously.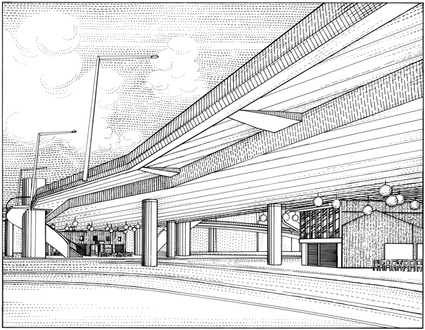 Caruso St John + Thomas Demand, Nagelhaus, Project for Escher-Wyss-Platz, Zurich, illustrations by Martin Mörck (2010)
The reconstruction of the nail house is also a social experiment that explores how migrating forms can bring new life into an overlooked urban setting. The experiment takes a particularly interesting meaning in a country ill at ease with immigration. Only a few months ago, a referendum has backed a proposal to ban the construction of new minarets.
The Nagelhaus project is facing controversy in Zurich, with the right-wing populist SVP trying to prevent its construction. The party has obtained the requisite number of signatures to force a referendum and the matter will be voted this month. Looks like the brave little Chongqing nail house will have to face yet another battle.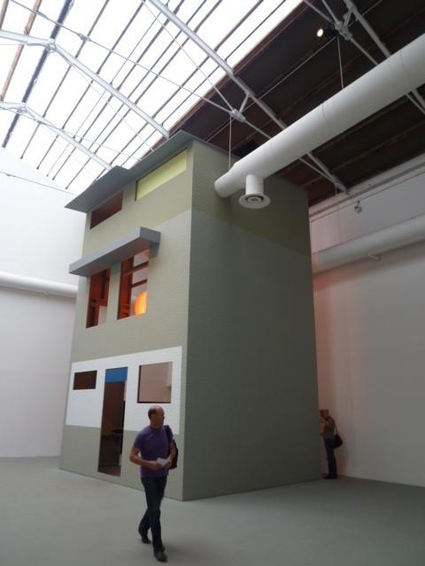 Caruso St John + Thomas Demand, Nagelhaus
The installation at the Biennale consists of the reconstructed house, built to look like a Demand paper model and squeezed under the roof of the Palazzo delle Esposizioni, as well as illustrations of the restaurant under the viaduct.
The inside of the Nagelhaus looks like the hidden side of a theater set.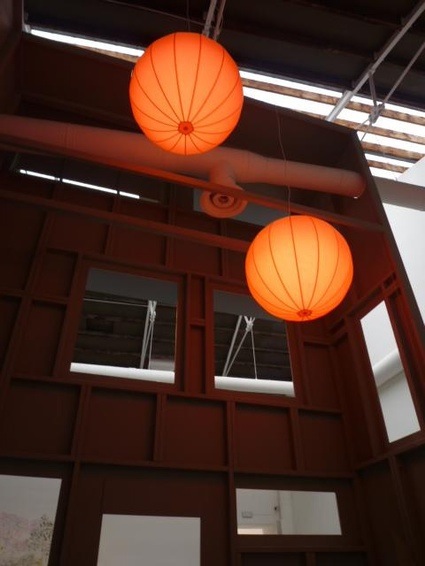 Caruso St John + Thomas Demand, Nagelhaus, Project for Escher-Wyss-Platz, Zurich
Adam Caruso and Thomas Demand interviewed by Hans Ulrich Obrist at the Venice Architecture Biennale 2010
Also at the Palazzo delle Esposizioni: Tom Sachs at the Venice Biennale of Architecture.