This year Turin is the World Capital of Design, a title that the city is holding fairly decently but without much panache. No critical design, no interaction design, nothing really progressive nor challenging either. Still, there's a couple of interesting exhibitions going on throughout the city right now. The one i visited on Thursday might actually be the best show about design i've seen in a long time.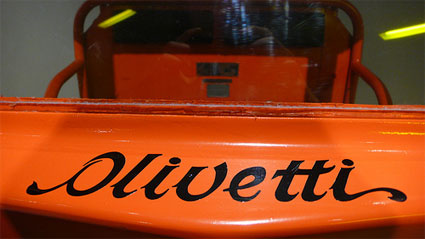 Olivetti, Una bella società –which could be translated as something that sums up the ideas of a fine company and a better society— was curated by Enrico Morteo and Manolo De Giorgi to celebrate the centenary of Olivetti's foundation.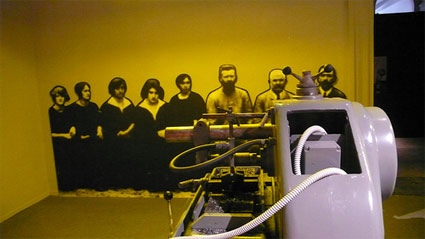 The Italian manufacturing company was founded by Camillo Olivetti in 1908 in tiny Ivrea to produce typewriters and later on, calculators, and computers. Right from the start he decided that Olivetti would become a synonym of innovation and experimentation. His son, Adriano, succeeded him and cast the figure of an enlightened boss who would decrease the hours of work, build a library to encourage his employees and workers to get more intellectual education, and increase salaries and fringe benefits. By 1957 Olivetti workers were the best paid in the metallurgical industry and they showed the highest productivity. The company's vision didn't stop at mechanics and electronics, it quickly attempted to encompass new social values, look for a rational approach to producing things, and search for new ways to contribute to the development of society as a whole.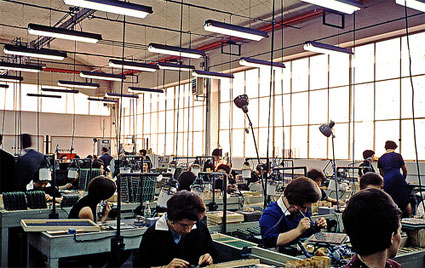 Electronical components assembled by hand, 1966. Image credit J-P. Margnac
The 22 rooms of the exhibition in Turin host 700 objects and memorabilia: typewriters from the early 20th century, calculators, telephones, and portable computers but also office furniture, old commercials from all over the world, documentaries, videos, photographs and at the end of the exhibit, a labyrinth of rooms guides you through the spirit and story of Olivetti from the letter A to Z.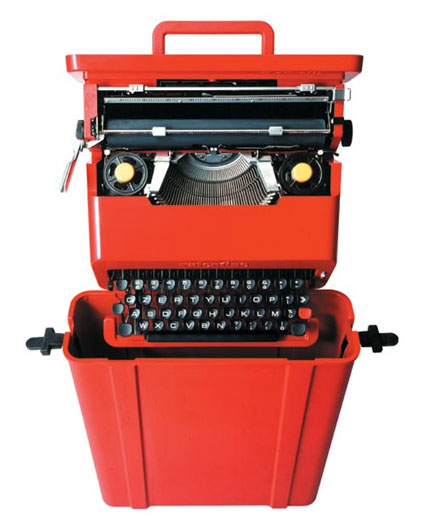 Ettore Sottsass. Valentine typewriter for Olivetti, 1969.
If there's one thing i associate Olivetti with, it's Valentine, the mythical and so red portable typewriter designed by Ettore Sottsass , along with Perry King, and launched in 1969. If anyone could point me to a portable computer which looks as neat, fun and elegant as Valentine, they will receive my undying respect and unlimited thanks.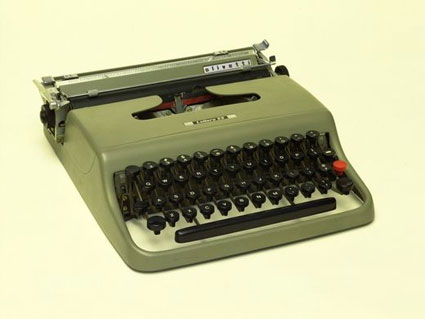 Marcello Nizzoli, Lettera 22 Portable Typewriter, 1950
Olivetti produced many other iconic devices: the portable typewriter Lettera 22, designed by Marcello Nizzoli in 1949, the Divisumma 24, the first print-out calculator able to perform the four basic arithmetic calculations, the exquisitely portable Divisumma 18 calculator encased in pop rubber skin and designed by Marco Bellini in 1973.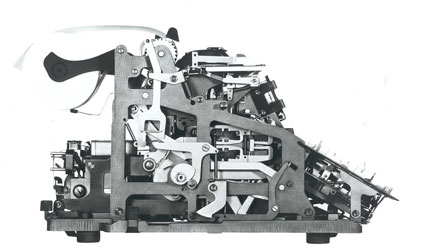 Divisumma 24, manual desktop calculator – design: Marcello Nizzoli, 1956. Side view of the internal mechanism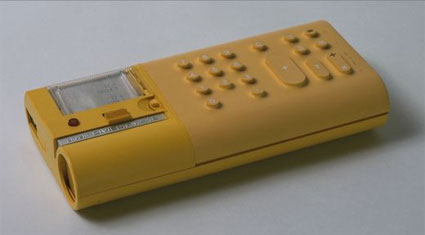 Divisumma 18 Electronic Printing Calculator. Mario Bellini, 1972
At the time, enlisting designers to work on devices was far from being as commonplace as it is today. Olivetti understood almost immediately the concept of 'brand image'. They not only hired talented designers to shape their products (Sottsass, De Lucchi, Nizzoli), they also employed renowned artists and graphic designers to make their posters, well-known directors to handle their audiovisual communication and commissioned top architects and designers to create their flagship stores throughout the world. Carlo Scarpa, for example, was responsible for Olivetti's showroom in St. Mark's Square in Venice, 1957.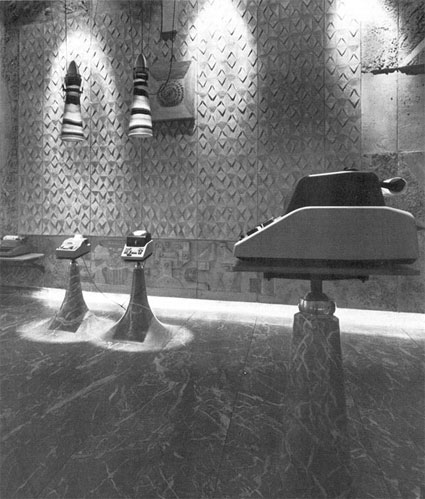 Olivetti Showroom in New York, Fifth Avenue di New York (1954). Source: Photography Library, Olivetti Historical Archives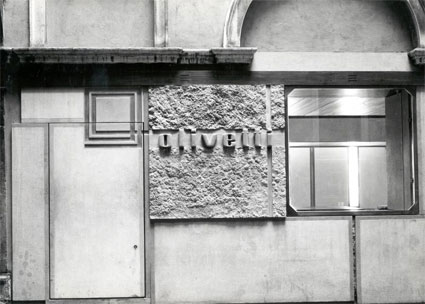 External view with the stone Olivetti logos, Venice showroom, designed by Carlo Scarpa in 1958. Source: Photography Library, Olivetti Historical Archives
Olivetti, Una bella società runs at the Società Promotrice delle Belle Arti through July 27, 2008.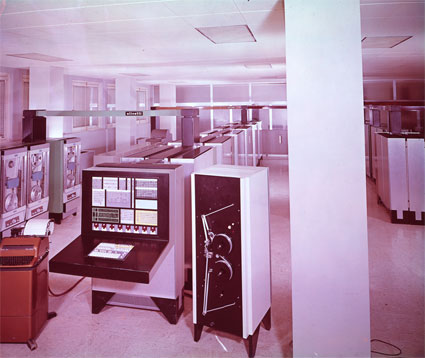 Elaboratore ELEA 9003 1959 – Ettore Sottsass
All my images.
Jean-Paul Margnac has a wonderful set of images showing life inside Olivetti's factories and offices in1966-71.
See also Olivetti photo archive.