There's something about Second Life that totally repels me: its aesthetics. No matter how sexy W. James Au makes his adventures in the online universe sound, i just can't go beyond the barrier of SL's dull and flavourless look. On Saturday while i was visiting the Holy Fire exhibition at iMAL in Brussels, i got to meet with Gazira Babeli and change my opinion. Gazira Babeli is not a human being, she's an avatar performing and living inside Second Life.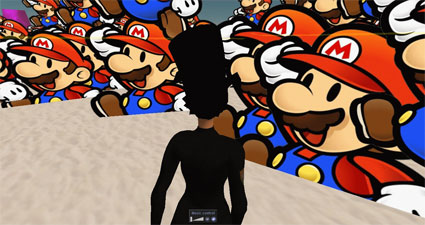 Screenshot of the Grey Goo performance
Like everyone, i had read times and times again how SL residents actions inside the synthetic world impact on their daily life, how one can make a living there, how businesses and organizations were rushing to get a space inside the online gaming platform but yesterday was the first time i could feel SL's tangible effect on my life: i had bought a train ticket to Brescia (only 50 minutes from Milan). There, the Fabio Paris Gallery is dedicating a solo show to Gazira. I couldn't think of a better place to get to know her work with more depth. Yeah! don't smirk, please. I know i could do all that online but i'm old school. Still, i can't believe i took the train to see the work of an artist who was born only two years ago.
An old entry of mine (The Second Life code performer) and a beautiful text by Domenico Quaranta will tell you all you need to know about what she does. I'll just move to what i saw in Brussels and Brescia.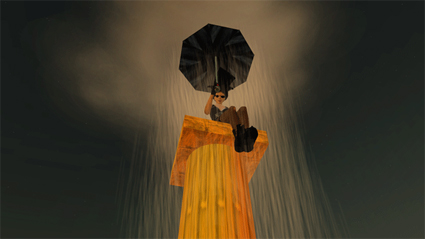 Saint Gaz' Stylite – The Second Temptation, video still
The Brussels exhibition shows one of the episodes of Gaz of the Desert , a 23 minute movie which might very well be the first high definition movie entirely shot within a virtual world. Gaz of the Desert is inspired by Luis Buñuel's 1965 movie Simón del desierto (Simon of the Desert) which focused on St. Simon Stylites, a 4th century religious man who climbed on a column to be nearer to God and stayed there during thirty seven years preaching Christianity to passersby. If you were already taking for granted the fact that the virtual merges with the real, Gazira's machinima messes with your algebra by adding surrealism to the operation. The artist takes you on a rollercoaster ride which will drive you from dream to nightmare with the elegance of Buñuel, a Persian carpet, rows of call center employees, and a motorcycle killer. The movie is online.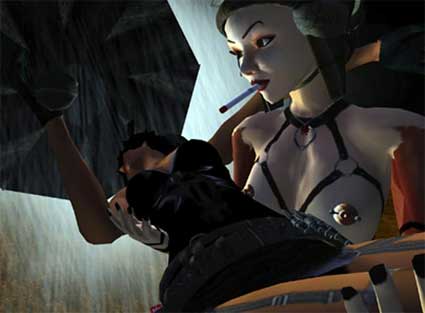 Gazira Babeli. Gaz Of The Desert – Pieta, 2007. Lambda print. 70 x 107 cm. Edition of 3. Collection Marchina-Ghizzardi, Brescia / Courtesy Fabio Paris Art Gallery, Brescia
In Brescia, there are several projects by Gazira. There's also Anna Magnani, an Italian actress everybody remembers as 'Pina' in Roberto Rossellini's neorealist masterpiece Roma, Cittá Aperta (Rome, Open City). Now Magnani was famous for that very Italian characteristic of constantly moving her hands and the expression of her face while talking. Gazira gave the actress' name to another video where the avatar gesticulates and where all kinds of expressions seem to fight and take power over her face.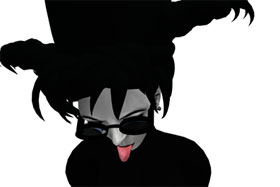 For people like me who wear their lack of knowledge about SL on their sleeve with some kind of pride this might not seem much but the making of the video actually required some coding skills. In the virtual realm any gesture is the result of a script. Anna Magnani is thus more than a video, it is also (as the catalog, Gazira Babeli explains) a script that forces the avatar to perform all the animations present in his or her inventory, in random order, one after the other.
If Gazira is Saint Simon, i've had my epiphany the other day in rainy Brussels: Miss Babeli is like Anna Magnani, she's not beautiful, she's better than that.
Gazira Babeli's work is on view at the Fabio Paris gallery in Brescia and at iMAL in Brussels until April 30, 2008.