There are very very few artists whose work i admire as much as Nathalie Djurberg's. Actually there's only one and she's a woman too. Her name is Gabríela Fridriksdóttir. These artists create universes which are dark and mysterious. But there stops my desire to compare one with the other.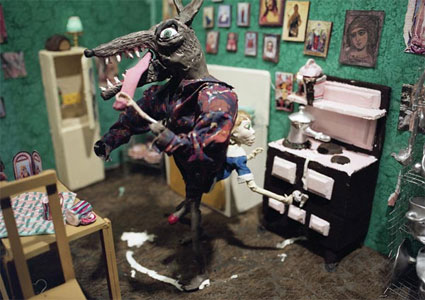 Nathalie Djurberg, We are not two, we are one, 2008
I don't know what happened to Djurberg since the first time i saw her work, at the 2006 Berlin Biennale but her twisted tales have grown crueler and more menacing .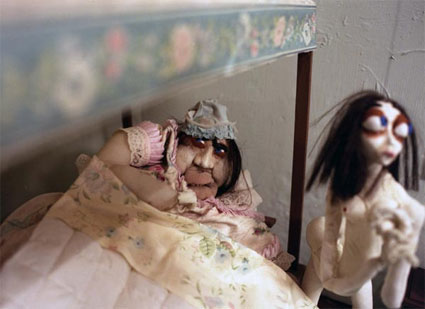 Nathalie Djurberg, Once removed on my mother's side, 2008
The protagonists of Djurberg's stop-motion animations are hand-modeled plasticine puppets. If this reminds you of some cute tv programme you followed as a kid then let me crush any nostalgia you might have. Djurberg clearly didn't see the same children animations as you and i. Her animations show human beings at their most crass, psychopath, sadistic and often disarming behaviour. The macabre atmosphere of her animations almost never come with words, just a languid and fidgety music composed by Hans Berg.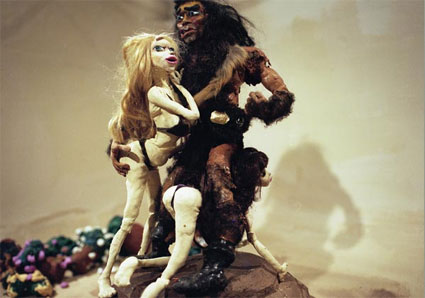 Nathalie Djurberg, Caveman Mike, 2008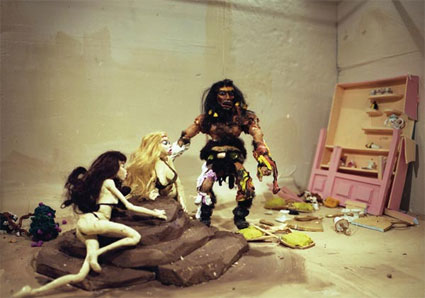 Nathalie Djurberg, Caveman Mike, 2008
It often starts well. In one video, a mother plays in the bedroom with her kids. In a second video, three beautiful girls get naked to take a bath in the pond. A third film shows a pretty eskimo girl walking on thick ice. After a few seconds, the children start disappearing inside their mummy's vagina turning her voluptuous, elastic and Fellini-esque body into a monster creature with multiple arms and legs, the girls chase and burn the young lad who was peeping at their nudity and the eskimo does what any eskimo is supposed to do: she harpoons a walrus, remove its bowels. Only that she won't eat it. She sews herself inside the animal's skin and quietly leaves for a crawl on the icefield.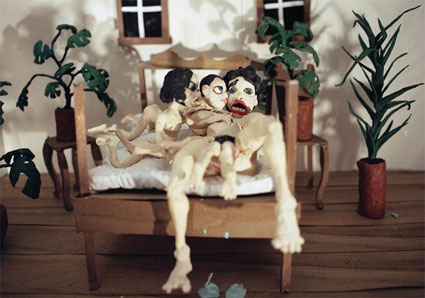 Nathalie Djurberg, It's the mother, 2008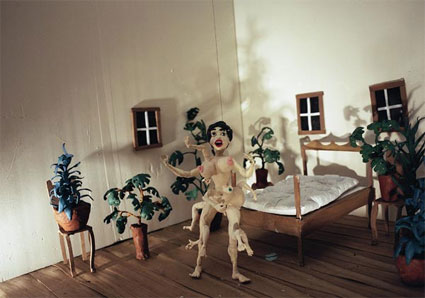 Nathalie Djurberg, It's the mother, 2008
The videos address a fair amount of intense issues such as violence, sexuality, sadism, cruelty, death and brutality. Made all the more upsetting by the fact that the artist messes with our moral codes and would never point to us where is the right and where is the wrong. She takes us on a roller-coaster and all we can to is try and keep track of our landmarks.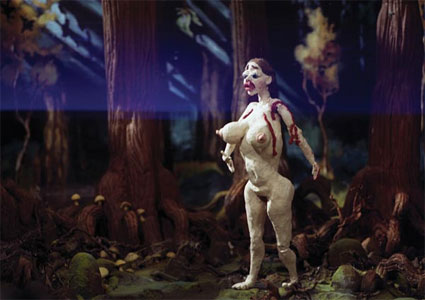 Nathalie Djurberg, Turn into me, 2008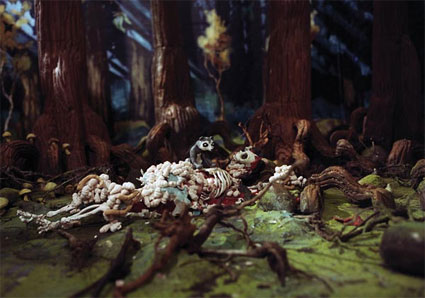 Nathalie Djurberg, Turn into me, 2008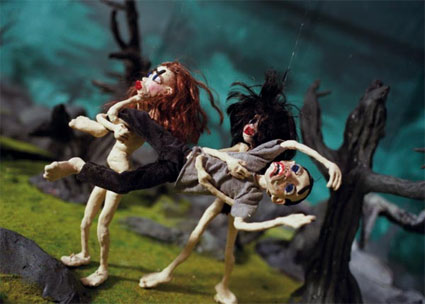 Nathalie Djurberg, Johnnny, 2008
The artists filled the exhibiting space of Fondazione Prada with models that work as counterparts to her videos, there's a huge sprouting potato, the plump bum of a woman, a little house . These models become pavilions inside which the videos are projected.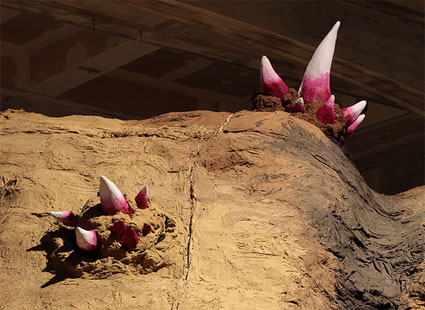 The Potato (detail). Photo Attilio Maranzano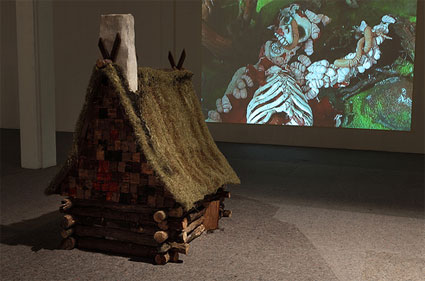 Das Waldhaeuschen, 2008. Photo Attilio Maranzano
You have until June 1 to check out the show. Previously at the Fondazione Prada in Milan: Tom Sachs.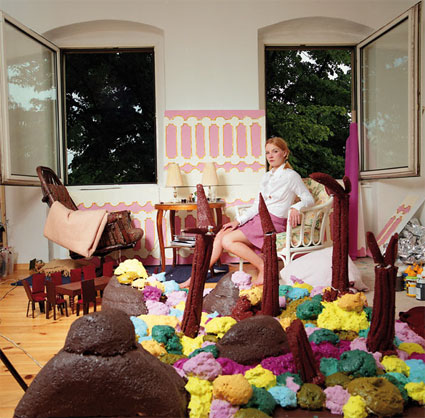 Portrait of Nathalie Djurberg. Photo by Hans Berg
All images courtesy of the artist and Fondazione Prada, Milan.