The Universal Kitchen project, which began in 1993 and involved students of the Rhode Island School of Design, was aimed at designing a kitchen that would cut back on useless movement.
The students cooked meals together and used time-motion studies to document how long it took to complete a task, or how far they needed to reach for ingredients or key utensils. They found out that it takes over 400 steps to make a simple meal and came up with suggestions to build more people-friendly kitchens such as pop-up dishwashers, electronic consumption tracking, built-in retractable appliance cords, steaming bays, retractable burners, etc.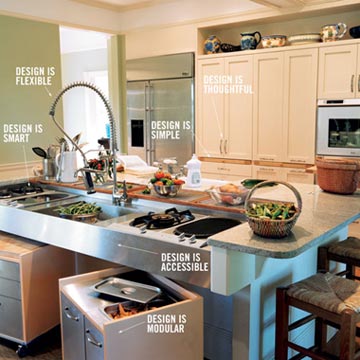 At the end of the project the rights to the Universal Kitchen were sold to Maytag where it seems to have stalled. But when architect Jane Langmuir, who was a RISD faculty advisor on the project, had to design a kitchen for a family with a dad, John Hockenberry, who happens to be in a wheelchair, and whose kids surround him as he prepares the meals, she might have come up with a prototype for new family-centered kitchens. As Americans cope with obesity issues, many kitchen designers suggest that parents involve children in cooking, teaching them the value of fresh and healthy foods. The variable surfaces in the Hockenberry kitchen, for instance, would work well for other families as well.
Another proof that well-designed, focused, humane research can have a lasting effect on shaping our physical environments.
Via MetropolisMag.