The N55 ROCKET SYSTEM enables anyone to communicate their protest in a concrete way. This low tech, low cost, highly efficient hybrid rocket propulsion system is fueled by a mixture of polyethylene and laughing gas (N2O).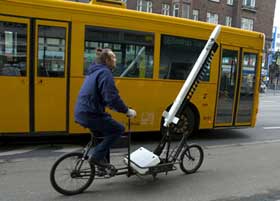 With the N55 ROCKET SYSTEM, anyone can distribute various things, like printed matter or plant seeds, from high altitudes over a vast area. The rocket, constructed to protest against large concentrations of power, can carry a payload of 2 kg to an altitude of approximately 5200 m, with a maximum speed of 475 m/s. The N55 ROCKET SYSTEM has been equipped with a parachute and can be reused when a mission is completed.
The ROCKET SYSTEM is part of the N55 SPACE PROGRAMME, which aims at creating space for persons and making space technology accessible and useful in everyday life situations.
By wmmna's favourite Danish activists N55.