Green Cycle, by Taiwan-based designers Wei-Ran Lee and Bo-Chin Chu, is a memo paper pad that comes with a small plant hidden in a tin. Each time you take a paper out of the pad, it reminds you to water the plant. When the plant grows up, you have to transfer it in another suitable container, and it will become a potted plant.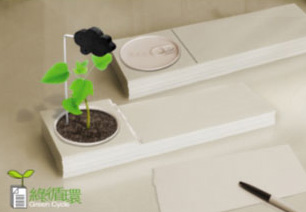 The concept is that when we use the paper, we're also destroying the greenness from nature, but we can still create another green life instead.
Silver prize at the Taiwan International Design Competition.