The Living Room, another Transmediale nominee by US artist Victoria Fang, invites visitors to solve a murder mystery.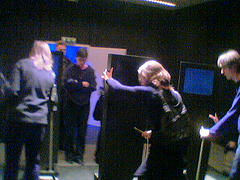 Three moveable panels with LCD-Monitors can be shifted like puzzle pieces around the room. When all three elements are correctly positioned (there are 21 clues on the floor: "gun", "door", "kitchen", etc), filmed scenes that play back across the panels give the player new clues to trigger the next scene. Players get a different spatialized experience with each scene, as the scenes are constantly changing position, thus working as a giant physical puzzle that houses a narrative puzzle.
This installation is technically very impressive and original, and it's probably because I'm a big fan of whodunits, that i didn't go crazy about this work. I love to just sit down, relax, sip a hot chocolate and read murder mysteries, so pushing panels all over a room is not exactly my idea of the perfect past-time.