EP Vol. 1 – The Italian Avant-Garde: 1968-1976 by Alex Coles, Professor of Transdisciplinary Studies, School of Art, Design and Architecture, University of Huddersfield and Catharine Rossi, Senior Lecturer in Design History at Kingston University.
Available on amazon UK and USA.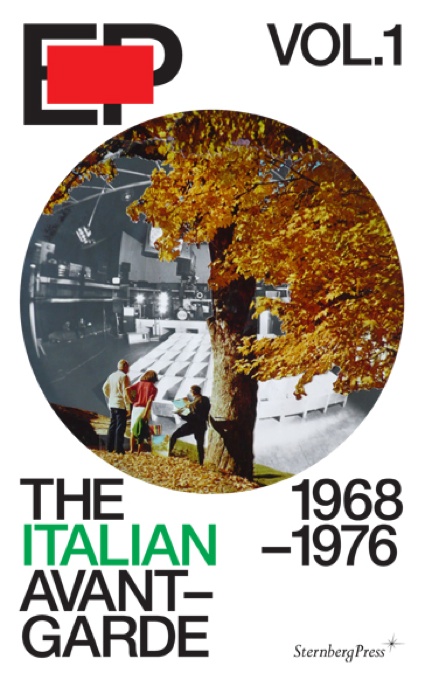 Publisher Sternberg Press describes the book: EP is the first critically underpinned series of publications that fluidly move between art, design, and architecture. The series creates a discursive platform between popular magazines ("single play") and academic journals ("long play") by introducing the notion of the "extended play" into publishing: with thematically edited pocket books as median.
The first volume is devoted to the activities of the Italian avant-garde between 1968 and 1976. While emphasizing the multiple correspondences between collectives and groups like Arte Povera, Archizoom, Superstudio, and figures such as Ettore Sottsass and Alessandro Mendini, The Italian Avant-Garde: 1968-1976 also highlights previously overlooked spaces, works, and performances generated by Zoo, Gruppo 9999, and Cavart. Newly commissioned interviews and essays by historians and curators shed light on the era, while contemporary practitioners discuss its complex legacy.
With contributions by Paola Antonelli, Pier Vittorio Aureli, Andrea Branzi, Carlo Caldini, Alison J. Clarke, Experimental Jetset, Verina Gfader, Martino Gamper, Joseph Grima, Alessandro Mendini, Antonio Negri, Paola Nicolin, Michaelangelo Pistoletto, Catharine Rossi, Vera Sacchetti, Libby Sellers, Studio Formafantasma, and Ettore Vitale
Design by Experimental Jetset
Ettore Vitale's 1° Maggio,1973, poster 
for the Partito Socialista Italiano
I've reviewed or simply read my fair share of books about the work of Archigram, Ant Farm and Haus-Rucker-Co.. It was high time i'd read more about the Italian avant-garde in architecture and design because the 1960s and 1970s in Italy is a creative period that needs to get more attention outside of the country.
The key events and concepts covered in the book are never dull. The designers and architects of the Italian avant-garde had bite and sometimes they also had humour. Intellectuals and artists were protesting about the conservative model of the Venice biennial and calling for its restructuration (which gave way to the Architecture Biennial!) Ettore Sottsass was putting tiny tv sets in nature 'for night butterflies'. Ettore Vitale was designing posters reminding of the dangers of fascism. Radical architects were holding seminars on a disused railway bridge. Gruppo 9999 were creating the Space Electronic discotheque in Florence as a 'progressive multimedia environment.'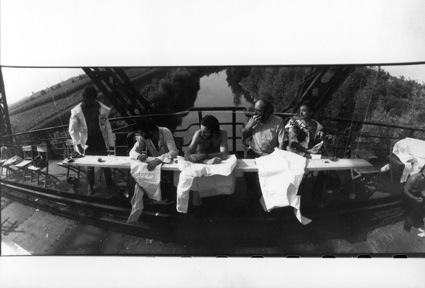 Cavart, Progettarsi Addosso seminar, held on a disused railway bridge in Colze, Vicenza, September 27, 1975. Courtesy of Archivio Michele De Lucchi (via Domus)
The book compiles commissioned essays and interviews. By people who were questioning and shaking up design, architecture and art then and by people who, today, are analyzing and discussing the impact of those avant-garde ideas and realizations.
EP Vol. 1 – The Italian Avant-Garde: 1968-1976 lays the solid basis for a deeper and more critical reflection on a key moment in the history of architecture, design and art in Italy. I would recommend the book not only for its historical perspective but also for the way it echoes some of today's interests and preoccupations. The architects and designers of the time too were raising environmentalist concerns for alternative sources of energy. They were already questioning the rule of the objects and the role of an art biennial. They too were exploring more powerful uses of 'new media' while looking for a more meaningful relationship between man and technology. And believe it or not, they were already inventing designs driven by concepts and encouraging 'non-professionals' to build 'spontaneous structures' and participate in ongoing debates. Surely there are lessons there that we could all make use of.
I think that the book would have benefited from a clearer presentation of the socio-economic and political climate in that time and place. But other than that, i'd say this is one of the most exciting and eye-opening books designers and architects could lay their hands on these days.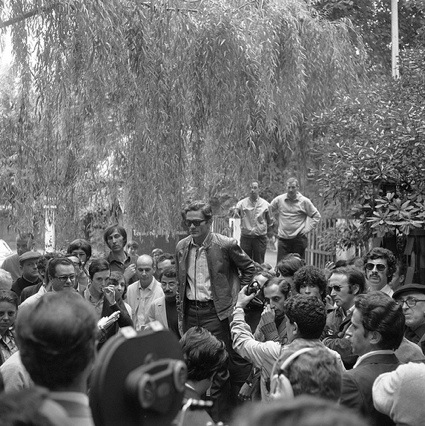 S. Elena/Giardini, Pier Paolo Pasolini during the protest at the Biennale. On the right: Ninetto Davoli and Cesare Zavattini, 1968. Archivio Cameraphoto Epoche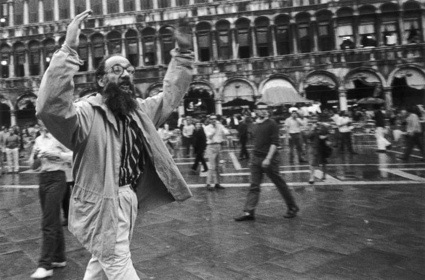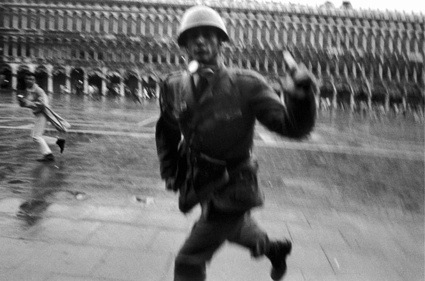 Berengo Gardin, Venezia 1968, contestazione alla Biennale d'arte
Views inside the book (more images at Experimental Jetset):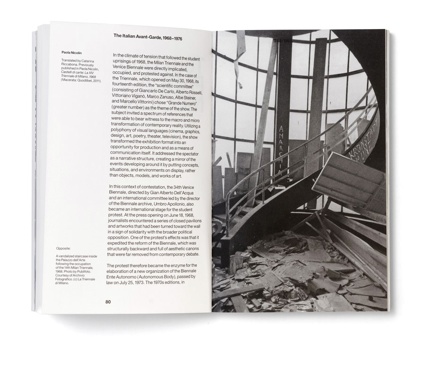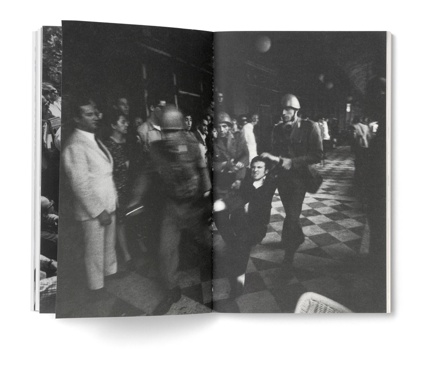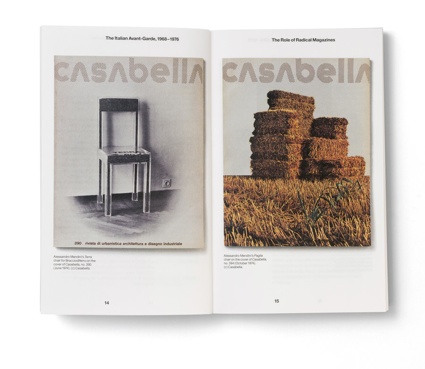 Corridor8 has an interview with Prof. Alex Coles and Dr. Catharine Rossi. Rossi also published a general introduction to the Italian avant-garde in Disegno Daily.
Previously: A Guide to Archigram 1961-74 , Inner World / Innen Welt: The Projects of Haus-Rucker-Co., 1967-1992, The Sky's the Limit: Applying Radical Architecture, Clip/Stamp/Fold – The Radical Architecture of Little Magazines 196X-197X, Book Review: Ant Farm – Living Archive 7, Casa Per Tutti, Other Space Odysseys, Ant Farm retrospective in Sevilla, Pioneers of conceptual architecture, etc.