'The Intel – Cyprus Merger' showed how the world's first merger of a country and a corporation might be possible, and advantageous for both parties. Moreover through the execution of due diligence, stakeholder engagement and communication, how such a merger could be enacted responsibly, and in the best interests of both, or how at least it might appear so.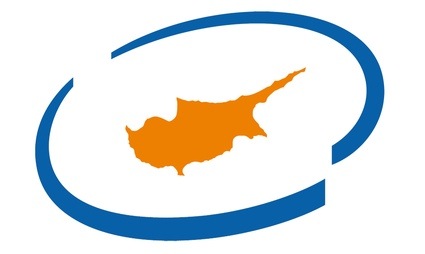 At first sight, Zoe Papadopoulou"s new project is challenging and absurd, but dig deeper and you'll see how thought provoking it is. This is especially true, in the light of impending economic bailout measures being forced upon Greece, and how the Greek government has indeed found itself looking to corporations to buy assets from the State.
Merger was born in February 2008, in response to a brief at the Royal College of Art on 'The Future of Money' sponsored by Intel's People and Practices Research Group. Zoe reappraised the project for the ongoing Paris Design Week.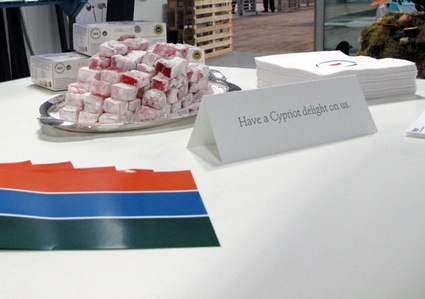 View of the exhibition setting in Paris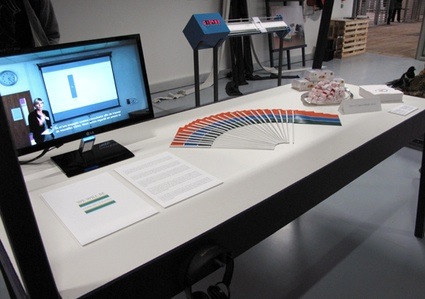 View of the exhibition setting in Paris
Merger, is told through a video in which a fictional character, Anna Rodgers, the director of overseas acquisitions at Mackenzie M&A, presents an overview of how and why the Merger came to be to other interested parties. She also describes how the merged corporation and country have generated economic and democratic benefits to both parties and turned around the fortunes of a nation. The project allows the viewer to ask why Intel might see an opportunity in Cyprus – a small island-state, with strong historic links to Greece, but with a separate economy.
Cyprus decided to take advantage of the EU precedent created by UK's Olympic and Paralympic Act in 2006, which made the words "London 2012" and "2012" protected trademarks, along with the name of the official LOCOG website, and "various derivatives". The Olympics were created in Greece, so Cyprus starts to protect the revenue made from products and services borne out of the inventions of the ancient Greeks.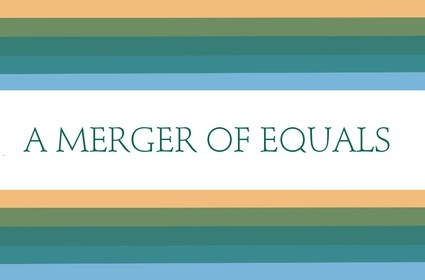 That's where Intel, which built their revenue in no small part through protecting the Intellectual Property of their developments, intervenes. In this scenario, Intel would bring their expertise and lawyers, and look at every single aspect of modern life (from architecture to urban planning, from language to technological inventions) that borrow from Greek inventions, and claim a bounty from each. In so doing they create a sustained income stream that sees the Cypriots be the exemplar of economic growth, at odds with the fortunes of the rest of Europe.
By highlighting the ease with which the UK Government and the International Olympic Association use their power to protect something that originated in Greece, this project asks, with Intel's might, if the Island of Cyprus could challenge and regain their past glory and wealth.
Not content with protecting revenue, Merger also aims to revisit and update one of the Greek's most widely-adopted inventions – democracy.
Merger highlights the current lack of trust in politicians and in Governments too slow to tackle adequately the significant challenges that countries and their populations face. Surely this lack of responsiveness would not be tolerated in the corporate world. The lady in the video explains that Cypriots didn't want a Prime Minister or a President. They wanted a CEO, a businessman that would run the country like a successful company. I bet the Italians who now have a 'successful businessman' as their head of State would beg Cyprus to be very cautious about their choice.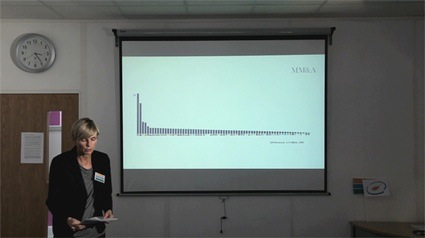 Merger proposes a Real Time Democracy model that allows Cypriots to track how their Government is doing 24/7 – on a collection of metrics including the share price of Intel – which they now all, each, own a share in. One man, one vote becomes 'one man, one share.'
In the three years since Merger, this project proposed that the Cypriots and Intel have built the world's biggest monument to commemorate their union. The Antikytheran Monument, in the centre of the capital city Nicosia, recognises another Greek invention – the Antikythera Mechanism; the world's first computer designed between 150 and 100 BC to calculate astronomical positions.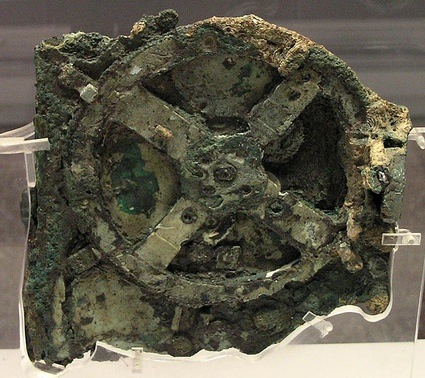 The Antikythera mechanism (main fragment)
This also reveals why Intel has gone to all the effort of merging with a country, that they could buy piece by piece if they had chosen to. In this brave new world, Intel owns the rights to all computers – their entire supply chain and competitors.
With this project, Zoe Papadopoulou questioned, via the power Intel and Cyprus yield as a result, what might be the implications of a "merger" of a corporation and a state. She also invites the public to question if this one day might be possible, or if by stealth it was an inevitable part of our futures.
Finally, the future of this project will be to curate an exhibition based on the evolution of this new national entity that further explores the changes it is likely to undertake in the next 20, 30 or 50 years. This will not only be considered from a design perspective but also a philosophical one with the help of Greek Cultural theorist and essayist Elia Ntaousani.
Disclaimer:
'Merger' is a fictional project, and it purports to be applicable to any potential corporation-state merger, not necessarily to Intel and the Republic of Cyprus. As such, the views and ideas expressed herein are those of the artist alone and in no manner represent the views, strategies or political positions of Intel or Cyprus.
The work is part of the exhibition Glitch Fiction which remains open at the Cité de la Mode et du Design, Paris until September 18, 2011.
All images courtesy of Zoe Papadopoulou.