Context Is Half the Work, quoted from 'Structure in Events', 1972
Between the Frieze art fair, the Brighton Photo Biennial, and various commitments i had in town, mid-October was a marathon to see as many shows as possible. The one that left its marks on my brain is The Individual and the Organisation: Artist Placement Group 1966-79 at Raven Row. The retrospective of the pioneering artists' organisation is thought-provoking, informative, surprising and it confirmed what i was starting to suspect: the art scene of the 1970s was intimidatingly radical and exciting.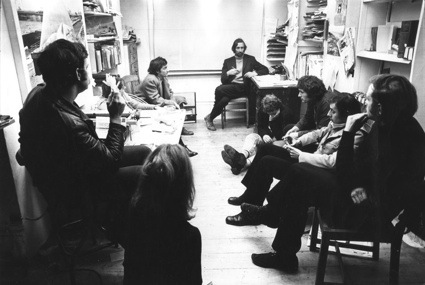 Artist Placement Group, Between 6, Städtische Kunsthalle Düsseldorf, 1971. Courtesy Barbara Stevini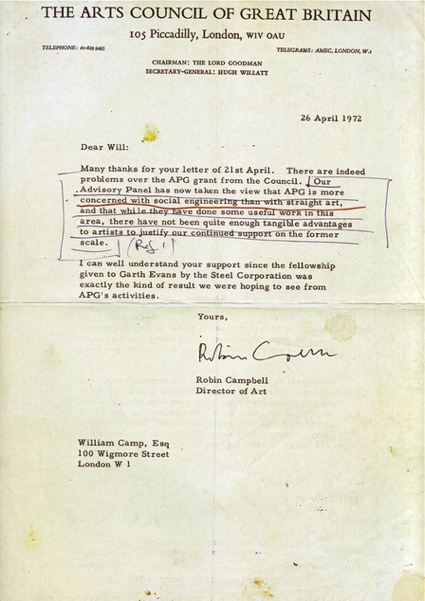 Artist Placement Group, or APG, was established by Barbara Steveni and John Latham in 1966. They were joined Barry Flanagan, David Hall, Anna Ridley and Jeffrey Shaw, among others. Its aim was to widen the social context of artists' work by finding them 'residencies' in the private and public sectors.
Between 1966 and the turn of the 1980s, APG negotiated approximately fifteen placements for artists lasting from a few weeks to several years; first within industries (often large corporations such as British Steel and ICI) and later within UK government departments such as the Department of Health and the Scottish Office.
APG arranged that artists would work to an 'open brief', whereby their placements were not required to produce tangible results, but that the engagement itself could potentially benefit both host organisations as well as the artists in the long-term.
Instead of commissioning art works, the host organizations were asked to pay the artist wages and in exchange, they would benefit from the artist's reports, ideas and insights.
Unsurprisingly, few organizations were enthusiastic about APG's ideas. Many flatly refused to welcome the experiment, others only opened their doors after several meetings and exchanges of letters.
Some placements were more successful than others (whether we look at them as artworks per se or as the result of a mutually fruitful exchange between radical art and industry.) I found David Hall's work for Scottish Television absolutely brilliant. In 1971 Hall made ten "Interruptions" broadcast intentionally unannounced and uncredited on Scottish Television. Seven of these works were later distributed on video as TV Interruptions (7 TV Pieces), and are regarded as a landmark of British video art.
The interruptions are shown on separate screens at Raven Row. There's a video of the Tap interruption online but it cannot be embedded. There's another one here.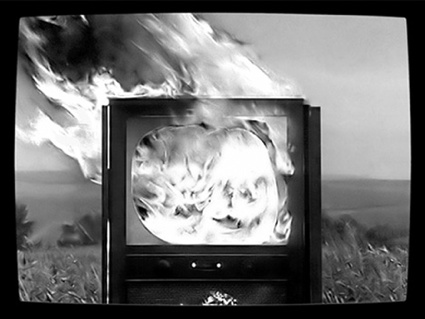 David Hall, TV Interruptions broadcast unannounced by Scottish TV, 1971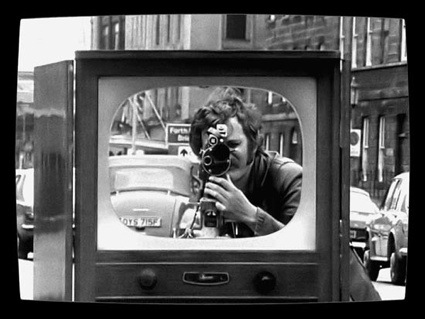 David Hall, TV Interruptions, TV Shoot-out piece, 1971
Garth Evans took a fellowship at the British Steel Corporation. The photos he took as part of his observational notes were published in a book produced by BSC. He also made steel sculptures similar to the constructions made by apprentice welders.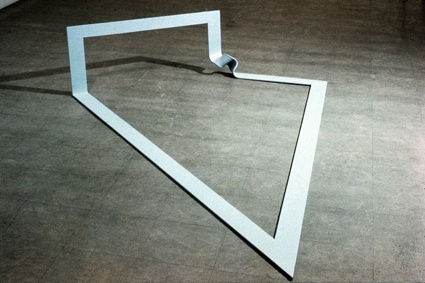 Garth Evans, Frame, 1970
After a traffic accident, John Latham found himself in the Intensive Care of Clare Hall Hospital with broken ribs, torn muscles and puncturated lungs. He soon found out that by rotating his body in bed he could clear his throat of lung tissues without having to endure the pain of coughing. The X-rays documenting his rapid convalescence lend credence to the artist's claim that his technique was an improvement over usual procedures.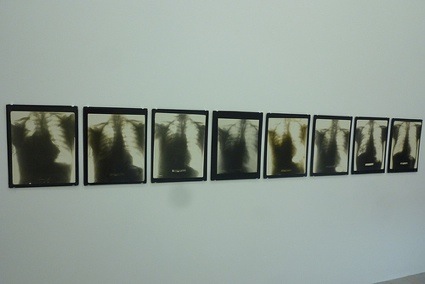 John Latham, 1970
APG pioneered the shift in art practice from studio and conventional art system to more active and processed-based forms of social engagement. It bears similarities with Experiments in Art and Technology (E.A.T.), an organization established to develop collaborations between artists and engineers but APG's agenda was more deeply anchored in political and social concerns.
The residencies are also different from the ones that predominate nowadays (where the artist might sometimes seem to be at the service of the commissioning corporation or governmental body), the ones initiated by APG fostered a two-way communication between artists and industrialists or politicians.
While researching the APG, i found this trailer for a short documentary by Laurie Yule & Calum Mackenzie:
Inside Outside: A History of The Artist Placement Group
The Raven Row show is mostly based on archives: films, photographs, reports written by artists during their placement and exchanges of letters between artists and host companies and sometimes in art objects.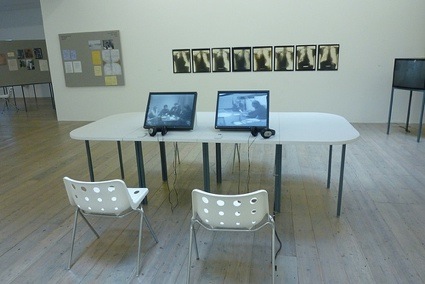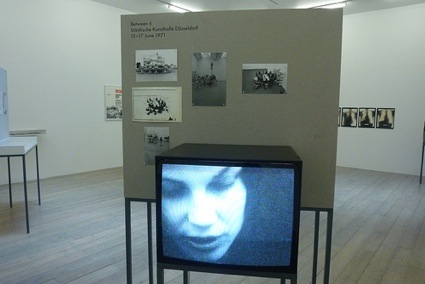 Photos on flickr.
The Individual and the Organisation: Artist Placement Group 1966-79 was curated by Antony Hudek and Alex Sainsbury, in consultation with Barbara Steveni. It remains on view until 16 December 2012 at Raven Row in London.