First, the heart monitoring ECG-shirt developed by GEO View and German clothing company FALKE KG. It comes with a high-tech foil that checks the cardiac rate by means of two sensors providing the electrocardiogram.

The recorded ECG data are transmitted directly via bluetooth to the mobile phone. Data can either be stored in the phone or immediately forwarded to the medical Service Center for analysis.
The incorporated ECG foil may be removed when the shirt is washed.
Via Blueserker.
More pictures.
More heart monitoring, but in an armchair this time:
The EMFiT film (EMFiT = Electro Mechanical Film Technology), created by Finland-based by Emfitech Oy, is used to construct thin and highly sensitive sensors. For example, placed in an armchair, an EMFiT sensor can detect the heartbeat of the person sitting in it, even through their clothing and the chair upholstery.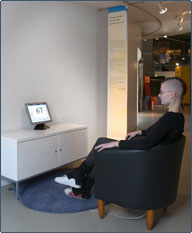 The company has also developed a series of products useful for caregivers.
SafeSeat can be used nursing homes where a person is unable to ask for help. The seat generates an audible alarm when an individual at high risk of falling stands up from the seat. The nurse hears it and can come and assist the person.
In addition to utilizing EMFiT technology, other applications rely on the GSM data transmission technology.
For example, SafeFloor can monitor during the night a person suffering from dementia and send a warning on a caregiver's phone as soon as the sensor on the floor next to the bed or the front door is touched.
Via 21f Heureka.