The Star-Kick has been awarded the Technology Transfer Award at the meeting of the "European Robotics Research Network" (EURON).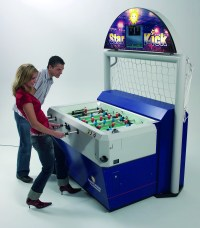 50 times a second, the football table robot evaluates information coming from the sensors and every 20 millisecond a camera overlooking the table sends an image to the PC. According to the game situation, the table decides how the rods under its control should be moved.
Star-Kick, previously called Kiro, was first a research project of the Institute of Informatics in Freiburg (Germany) It is now available on the market thanks to toy maker Gauselmann.
Via Carbongeek Isa-casino.
Related: Kiro, the table football robot.