The i-garment project aims to develop smart garments for for the Portuguese Civil Protection. The suits will be equipped with sensors to monitor position, vital signals (temperature and heart beat) of the firefighters. The information will be sent via a wireless link to Civil Protection Officers in the HQ, processed and returned to the field officers equipped with PDAs and/or TabletPCs.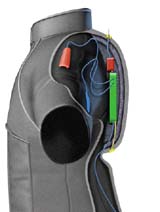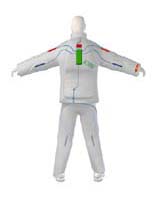 Tightly integrated with the fire-fighting garment, sensors, telecommunication, localisation, alert and processing hardware collect the status and position of the fire-fighter and transmit it wirelessly and in real time to a data collecting computer installed in local Operational Field Vehicles (OFV).
Besides, the system will allow the data to be transmitted from the local OFV to the main servers via satellite transmission, making the data available from virtually anywhere there might be a fire situation, without the need for further communication infrastructure.
Thanks Antao.