The exhibition From One Revolution to Another – Carte Blanche to Jeremy Deller which is currently running at the Palais de Tokyo in Paris is worth a visit for many reasons (i illustrate some of them in an article which has just been translated in… swedish), the most exciting one for me was a large b&w portrait of the magnificent Exotic Adrian.
Adrian Street was a glam rock wrestler who gained fame for dressing in flamboyant platform shoes and glitter capes, wearing bleached hair and extravagant make up, kissing his opponents on stage and tarting them up with make up when he had them pinned down.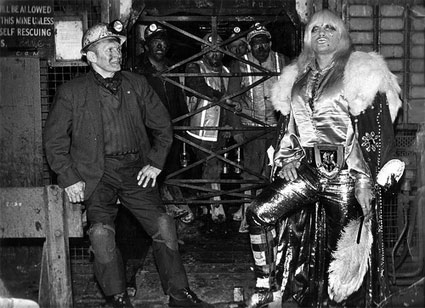 "Exotic", Adrian Street, and his father a working miner at the pit-head. South Wales, 1973. Photo : Dennis Hutchinson
Born in 1940 in a family of Welsh coalminers, Street left home at 16 to become a pro wrestler. To ensure that he'd get the recognition his talent deserved, he created a persona which puzzled the audience by the way its extreme toughness was paired with the appareance of an outlandish cross-dresser.
Street designed his own outfits, finding inspiration in historical costumes such as those worn by Joachim Murat. His design were so successful that they ended up being worn by Elton John, Gary Glitter, Adam Ant, David Bowie and Marc Bolan. Street's involvement with the world of music stretched to releasing records, I'm Only Happy Breakin' Bones and Imagine What I Could Do To You (see video below).
The best part of his career is that it is still going 'strong'. Street plans to wrestle professionally until 2010 and beyond, making it probably the only wrestler whose fights spanned over 7 decades.
Adrian Street – Imagine What I Could Do to You:
The magazine of the Palais de Tokyo has a wonderful interview in which Street appears to be an extremely witty and smart guy.
From One Revolution to Another – Carte Blanche to Jeremy Deller is on view at the Palais de Tokyo in Paris until January 4, 2009.