The English government wants schools to buy the Sonica software package – including the dance mat – which communicates in Spanish to give pupils a love of languages from a young age.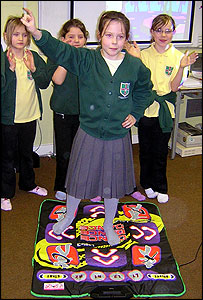 Children learn words by placing their feet on coloured squares according to the words shown on screen and shouted out by a cartoon character. These cover topics such as colours, directions, shopping items and numbers.
Sonica Spanish, which also operates a sing-along feature – El Karaoke – and computer games, has been successfully tested in several schools.
How about a German version for me?
Via BBC News.